Feature Articles


For more information about this article or gallery, please call the gallery phone number listed in the last line of the article, "For more info..."
November Issue 2010

Crimson Laurel Gallery in Bakersville, NC, Offers Works by Kyle Carpenter and Tzadi Turrou
Crimson Laurel Gallery in Bakersville, NC, will present several exhibits including: Salt of the Earth, featuring new work by Asheville, NC, potter Kyle Carpenter; Decompression, featuring ceramics by Tzadi Turrou; and our online exhibit, A Significant Gift, featuring a group of fine art jewelry, all on view from Nov. 6 through Dec. 31, 2010.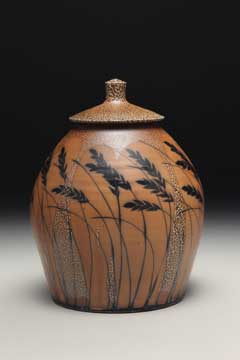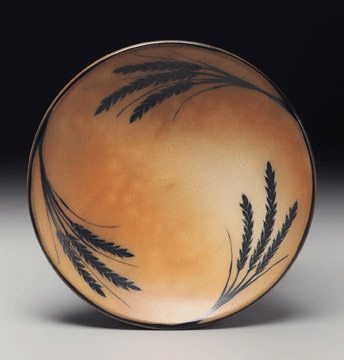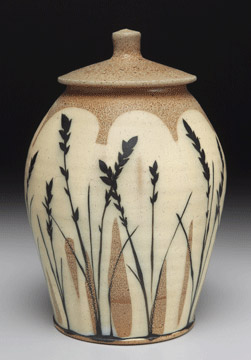 Kyle Carpenter
We welcome Carpenter into our main exhibition gallery for a more formal look at his finely tuned salt-glazed pottery. His most recent work involves highly decorated surfaces with hand painted imagery on classic utilitarian pottery forms. For this exhibition, Carpenter will include some new porcelain forms, unseen by the general public before now. His body of work is always changing, though subtle, as he continues to challenge himself within the medium of ceramic arts.
Carpenter's surface illustrations focus on a botanical theme, including specific and abstract grasses. He uses this imagery in a very deliberate manner, always relating it to the design of the pot itself. The balance of a well-formed pot and nice hand painted illustration is what he searches for in his work.
Carpenter has been a studio potter for the past nine years. "Making pots daily offers an understanding of the development of my work and a never-ending quest for new ideas." His pottery studio is located at Curve studios & garden, in the heart of Asheville's River Arts District.?In 2008, Carpenter was juried into the prestigious Southern Highland Craft Guild. Also in 2008, one of his salt-glazed platters was added to the Mint Museum's permanent collection in Charlotte, NC.

Carpenter's pieces are among the artwork of more than one hundred thirty five artists from Western North Carolina and around the country featured at Crimson Laurel Gallery.?"Presenting this body of work amongst so many of my peers is incredibly humbling and gratifying," says Carpenter.
Carpenter offered the following artist statement, "As a studio potter, I work diligently to make well-crafted wares for everyday people. It's seemingly less about the 'ritual of the table' and more about respecting a long tradition of craftsmen before me and discovering my own voice. As a contemporary potter, I often look to past traditions for inspiration. I'm interested in folk pottery of many origins. My native state of North Carolina, of course, offers a deep well of talented potters, both folk and contemporary, to look towards for inspiration."
"Simplicity in form offers a broad surface for me to embellish with lines, patterns, and drawings. Before I was introduced to the ceramics arts, I did a fair amount of illustration before and during art school. The combination of three-dimensional forms and two-dimensional drawings was a natural fusion of both my love of drawing and pottery, art and craft. It is my intention to bring together clear and abstract markings to engage the viewer to look closely at how design relates to the form of the pot," adds Carpenter.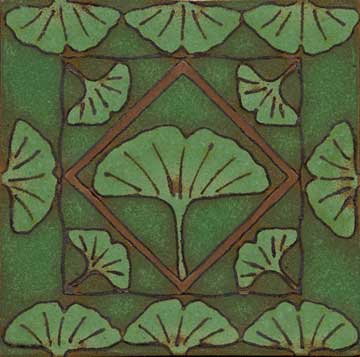 Tzadi Turrou
Tzadi Turrou designs and crafts colorful tiles from small decorative tiles to larger architectural pieces. She has developed her formula for a black wax resist line of tiles crucial to her "cuerda seca" technique. The glazed "cuerda seca" technique involves silk screening and wax-resist lines on the already-fired clay. Turrou became interested in the arts while attending the American College in Paris. When she returned to the US, she entered an intense study of ceramics in Massachusetts. She later moved to Colorado to continue her studies and then moved on to Arizona where she was involved in organizing demonstrations of raku and wheel-throwing clay to the public. This is where she became interested in tiles and discovered the "cuerda seca" technique.

For further information check our NC Commercial Gallery listings, call the gallery at 828/688-3599 or visit (www.crimsonlaurelgallery.com).
[ | November 2010 | Feature Articles | Carolina Arts Unleashed | Gallery Listings | Home | ]
Carolina Arts is published monthly by Shoestring Publishing Company, a subsidiary of PSMG, Inc. Copyright© 2010 by PSMG, Inc., which published Charleston Arts from July 1987 - Dec. 1994 and South Carolina Arts from Jan. 1995 - Dec. 1996. It also publishes Carolina Arts Online, Copyright© 2010 by PSMG, Inc. All rights reserved by PSMG, Inc. or by the authors of articles. Reproduction or use without written permission is strictly prohibited. Carolina Arts is available throughout North & South Carolina.