Feature Articles


For more information about this article or gallery, please call the gallery phone number listed in the last line of the article, "For more info..."
November Issue 2010

University of South Carolina in Columbia, SC, Features Works by Garth Johnson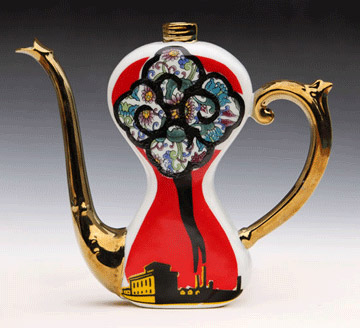 The University of South Carolina in Columbia, SC, is presenting the exhibit, Garth Johnson: Extreme Craft, featuring an exhibition of altered vessels using decals, laser transfers, and china paint, on view in the McMaster Gallery in the Department of Art through Nov. 24, 2010.
Johnson is an unorthodox ceramicist, professor at the College of the Redwoods (CA), author of 1000 Ideas for Creative Reuse and proprietor of the blog Extreme Craft.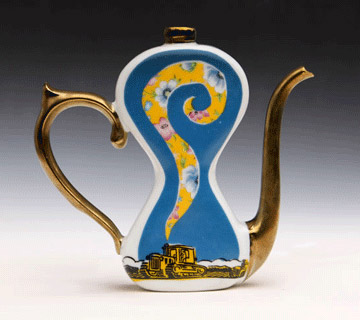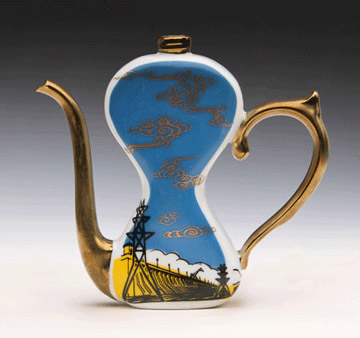 Johnson offered the following statement, "I was born and raised in Lincoln, NE, and spent my formative years in the country, learning to entertain myself with no neighbors around. This isolation ended my senior year of high school, when I went to Germany as an exchange student. This was the year of unification, and I spent it right outside of Bonn - an excellent vantage point from which to watch the new world order emerge."
"When I returned, I did the only thing that made sense to me, and enrolled in the University of Nebraska, Lincoln as an art major - an illustration major to be exact," adds Johnson. "I plodded through art school, singing in local bands, and opened an independent record shop, which I ran for three years. Eventually I 'drifted' into the emerging ceramic department at the University, during which time, the Illustration program at UNL was eliminated. I took this as a sign to throw myself into clay, and finished my BFA in Ceramics in 1997, and also began my work with the Pottery Liberation Front (PFL)."

"The PLF is a force created to challenge art world attitudes toward clay, and more importantly, ceramic artists attitude toward art. All of this led me to grad school for my MFA at Alfred University, where I continued my quest to push the boundaries of ceramic art. I began china painting blank plates, and using computer laser decals, combining them to bear larger images in tandem. These works fell comfortably in the cracks between ceramics, painting, printmaking, and computers, boundaries that I find interesting," says Johnson.
For further information check our SC Institutional Gallery listings, call Mana Hewitt, Gallery Director at 803/777-7480 or visit ( http://web.mac.com/mcmastergallery/McMaster_Gallery/On_Display.html).
[ | November 2010 | Feature Articles | Carolina Arts Unleashed | Gallery Listings | Home | ]
Carolina Arts is published monthly by Shoestring Publishing Company, a subsidiary of PSMG, Inc. Copyright© 2010 by PSMG, Inc., which published Charleston Arts from July 1987 - Dec. 1994 and South Carolina Arts from Jan. 1995 - Dec. 1996. It also publishes Carolina Arts Online, Copyright© 2010 by PSMG, Inc. All rights reserved by PSMG, Inc. or by the authors of articles. Reproduction or use without written permission is strictly prohibited. Carolina Arts is available throughout North & South Carolina.