Feature Articles


For more information about this article or gallery, please call the gallery phone number listed in the last line of the article, "For more info..."
December Issue 2005
Center of the Earth Gallery in Charlotte, NC, Offers Works by Drew Deane, Lael Weyenberg & Katherine Grossfield
Center of the Earth Gallery in Charlotte, NC, is presenting an exhibition of works by Drew Deane, Lael Weyenberg & Katherine Grossfield, on view through Dec. 27, 2005.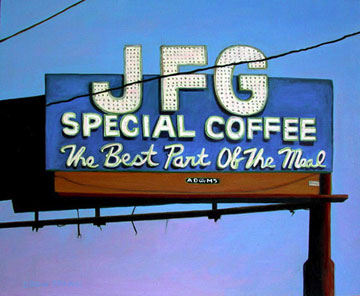 Drew Deane
After receiving her MFA in painting from the University of Florida, Drew Deane found her new home in the mountains of North Carolina. Her paintings were primarily landscapes until she made her way down Route 66 one day and her work would never be the same again. Playful yet solemn portrayals of Kitsch neon hotel and entertainment signage documents the roadside landscape of our culture. This Americana speaks a simple message of freedom as you look to the sky. Deane has painted nostalgic signs in Charlotte specifically for this exhibition.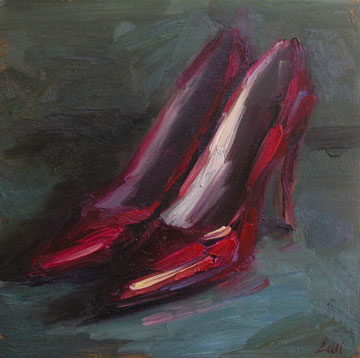 Lael Weyenberg
A newcomer to the art scene, Lael Weyenberg was born in Kelowna, British Columbia, Canada, and lived most of her life in Washington state. Formerly a floral designer, much of her subject matter reflects her interest in the arrangement of beauty. Some of her small floral masterpieces can be compared to the Flemish paintings of Rachel Ruysch.

Recently Weyenberg has focused on still lifes of shoes, which are featured in this exhibition. Her brushwork has an energy reminiscent of John Singer Seargent, whom she cites as an influence. Light and emotion are important elements in her process of capturing simplicity and mood in her art. Weyenberg has been featured in Southwest Arts Magazine and shows in galleries spanning the West Coast.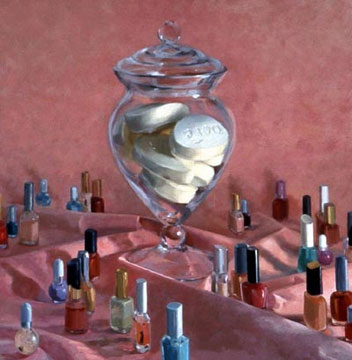 Katherine Grossfield
The gallery is also featuring a selection of paintings by Katherine Grossfield. Grossfeld received her BFA from the Cornish Institute in Seattle and her post-baccalaureate certificate and MFA from the School of the Art Institute of Chicago. Her work centers around exploring cultural roles and identities through the careful observation of the everyday objects of domestic life. Grossfeld focuses on objects that are rarely given close attention. The subject matter of her work includes household cleaners, toys, toiletries, nail polish, folded laundry, etc. Grossfeld crops the images in unusual ways and removes the objects from their original context allowing the viewer to consider the subject matter in a different light and make new connections.
For further information check our NC Commercial Gallery listings, call the gallery at 704/375-5756 or at (www.centeroftheearth.com).


[ | Dec'05 | Feature Articles | Gallery Listings | Home | ]
Carolina Arts is published monthly by Shoestring Publishing Company, a subsidiary of PSMG, Inc.
Copyright© 2005 by PSMG, Inc., which published Charleston Arts from July 1987 - Dec. 1994 and South Carolina Arts from Jan. 1995 - Dec. 1996. It also publishes Carolina Arts Online, Copyright© 2005 by PSMG, Inc. All rights reserved by PSMG, Inc. or by the authors of articles. Reproduction or use without written permission is strictly prohibited. Carolina Arts is available throughout North & South Carolina.