Feature Articles


For more information about this article or gallery, please call the gallery phone number listed in the last line of the article, "For more info..."
December Issue 2009

NC Museum of Nature Sciences in Raleigh, NC, Features Works by Kent Ambler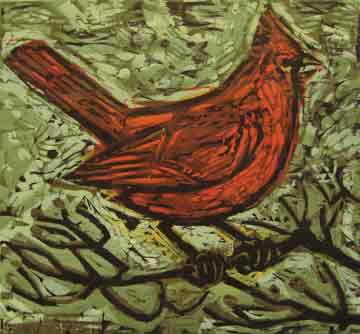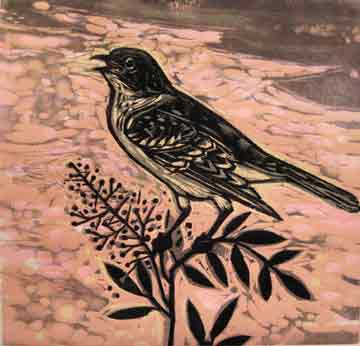 The NC Museum of Nature Sciences in Raleigh, NC, will present the exhibit, Nature in Relief: Woodcuts, featuring works by Greenville, SC, artist Kent Ambler, on view in the Nature Art Gallery from Dec. 4 - 27, 2009.

Ambler's earliest memories are of drawing. He always knew he would be an artist. He was first introduced to printmaking as a student at Ball State University in Indiana. He quickly discovered he had an innate understanding of the process of making woodcuts and has been making them ever since. Ambler moved to South Carolina in 2000 and spends his days working in his home studio painting and making woodcuts. His surroundings offer endless subject matter, including the birds he finds to be particularly fascinating, and are common images throughout his work.
Ambler's work usually begins with an observation or a quick sketch which becomes the departure point for the exploration of other aesthetic qualities. "Mark making is the main focus of my woodcut prints," he says. "While the imagery in my art is generally subject- or object-oriented, the visual appearance of each piece is of most importance from an aesthetic and intuitive approach rather than a conceptual one."
In the past, Ambler worked directly from life, but now tends to work more from a combination of observation, memory and intuition. "I try not to over think or over plan my work. I generally do my best work when my brain is 'turned off, so to speak." Ambler has been exhibiting continually since 1992 all over the US and has won numerous merit and purchase awards. His work has been collected by several universities, including Clemson, Appalachian State, Purdue and Wisconsin, as well as Twentieth Century Fox. In addition to the works displayed in the show, the Gallery will have a broad selection of his unframed prints for sale.
For further information check our NC Institutional Gallery listings, call the gallery at 919/733-7450 x369 or visit (www.naturalsciences.org/museum-store/nature-art-gallery).



[ | December'09 | Feature Articles | Carolina Arts Unleashed | Gallery Listings | Home | ]
Carolina Arts is published monthly by Shoestring Publishing Company, a subsidiary of PSMG, Inc. Copyright© 2009 by PSMG, Inc., which published Charleston Arts from July 1987 - Dec. 1994 and South Carolina Arts from Jan. 1995 - Dec. 1996. It also publishes Carolina Arts Online, Copyright© 2009 by PSMG, Inc. All rights reserved by PSMG, Inc. or by the authors of articles. Reproduction or use without written permission is strictly prohibited. Carolina Arts is available throughout North & South Carolina.