Feature Articles


For more information about this article or gallery, please call the gallery phone number listed in the last line of the article, "For more info..."
December Issue 2010

Artspace in Raleigh, NC, Offers New Exhibits Into 2011
Artspace in Raleigh, NC, will several new exhibits continuing into the new year including: Fine Contemporary Crafts, featuring a biennial juried exhibition, juried by Alfred D. Ward of Winthrop University in Rock Hill, SC, on view in Gallery 1 from Dec. 3 - Jan. 15, 2011; La Mostra Della Borsa, featuring works by Alfred D. Ward, on view in Gallery 2 from Dec. 3 through Jan. 29, 2011;
Fine Contemporary Crafts is a biennial juried exhibition recognizing individual artists involved in the design and creation of functional and sculptural contemporary crafts. Craftspeople and artists from all over the country submitted work in a variety of media for this exhibition. Works were selected by Alfred D. Ward.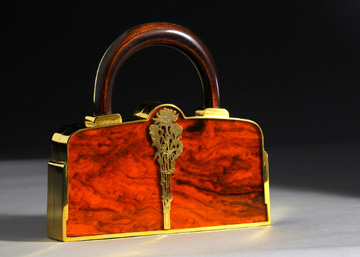 Alfred Ward
The exhibition of handbags, La Mostra Della Borsa, finds its origin in Alfred Ward's fashion product design work in England some thirty years ago. As a consultant designer to several British and European giftware, jewelry, and silver companies, Ward was fortunate to work in close connection with the fashion industry in the City of London. Today, many ancient and relatively modern production skills are being lost as technology replaces the fine work once practiced by highly trained craftsmen and women. The pieces in La Mostra Della Borsa reflect Ward's desire to perpetuate some ancient and modern production practices from Italy, France, and England by employing them in the design of handbags and evening bags.
This series of handbags and small purses characterize thirteen women familiar to Ward. They range over a period of fifty years and include a high school girlfriend, professional women, a famous rock and roll singer and pianist, and current friends. The handbags and purses closely assume the nature, character, and personality of each woman - although tempered by the artist's knowledge and experience of their lives and work. In a similar fashion to Elgar's Enigma Variations, each piece contains specific imagery that relates solely to that individual.
Ward was appointed professor of art and design at the University of London in 1966. In 1974 he became the Head of the Department of Silversmithing, Jewelry, and Allied Crafts at the Sir John Cass College of Art in London. As a consultant designer for Spink & Sons in London (by Appointment to her Majesty the Queen), Ward designed and produced pieces for the Royal Family, Revlon of Paris, Covent Garden Opera House, Margo Fonteyn, and the Royal Air Force. Having moved to the United States in 1981, he taught at the University of Michigan and the Center for Creative Studies in Detroit. In 1985, he became the Director of the Appalachian Center for Crafts in Tennessee and in 1989 became the Chair of Art and Design at Winthrop University in South Carolina. As an internationally known designer, Ward has worked in many museums and collections. In 2006 The Victoria and Albert Museum in London purchased a piece of his silverware for their permanent collection.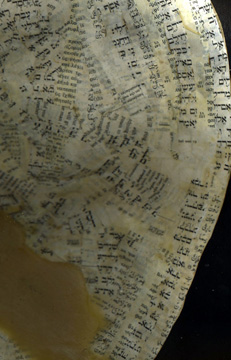 Ann Corley Silverman
In the exhibit, Natural Religion, Ann Corley Silverman has been drawn to these 'meditations,' as she calls her process of making material objects, by an incresingly angry, doctrinal, segregation amongst the diverse children of Abraham. She notes, "The world is too rich, and nature too mysterious, for any one religious doctrine to claim that it has formed the right set of words in the right order. Languages change, meanings grow and shift. We humans are just as much natural features of the natural world as the trees we make into chairs, or build into walls, or grind into books. We form roots, we branch out, and we blossom in many different ways."
Silverman is a paper artist who has recently come to NC, where she lives for part of the year in a studio surrounded by trees. She still resides part-time in OH where she has worked as a resident artist for the Ohio Arts Council. Her work has been exhibited in both solo and juried shows in NYC, Ohio, and elsewhere.

The artist has also worked as a caterer and cook for many years, loves the activity of small farms, and wants to nourish the growth of interest in the sustainability of our foods. Papermaking, in some elemental fashion, connects the dirt from which the fiber grows (and on whose richness life depends) with the water that is essential to the process (and without which life could not exist). Handmade paper itself is the artist's medium.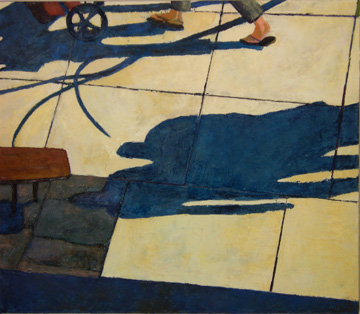 Anthony Ulinski
In the exhibit, Urban Landscapes, Anthony Ulinski's twelve paintings narrate late-afternoon scenes outside Teaism, a tea house in downtown Washington, DC. Teaism is strategically located between two DC institutions: the Phillips Collection and Kramer's Bookstore. It is where Ulinski goes to sort out his impressions from his favorite painters at the Phillips - Richard Diebenkorn, Nicholas de Stael, William Scott - or to leaf through new books. The artist likes to take his tea upstairs and sit by a window overlooking the sidewalk. These paintings are chance glimpses of patrons and passers-by as observed from that contemplative space. Ulinski has focused on the sidewalk grid, the curbs, and the street and shadows, using those lines as structure for his subjects as they walk past or sit and talk. His medium is a mixture of oil paints and wax, a heavy impasto applied with a palette knife to give the surfaces texture.
Ulinski began his career in the arts as a studio furniture maker in 1976. His furniture has been exhibited at the Smithsonian Craft Fair, The Philadelphia Museum of Art Craft Fair, and the John Elder Gallery, NY. In 1993, he began the study of painting, working with Elizabeth Lentz, Jacob Cooley and Beverly McIver. In 2001 he had his first solo painting show at Hager Smith Design Gallery, Raleigh. He has exhibited widely in the years since. His work is held in many private collections, and his painting Eddo's Marina # 3 (2009), from the Sacramento River series, was recently selected by the City of Raleigh for its permanent collection. His awards include painting fellowships from the Virginia Center for the Creative Arts and the Vermont Studio Center. Ulinski is an exhibiting member of Artspace in Raleigh, where he serves on the Board of Directors. He also teaches at Penland School of Crafts in NC and Arrowmont School of Arts and Crafts in TN.

For further information check our NC Institutional Gallery listings, call Artspace at 919/821-2787 or visit (www.artspacenc.org).
[ | December 2010 | Feature Articles | Carolina Arts Unleashed | Gallery Listings | Home | ]
Carolina Arts is published monthly by Shoestring Publishing Company, a subsidiary of PSMG, Inc. Copyright© 2010 by PSMG, Inc., which published Charleston Arts from July 1987 - Dec. 1994 and South Carolina Arts from Jan. 1995 - Dec. 1996. It also publishes Carolina Arts Online, Copyright© 2010 by PSMG, Inc. All rights reserved by PSMG, Inc. or by the authors of articles. Reproduction or use without written permission is strictly prohibited. Carolina Arts is available throughout North & South Carolina.