Feature Articles


For more information about this article or gallery, please call the gallery phone number listed in the last line of the article, "For more info..."
December Issue 2010

Sumter County Gallery of Art in Sumter, SC, Features Works by John Hull and Linda McCune
The Sumter County Gallery of Art in Sumter, SC, is presenting two solo exhibits including: John Hull: Big Bad Love and Linda McCune: Resilience, both on view through Dec. 31, 2010.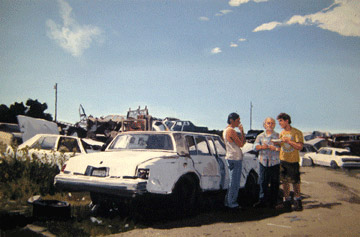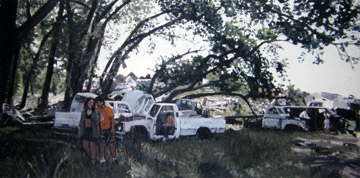 John Hull
The Sumter County Gallery of Art is excited and honored to present an extensive exhibition of paintings by John Hull. Often described as contemporary realism or narrative in nature, these works evoke a visceral and psychological response, through the recognition of familiar yet unsettling situations and landscapes.

Hull received a BA from Yale University in 1977 and an MFA from the University of Illinois, Urbana ­ Champaign in 1981.

Hull's work has been exhibited both nationally and internationally in numerous solo and group shows since 1981. Including exhibitions at the New Museum of Contemporary Art, the Metropolitan Museum of Art, the Butler Museum of American Art, National Gallery of New Zealand, the Edwin A. Ulrich Museum and the Wichita Art Museum, Wichita, KS; The Yellowstone Art Museum, Billings, MT; Tatischeff & Co. and Grace Borgenicht Gallery, New York, NY.

Hull has received numerous awards including: four National Endowment for the Arts Visual Artists Fellowships, a Maryland Arts Council Visual Artist Fellowship, the Thomas Benedict Clarke Prize for Painting in 2004 from the National Academy of Design, the 2000 Researcher of the Year at University of Colorado at Denver, three Researcher of the Year Awards from the College of Arts and Media at UCD, and the Achievement Award for Acrylic Painting in 1995 from American Artist Magazine.

Hull had the following to say about his work, "The paintings that make up this exhibition were inspired by the stories of Larry Brown and Jim Thompson. In their narratives visual impressions succeed each other, overlap and over cross - you can feel the force of human heredity and the flow of people who are capable of almost anything - heroism or cowardice, tenderness or cruelty."

"The interactions between the characters in these paintings are presented objectively, staged like soliloquies or speeches by characters in a play," Hull adds. "At the heart my attempt is the creation of associations for the viewer so that they may go through an experience all the way to the end, and if there is some meaning, so to speak, it will be like an inborn painting that is invisible until it emerges."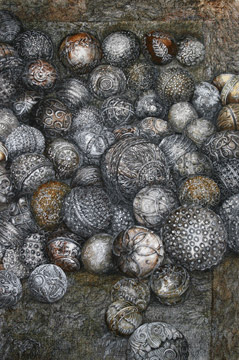 Linda McCune
The Sumter County Gallery of Art is also proud to present the work of one of South Carolina's most celebrated artists Linda McCune. This exhibition will be comprised of a selection of both monumental and more intimately scaled sculptures as well as two dimensional works that address a variety of political, social and aesthetic issues and that draw inspiration from personal and autobiographical sources.

McCune was born in Dyersburg, TN. She received her Bachelors of Fine Arts from the University of Tennessee, Knoxville, TN, and her MFA from the University of South Carolina, Columbia, SC. McCune has held the lead professor positions in art history, fine arts and art education, as well as serving as gallery director in the Department of Visual and Performing Arts of Greenville Technical College, in Greenville, SC.

When speaking of her works on paper, The Stress Series, McCune states, "These works are visual documents of the language and euphemisms of stress. Such statements as 'I am all tied up in knots,' 'Everything is mixed or tangled up,' 'I have dropped an important ball,' or 'I can't see the forest for the trees,' are all commonplace communications."

McCune adds, "These stress drawings rely on the subtle shifting of form, color and texture and the careful placement of objects, which the artist has elected from otherwise unnoticed day-to-day artifacts, within the compositions to communicate a variety of emotions and associations both conscious and unconscious."

About her sculptural series, Natural and Theological Virtues, she states, "These works are strongly symbolic objects with a rich abstract and metaphorical language inherent in their use. As objects, they have a ritual base, combining visually appealing surfaces and an underlying message offering myriad possibilities for the exploration of an emotional language."

McCune has been featured in over 60 solo exhibitions as well as participating in over 350 group shows across the US, and internationally. She was nominated for the AVA Awards, has won South Carolina's state artist fellowship grant for artistic excellence and was honored as one of the most influential artists of the last 100 years by the South Carolina Arts Commission.

For further information check our SC Institutional Gallery listings, call the gallery at 803/775-0543 or visit (www.sumtergallery.org).
[ | December 2010 | Feature Articles | Carolina Arts Unleashed | Gallery Listings | Home | ]
Carolina Arts is published monthly by Shoestring Publishing Company, a subsidiary of PSMG, Inc. Copyright© 2010 by PSMG, Inc., which published Charleston Arts from July 1987 - Dec. 1994 and South Carolina Arts from Jan. 1995 - Dec. 1996. It also publishes Carolina Arts Online, Copyright© 2010 by PSMG, Inc. All rights reserved by PSMG, Inc. or by the authors of articles. Reproduction or use without written permission is strictly prohibited. Carolina Arts is available throughout North & South Carolina.