Feature Articles

February Issue 2001
Green Hill Center for NC Art in Greensboro, NC, Offers Photography Triennial
The Green Hill Center for North Carolina Art in Greensboro, NC, is presenting the Merry Moor Winnett Photography Triennial, featuring works by North Carolina Photographers. The exhibition, which honors the life and photography talents of Merry Moor Winnett will be on view through Mar. 21, 2001.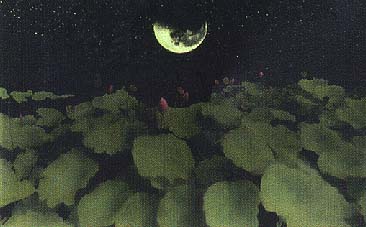 Merry Moor Winnett
Merry Moor Winnett was educated at Michigan State University and the University of South Florida at Tampa. She resided in Greensboro. Her training included photography as well as painting, drawing, ceramics, and art history. Applying various elements of these techniques and concepts to her photographs was a natural progression. Much of her work is hand painted and drawn upon in its final state. Often the imagery imparts a surrealistic quality. Her fascination with self images (masks) and the moon were prominent in many of her works.
Winnett was diagnosed with breast cancer in 1992. She lost her battle with the disease in 1994. Winnett's awards and show record are extensive, with exhibitions all over the country. Her work is in the Chrysler Museum, Norfolk, VA; the collection of the University of South Florida; and New York's Floating Foundation of Photography. Winnett was a photography instructor at Guilford College in Greensboro, the Sawtooth Center in Winston-Salem, NC, and a much-beloved member of the arts community. The City of Winston-Salem and the Sawtooth Center for Visual Art honored Winnett with "The Artist of the Year Award" in 1995.
"Merry Moor Winnett was a young woman whose life would best be described as a life of passion, exuberance and uncanny wit. Her presence in any company was infectious with laughter, humor and artfully veiled wisdom. He exuberant nature was as much a part of her life and friendship as it was a part of the prodigious body of work that she produced," said internationally known photographer and professor, Evon Streetman.
The photographers featured in this exhibition are Diana H. Bloomfield, Kalina Boteva, Pam Crist, Michael Cunningham, Artie Dixon, Paul Jeremias, Kenton Robertson, David Simonton, and Merry Moor Winnett.
Diana Hooper Bloomfield has always been fascinated by carnivals and fairs and has spend a number of years photographing them. Bloomfield provides us with a glimpse into the carnie world with her dreamlike photographs of the North Carolina Fair. The images are created with infrared film, which have been "hand-tinted to emphasize the enchanting and nostalgic quality the state fair holds for many". Other images are produced by pinhole camera and platinum printed as contacts.

"For me, these images depict more than a physical location: rather, they more accurately capture a state of mind, possessing a lack of immediacy an elusiveness that seems timeless," said Bloomfield.
Bloomfield is the recipient of a Regional Artist Project Grant for 2000-01, awarded by the United Arts of Raleigh and Wake County. She lives in Raleigh, NC.
Kalina Boteva originally from Mezdra, Bulgaria, currently resides in Hillsborough, NC. A practicing medical doctor, a neurologist, Boteva has found the time and inspiration to develop her photographic interest. The photographs are printed to produce images very quiet and minimalist, which gently bring forth the subtle aspects of the human form in these nude portraits. Boteva is the recipient of the Durham Arts Council Emerging Artists Grant, and was an exhibiting artist in the North Carolina Museum of Art's 48th Triennial North Carolina Artists Exhibition.
Pam Crist is an award winning black and white photographer from Greensboro, NC, and is recognized as one of the areas top experts in black and white photography and printing. She will be showing work from her most recent "Italian Light" series.
Crist is the owner of Dalmatian Black and White Custom Lab in Greensboro, which specializes in B&W custom printing, serving photographers, ad agencies and corporations nationwide. Her studies have been with leading black and white photographers, such as Morley Baer, John Sexton and Allen Matthews. Most recently, Crist has spent time traveling to Italy photographing and studying at "The Cortona Center of Photography in Tuscany".
Crist's work is collected extensively on both the corporate and private level. Recent awards include winning the North Carolina Fine Art Photographers Best of Competition, twice in the last three years. She has also won the prestigious $50,000 Best of the Best international award, presented by the Photo Marketing Association, in which she combined her photography and design background creating ads for Dalmatian.
Michael Cunningham, originally from Landover, MD, lives in Winston-Salem, NC. He fell in love with photography at the age of 12 and has been a commercial photographer for the past 10 years. Cunningham's personal projects are all done in black and white. Recently his work appeared in the Smithsonian's Anacosta Museum's, Locating the Spirit in African American Art. On view during this exhibition is a portion of his body of work, Crowns: Portraits of African American Women in Church Hats. Cunningham released a coffee table book of this series in the fall of 2000; it is available from Doubleday Publishing.
Artie Dixon, originally a Wilmington, NC native, now living in Chapel Hill, NC, has for the past 12 years been working as a photographer following a career in graphics and advertising. Included in the exhibit are photographs from her body of work, The Suitable Mr. (w)Right. The series features formal portraits of Durham native, Mr. Frank Taylor Wright, and convey his indubitable sense of personal style. Dixon's photography is in many private collections and her graphic work is in the collections of CCB and the National Museum of American Art.
Paul Jeremias, currently living in Asheville, NC, has photographed the landscape, abandoned building and launch pads at Cape Canaveral Air Station to create his body known as Abandon in Place. He has exhibited his work internationally and is included in many collections, such as that of The Ilford Corporation, The Polaroid Collection, The Museum of Photographic Arts, San Diego, CA; and The Canada Council Art Bank, Ottawa, Canada.
Kenton Robertson, a self-employed commercial photographer, uses a variety of inventive techniques to create his haunting and intriguing self-portraits. The images are surrealistically contorted and misshapen, occasionally imparting a fun-house mirror resemblance. A graduate of UNC-Greensboro with a BA in Communications and Theater and MFA in Art and History. Robertson lives and has his studio in Greensboro, NC.
David Simonton creates black and white silver gelatin prints capturing scenes from the world of twilight in his night photographs from the series, North Carolina at Night. These subtle images attempt to capture something fleeting, and Simonton inserts himself as only a shadow in the landscape. The series developed over time, "not as the result of intentional focus or effort, but as an ongoing process of what we do. Photographers photograph and at the end of the day it's sometimes hard to stop." Simonton is originally from Yonkers, NY, and currently lives in Raleigh, NC, where he is an instructor at North Carolina State University Crafts Center and Peace College. He is the recipient of the North Carolina Arts Council Visual Artist Fellowship Grant for 2000/2001.
The exhibition Merry Moor Winnett Photography Triennial is being sponsored by Konica Manufacturing USA, Inc. In conjunction with the exhibition Green Hill will offer a Portfolio Review For Photographers on Feb. 10 from 2 to 5pm, at the green Hill Center. All area photographers and student photographers are invited to participate in this free event. Call 336/333-7460 to register.
For further information check our NC Institutional Gallery listings or call the center at 336/333-7460, e-mail at (info@greenhillcenter.org) or at (http://www.greenhillcenter.org).

[ | Feb'01 | Feature Articles | Home | ]

Mailing Address: Carolina Arts, P.O. Drawer 427, Bonneau, SC 29431
Telephone, Answering Machine and FAX: 843/825-3408
E-Mail: carolinart@aol.com
Subscriptions are available for $18 a year.
Carolina Arts is published monthly by Shoestring Publishing Company, a subsidiary of PSMG, Inc.
Copyright© 2001 by PSMG, Inc., which published Charleston Arts from July 1987 - Dec. 1994 and South Carolina Arts from Jan. 1995 - Dec. 1996. It also publishes Carolina Arts Online, Copyright© 2001 by PSMG, Inc. All rights reserved by PSMG, Inc. or by the authors of articles. Reproduction or use without written permission is strictly prohibited. Carolina Arts is available throughout North & South Carolina.