Feature Articles

February Issue 2002
Theatre Art Galleries in High Point, NC, Offers Four New Exhibits
Through Feb. 16, 2002, Theatre Art Galleries in High Point, NC, is hosting an array of exhibitions.
Three artists from Atlanta, GA: Maurice Clifford, Tom Ferguson, and Lynn Linnemeier exhibit their paintings and mixed media work in the Main Gallery in an exhibit entitled, Conscious Community. Curated by Edith Kelman (TAG's 25th anniversary Fiber & Light artist from 2000), this exhibit features three artists who are fueled by their intentional commitments to the worlds they examine. Their individual artworks focus on personal experience and perspective, yet they deal with broader issues of politics, the environment, historic and cultural issues, and contemporary social dynamics. They examine the role and relevance of community artists to the entirety of world history.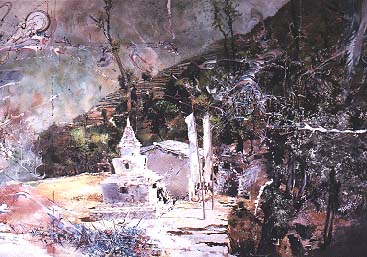 Maurice Clifford
Maurice Clifford's paintings mix elements of landscapes, architecture, human anatomy, ritual, layers of pattern, and digital imagery. An artist who has recently delved deeply into computer imagery and digital possibilities, Clifford combines high-tech and traditional methods to stunning effect. Clifford was born in Spartanburg, SC, and raised in Atlanta. He was educated at the University of Georgia, Atlanta College of Art, Whitney Independent Study Program, Yale University and the New York Institute of Technology.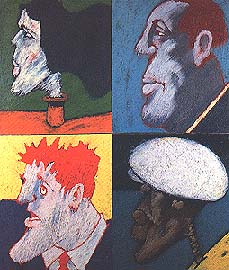 Tom Ferguson
Tom Ferguson was born and raised in Michigan but has lived in Atlanta for many years. A frequently published political cartoonist and satirist, his biting wit and keen observations translate into vividly colored and thickly textured figurative paintings. His images are archetypes for social characters, yet are drawn from people the artists observes on the street. Receiving a BS from N. Michigan University and an MFA from Michigan State University, Ferguson has exhibited widely, including SECCA in Winston-Salem, the High Museum of Art, NEXUS Contemporary Art Center, and Sandler-Hudson Gallery in Atlanta.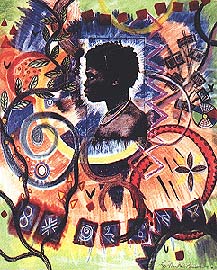 Lynn Marshall-Linnemeier
Lynn Marshall-Linnemeier is a photographer, painter and writer. Born and raised in Southern Pines, NC, she documents the people and places of the South. Educated at the Atlanta College of Art, she has won numerous awards including an NEA Fellowship, Lila Wallace-Reader's Digest/Arts International Travel Fellowship that took her to Australia to document the aboriginal people of that region and a Kellogg Foundation Residency that took her to South Africa.
In Gallery B, local photographers Robb Jolly and Julianna Foster exhibit works taken in a series, Continuum. High Pointer Robb Jolly is showing a series of photographs of four individuals during each of the four seasons of the year. Educated at Appalachian State University and Vanderbilt University, Jolly has shown at SEED Collective in Winston-Salem, Fayetteville Museum of Art and Raleigh Fine Arts Society. He is the editor and publisher of New Rag Rising, a biannual print magazine featuring photographic and text-based artwork. From Winston-Salem, Julianna Foster, exhibits several series of lyrical figurative photographs. Having recently earned a BFA from UNC-G, Foster has shown at Salem College, SEED Collective, Weatherspoon Art Gallery, Fayetteville Museum of Art, and SECCA.
Emanuel Lekkas is exhibiting his photographs of the World Trade Center Towers in the Hallway Gallery. This exhibit, entitled Past Glories, is a tribute to NYC, its citizens and its architecture. These powerful photographs remind the us to appreciate life and our surroundings. Lekkas, who works in High Point and resides in Winston-Salem, lived most of his life in the New York City area. He was educated at the New York Institute of Photography and has shown at Liberty State Park in NJ and other venues in NJ.
In Gallery C, the High Point Fine Art Guild hosts their annual Winter Juried Show.
For more information check our NC Institutional Gallery listings or call the TAG at 336/887-2137.
[ | February'02 | Feature Articles | Home | ]

Mailing Address: Carolina Arts, P.O. Drawer 427, Bonneau, SC 29431
Telephone, Answering Machine and FAX: 843/825-3408
E-Mail: carolinart@aol.com
Subscriptions are available for $18 a year.
Carolina Arts is published monthly by Shoestring Publishing Company, a subsidiary of PSMG, Inc.
Copyright© 2002 by PSMG, Inc., which published Charleston Arts from July 1987 - Dec. 1994 and South Carolina Arts from Jan. 1995 - Dec. 1996. It also publishes Carolina Arts Online, Copyright© 2002 by PSMG, Inc. All rights reserved by PSMG, Inc. or by the authors of articles. Reproduction or use without written permission is strictly prohibited. Carolina Arts is available throughout North & South Carolina.