Feature Articles


For more information about this article or gallery, please call the gallery phone number listed in the last line of the article, "For more info..."

February Issue 2005
Beaufort Art Association in Beaufort, SC, Offers Works by Beverly Peacock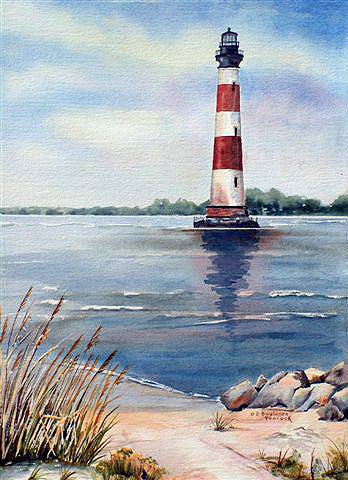 Beverly Peacock knows exactly why she paints lighthouses. "They remind me of strength and power and safety. They make me feel good," she explains. Visitors to the Beaufort Art Association Gallery in Beaufort, SC, can expect to see plenty of Peacock's lighthouses during her exhibit of watercolors, on view from Feb. 14 through Mar. 19, 2005.

Peacock is fascinated by the history of lighthouses, as well as their visual quality. "Each has a story behind it. For example, there is the Virginia lighthouse that was moved to North Carolina." Her show will include watercolors of lighthouses in Georgia, North Carolina, Maine, and Florida. Peacock is also inspired by the stunning settings in which she finds these watchful giants and does admit to a bit of "artistic license" when it comes to backgrounds. "I just love to be able to create," she says.
It was actually the Hunting Island lighthouse that inspired Peacock to start painting. The Minnesota native saw her first lighthouse in 1953 when she moved to Allendale, SC. "Hunting Island was the place to go, along with Hilton Head, even though there wasn't a bridge at that time." Her first glimpse of the Hunting Island lighthouse caused her to exclaim , "My Word!" However, Peacock would not begin painting until almost 40 years later.
The death of Peacock's first husband inspired her to take art classes. As a former floral designer and wedding consultant she had a visual sense that blossomed during her first class in watercolor. "I loved to wet the paper, put the color on and let it mingle. It made me feel excited and full of anticipation about how the paint would move." Peacock was motivated by the problem solving nature of painting. "At first it was just therapeutic. I was involved and thinking, 'How can I do that?' Now it is a pure joy."
Since that first watercolor class, Peacock has gone on to study art, including several retreats to Kunuga in NC where she has taken classes. She and several local artists meet every Thursday, as well, to paint and critique one another. Peacock sees these weekly meetings as social occasions that serve to jump start the creative process. "Art is about meeting interesting people, too. They give me inspiration when they share ideas and I love to just watch them work."
In addition to lighthouses, Peacock paints flowers and local architecture. Her show will include paintings of the Chapel of Ease and Old Sheldon Church. She also does some portraits or what she calls "likenesses" of people, like her grandchildren. But it is the "magnificence of lighthouses" that will be the focus of the exhibit.
For more info check our SC Institutional Gallery listings, call the gallery at 843/379-2222 or at (www.allbeaufort.com/baa/).

[ | Feb'05 | Feature Articles | Gallery Listings | Home | ]


Carolina Arts is published monthly by Shoestring Publishing Company, a subsidiary of PSMG, Inc. Copyright© 2004 by PSMG, Inc., which published Charleston Arts from July 1987 - Dec. 1994 and South Carolina Arts from Jan. 1995 - Dec. 1996. It also publishes Carolina Arts Online, Copyright© 2004 by PSMG, Inc. All rights reserved by PSMG, Inc. or by the authors of articles. Reproduction or use without written permission is strictly prohibited. Carolina Arts is available throughout North & South Carolina.