Feature Articles


For more information about this article or gallery, please call the gallery phone number listed in the last line of the article, "For more info..."

February Issue 2005
Garden Gallery in Raleigh, NC, Features Works by Paige Williams Harris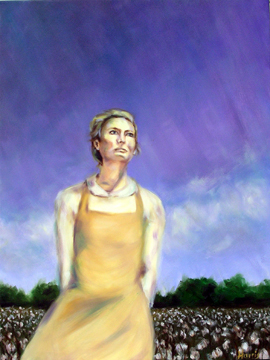 Garden Gallery in Raleigh, NC, is presenting the exhibition, Quiet Dignity, featuring works depicting southern farm women of the early 20th century. The series includes fifteen oil paintings ranging in size from 24" x 30" to 36" x 48" and focuses mainly on the expressions of the women as they work in fields of corn or tobacco. The exhibit will be on view through Mar. 19, 2005.
Harris' series Quiet Dignity depicts the acceptance, beauty and work ethic of southern farm women in the early 20th century. Mid-19th century artists such as Jean-Francois Millet provided a paradigm for the concept of her series. Harris researched her own North Carolina ancestry for inspiration and named all fifteen works of the series after women from her family tree.
Giving dignity to these women with calloused hands and neatly coifed hair while they labor physically, Harris reveals their strength and courage. She believes there is a lot of emphasis on the many roles of women today and sees a real correlation between women today and women a hundred years ago. Not unlike contemporary women, these hard-working women possessed the same desires for life- healthy children, a sense of joy each day, and pride in their work and family. With simple poses in fields of cotton and tobacco, Harris juxtaposes active brushwork and high-key palettes with the contemplative nature of her subject matter.
Harris is a graduate of the Savannah College of Art and Design in Savannah, GA, and holds a BFA in painting and art history. During post-graduation, she taught art and art history in a private secondary school in Jacksonville, FL. During the last ten years she has painted on commission while holding teaching and administrative positions. Currently, Harris is a full-time artist with gallery representation. Her work can be found at Garden Gallery, Budding Artists, Ltd. in Atlantic Beach, NC and on the web at (www.paigeharris.com).
For further information check our NC Commercial Gallery listings, call the gallery at 919/787-2999, e-mail at (gardengallery@bellsouth.net) or at (www.gardengalleryart.com).

[ | Feb'05 | Feature Articles | Gallery Listings | Home | ]


Carolina Arts is published monthly by Shoestring Publishing Company, a subsidiary of PSMG, Inc. Copyright© 2004 by PSMG, Inc., which published Charleston Arts from July 1987 - Dec. 1994 and South Carolina Arts from Jan. 1995 - Dec. 1996. It also publishes Carolina Arts Online, Copyright© 2004 by PSMG, Inc. All rights reserved by PSMG, Inc. or by the authors of articles. Reproduction or use without written permission is strictly prohibited. Carolina Arts is available throughout North & South Carolina.