Feature Articles


For more information about this article or gallery, please call the gallery phone number listed in the last line of the article, "For more info..."

February Issue 2005
Redux Contemporary Art Center in Charleston, SC, Features Works by Caleb Weintraub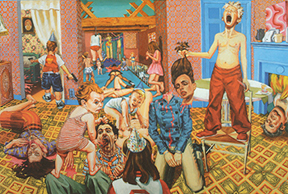 The Redux Contemporary Art Center in Charleston, SC, is presenting the exhibition, Pop Goes the Apocalypse, featuring a series of drawings, paintings, and media by Caleb Weintraub on view through Feb. 25, 2005
Please note PARENTAL ADVISORY: EXPLICIT CONTENT.
Caleb Weintraub was born in 1977 in Trenton, NJ, and grew up in the suburbs of New York. After finishing high school, he went to Israel to study religion. Upon returning to the US he went to Boston University to complete his BFA. Following college, he spent a year performing and recording with the band Stick Figures. Weintraub went on to earn his Masters of Fine Arts degree from The University of Pennsylvania in 2003.

After graduation, Weintraub taught at the University of Pennsylvania for two semesters. At the same time, he was hired by the city of Philadelphia to paint a fifty foot outdoor mural. Shortly after Weintraub moved to Brooklyn, NY, he continued to work in his studio and took a job teaching drawing at Kean University in New Jersey. He currently is a visiting professor of painting, drawing, and design at Indiana University where he lives with his wife and newborn son.
Weintraub is the recipient of numerous painting awards including the Lawrence Shpintz Award and the Piero Dorazio Award. His paintings, videos and printed media have been widely exhibited. Last month, a solo exhibition of his work entitled, See How they Run, at Galerie Swanstrom in Boston was met with great critical success and public intrigue. He will be exhibiting in March at Axel Raben Gallery in Chelsea, NY. Upcoming residencies include stays at The Contemporary Artists Center in North Adams, MA, and The Santa Fe Art Institute.
Weintraub's work is about over stimulation and desensitization - the disintegration of moral and spiritual awareness and the absence of accountability in our culture. He conjures a world of excesses and extremes. A world not dissimilar from our own, where the inhabitants can no longer distinguish between good and evil, love and hate, hunger and greed. Here children reign supreme; they turn against parents, assume adult roles, and function outside the normal realm of behavior and experience. The works address a culture that has lost its ability to be scandalized. Events that might otherwise seem obscene or horrifying are here delivered in candy colors with vibrating patterns and spattered saccharin blood the color of pink bubble gum, unsettling us by virtue of their humor and their farce and challenging us to consider the consequences of indulgence.
On view next at Redux will be the exhibition, Family and Manipulation, featuring the photographic work of Laura Harden and Lolly Koon from Mar. 4 through Apr. 1, 2005.
For more information check our SC Institutional Gallery listings, call the center at 843/722-0697 or at (www.reduxstudios.org).


[ | Feb'05 | Feature Articles | Gallery Listings | Home | ]


Carolina Arts is published monthly by Shoestring Publishing Company, a subsidiary of PSMG, Inc. Copyright© 2004 by PSMG, Inc., which published Charleston Arts from July 1987 - Dec. 1994 and South Carolina Arts from Jan. 1995 - Dec. 1996. It also publishes Carolina Arts Online, Copyright© 2004 by PSMG, Inc. All rights reserved by PSMG, Inc. or by the authors of articles. Reproduction or use without written permission is strictly prohibited. Carolina Arts is available throughout North & South Carolina.