Feature Articles


For more information about this article or gallery, please call the gallery phone number listed in the last line of the article, "For more info..."

February Issue 2005
Tiemaker's Gallery in Charleston, SC, Offers Works by David Edwards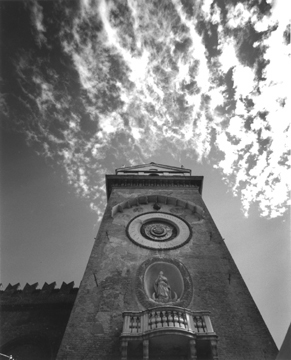 Tiemaker's Gallery in Charleston, SC, will present the exhibition, Into Italy, presenting new photographs by David Edwards. The exhibit will be on view from Feb. 11-26, 2005.
The exhibition features selected photographs by Edwards taken during four trips to Italy, from 1997-2004. The photographs were taken throughout Italy, from small towns in southern Sicily to more traveled towns in Tuscany and northern Italy. The subjects range from people photography to classic landscapes; and include photographs taken from moving trains, architectural details, and glimpses of daily Italian life.
"I believe photographs are successful when they enhance what you feel and remember from your travels," says Edwards. "The photos are a visual response to a place that is unfamiliar. During each trip we were trying to find ways to interact more and more with the culture and better immerse ourselves in the daily habits of Italian life. The photographs attempt to intensify that visual and cultural experience. Traveling with my wife, Emily, who is also an artist, the trips and the photographs become part of a dialogue about the nature of travel itself. As artists, there is something very seductive about Italy with the art, architecture, food, and the distinctive day-to-day rhythms of life. I hope the photographs are just as seductive as our travels."
One photograph, Marco and Claudio at Chet Bar, is part of a larger story of interacting with the culture. "Emily and I stopped into a bar for a drink, and were observing a group of local teenagers at the table next to us. I liked the table of people, everyone dressed in a hip style, a series of photographs floating above them on the wall. After a few of them left, there were two guys still lounging at the table and I asked them in my very bad Italian if I could take their photograph. I set the camera on a table to compensate for the low light of the bar. And the photograph is as good as or even better than the experience, with one guy smiling and the other with a cool James Dean look. It has a classic feel."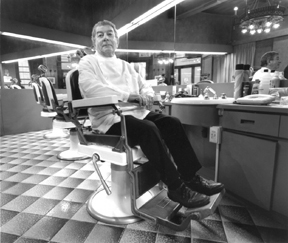 Prints from the exhibition will be available in limited editions. Most of the prints are black and white silver prints, intermixed with a few fine art color prints.
For further info check our SC Commercial Gallery listings, call the gallery at 843/577-0803 or at (www.tiemakersgallery.com).


[ | Feb'05 | Feature Articles | Gallery Listings | Home | ]


Carolina Arts is published monthly by Shoestring Publishing Company, a subsidiary of PSMG, Inc. Copyright© 2004 by PSMG, Inc., which published Charleston Arts from July 1987 - Dec. 1994 and South Carolina Arts from Jan. 1995 - Dec. 1996. It also publishes Carolina Arts Online, Copyright© 2004 by PSMG, Inc. All rights reserved by PSMG, Inc. or by the authors of articles. Reproduction or use without written permission is strictly prohibited. Carolina Arts is available throughout North & South Carolina.