Feature Articles


For more information about this article or gallery, please call the gallery phone number listed in the last line of the article, "For more info..."
February Issue 2007
Theatre Art Galleries in High Point, NC, Offers New Exhibitions
Theatre Art Galleries in High Point, NC, is offering four new exhibitions for visitors, on view from Feb. 3 through Mar. 14, 2007.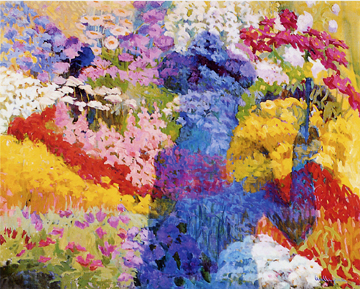 Joan Milligan
The first exhibit, Recent Paintings, on view in TAG's Main Gallery features works by mother and daughter duo Joan Milligan from Pinehurst, NC, and Palmer Hill, residing in Southern Pines, NC. Milligan, daughter and granddaughter of Army Generals and wife of a US Diplomat, has lived and painted all over the world. She had her first one-woman show in 1969 in Cairo and her works are in public and private collections across the United States and Europe. Milligan calls herself an Impressionist "who, in a century in love with intellectualism and formal abstraction, relies on that surprise of sensation and the magic of color." Milligan creates a world of light and space by painting on location.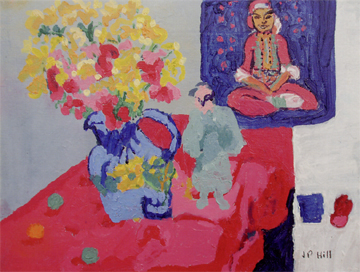 Palmer Hill
Milligan's daughter Palmer Hill studied painting with prominent teachers at Stanford University, George Washington University, UNC-Chapel Hill and in France. However, she pursued a career in journalism and public relations and briefly worked with the US State Department. Hill realized she wanted to focus on her artwork, and at about the same time was diagnosed with multiple sclerosis. She has exhibited her work in Washington, DC, and North Carolina.
Due to the progression of her multiple sclerosis, Hill has been painting with her teeth and says that when she paints she "sees everything as colors and shapes - the world as it is - devoid of swirling emotions and complicated circumstances. Although these physical forms are not the ultimate reality, but simply energy manifesting as matter, our capacity to see and enjoy these forms is part of our birthright." It takes enormous effort, but she lives for painting.
The Art of the Book is a group exhibition, on view in Gallery B, that showcases the works of nine artists who have taken the art of bookmaking to a much higher artistic level, perhaps unexpected in bookmaking. These artists are: Mary Beth Blackwell-Chapman of Lewisville, NC, Daniel Essig from Asheville, NC, Terry Shupback-Gordon and Toby Gordon from Tobaccoville, NC, Bryant Holsenbeck from Durham, NC, Greg Pfaff, Joyce Teta and Kimberly Varnadoe from Winston-Salem, NC, and Benita VanWinkle from Pfafftown, NC. These artists exhibit amazing craftsmanship and originality using a great variety of materials including recycled materials, handmade papers, leather, glass, carved bone and wood.
High Point Fine Art Guild is showing a Winter Juried Show in the Hallway Gallery.
The 31st Annual Student Show, Book It! is showing in the Kaleidoscope Youth Gallery and features book-inspired art by area middle and high school art students. Students exhibit techniques they learned in the annual TAG-into-Schools outreach program this fall. Guest artist, Benita VanWinkle, visited area schools to conduct workshops on book art. This program is supported by a grant from Target.
TAG is a non-profit visual art organization located in the High Point Theatre that presents quality exhibitions and educational programs for the community.
For further information check our NC Institutional Gallery listings, call TAG at 336/887-2137 or visit (www.tagart.org).
[ | Feb'07 | Feature Articles | Gallery Listings | Home | ]
Carolina Arts is published monthly by Shoestring Publishing Company, a subsidiary of PSMG, Inc.
Copyright© 2007 by PSMG, Inc., which published Charleston Arts from July 1987 - Dec. 1994 and South Carolina Arts from Jan. 1995 - Dec. 1996. It also publishes Carolina Arts Online, Copyright© 2007 by PSMG, Inc. All rights reserved by PSMG, Inc. or by the authors of articles. Reproduction or use without written permission is strictly prohibited. Carolina Arts is available throughout North & South Carolina.