Feature Articles


For more information about this article or gallery, please call the gallery phone number listed in the last line of the article, "For more info..."
February Issue 2009

University of North Carolina at Greensboro Features Works by Jules Olitski and Ann Gale
The University of North Carolina at Greensboro (NC) is presenting two new exhibitions at the Weatherspoon Art Museum including: Jules Olitski: An Inside View, A Survey of Prints 1954-2007, on view through Mar. 29, 2009, and Ann Gale: Falk Visiting Artist, on view through Apr. 12, 2009.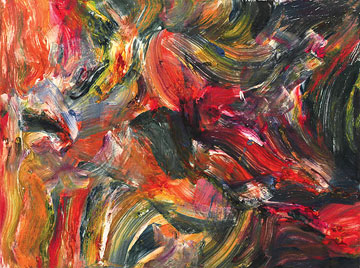 Jules Olitski
Jules Olitski (1922-2007) is best known for his large, lyrical abstractions that glow with color saturated into the canvas - works that associate him with a group of artists called the "Color Field" painters. Less familiar are his smaller and more intimate prints. Olitski first ventured into printmaking in 1956, when he organized the first art department at C. W. Post College of Long Island University. His earliest prints were copper plate etchings, a multi-step process much less fluid and gestural than painting.
In the sixties, Olitski gravitated toward color lithography, which afforded him the freedom of gesture and subtle layering of color that reflected both the formal structure - a relatively open center bordered by multiple swaths of color at the perimeter - and the tonal discoveries of his Color Field paintings. The last nearly two decades of his printmaking practice were characterized by expressive brushstrokes and luminous color, particularly in exceptional monotypes pulled from sheets of glass that he had painted.
In a 1989 letter, Olitski asked the rhetorical question, "What's so exciting about making a print, any print? It has to be the dizzy-making moment - call it terror - that comes with the pulling of a print." As the exhibition curator, Judith Stein, points out in the catalogue, "The process of printmaking, then, in contrast to painting, is not unlike the fancy footwork of Ginger Rogers," characterized by a wag as doing everything backwards and in high heels.
This exhibition was organized by Brattleboro Museum & Art Center, Brattleboro, VT.
Like the artists she cites as influences, Lucian Freud and Alberto Giacometti, Ann Gale approaches the figure as an opportunity to discover and undress the human psyche. She paints directly from the model, a process that involves weeks or, sometimes, months. Each painting reflects the dematerialization and fragmentation of the subject that occurs through this extended intimate contact, expressed visually by the artist's use of short brushstrokes that merge figure with ground. Neutral hues and the suggested play of light over time convey a sense of changing atmosphere that reinforces the mutability of the self. Gale's penetrating, tension-filled portraits move beyond the surface of exterior identity to capture her sitters' interior emotions in the position of being intently observed.
Gale (b. 1966; lives in Seattle, WA) received her BFA from Rhode Island College, Providence and her MFA from Yale University, New Haven, CT. Her work has been featured in exhibitions nationwide, and on the PBS program, Egg: The Arts Show, and in Curve The Female Nude Now (Rizzoli, 2003). A professor at the University of Washington, Seattle, Gale has been the recipient of numerous grants, including an Artist Trust Grant/GAP Award (2003), a WESTAF/ NEA Fellowship (1996), and an Elizabeth Greenshields Foundation Grant (1997).
For further information check our NC Institutional Gallery listings, call the Museum at 336/334-5770 or visit (www.weatherspoon.uncg.edu).


[ | February'09 | Feature Articles | Carolina Arts Unleashed | Gallery Listings | Home | ]
Carolina Arts is published monthly by Shoestring Publishing Company, a subsidiary of PSMG, Inc. Copyright© 2009 by PSMG, Inc., which published Charleston Arts from July 1987 - Dec. 1994 and South Carolina Arts from Jan. 1995 - Dec. 1996. It also publishes Carolina Arts Online, Copyright© 2009 by PSMG, Inc. All rights reserved by PSMG, Inc. or by the authors of articles. Reproduction or use without written permission is strictly prohibited. Carolina Arts is available throughout North & South Carolina.