Feature Articles


For more information about this article or gallery, please call the gallery phone number listed in the last line of the article, "For more info..."
February Issue 2009

USC in Columbia, SC, Features Works by Fletcher Crossman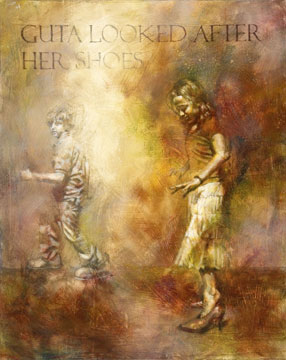 The University of South Carolina in Columbia, SC, is presenting the exhibit, The Age of Endarkenment, featuring works by Fletcher Crossman, on view in the McMaster Gallery through Feb. 27, 2009.
This exhibition is likely to raise a few eyebrows as it presents a British artist's view of modern America. For the last six years, Crossman has been creating large canvases that take a sideways glance at American life; The Age of Endarkenment brings these pieces together for the first time.
Crossman's huge figurative paintings have been widely exhibited on both sides of the Atlantic, including the British Council's display in the New York Art Expo. Like his previous work, the exhibit takes on some timely themes, including the Iraq War, contemporary politics, and oil dependence.
"I've made my home in America, so I certainly don't want to offend," Crossman says. "But I use painting as a way of exploring issues that trouble me, and there have been a lot of troubling issues over the last few years."
Crossman's paintings are created on an epic scale, and his figures seem to exist in an eerie darkness that permeates all of the artist's work. "I think we've been living through some fairly dark times," Crossman says. "No matter what your politics are, America seems to have been knocked off its stride. This exhibition is a reflection upon that."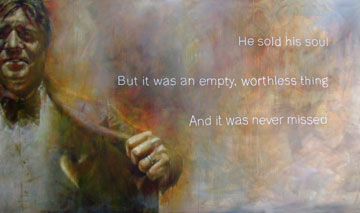 In one eight foot painting a smiling politician opens his jacket to reveal a heart of stone with wording that reads: "He sold his soul, but it was an empty, worthless thing and it was never missed." Other pieces are similarly cryptic, including a series that examines the experiences of Holocaust survivors through pictures of their grandchildren.
"I think these pieces will open a dialogue with our audience," says Mana Hewitt, Director of McMaster Gallery.
After completing his degree in Fine Art. Crossman did a variety of jobs, including working for a record company, street performing, and clerking in the British House of Commons. In the early 1990's Crossman's artwork was featured in books and calendars, and he was invited to exhibit at the Albert Memorial Museum, Devon, UK. Crossman took part in a one year Fulbright exchange to America in 1999.
In 2001 and 2002 the British Council sponsored Crossman to be part of the New York ArtExpo and in 2003 the artist decided to move permanently to the States.
After several years of working with commercial galleries, Crossman turned his focus in a totally new direction, creating huge canvases with a very muted palette. The subject matter became much more personal, dealing with the political and moral questions that were overshadowing American life.
This new work resulted in grants from the Puffin Foundation and the George Sugarman Foundation, and Crossman was invited to exhibit a series of Holocaust-related paintings for the 2007 Yom HoShoah commemoration in Charleston, SC. The Piccolo Spoleto Arts Festival named him the invitational artist in 2007, and Crossman continues to put on exhibitions of his work both in America and in the United Kingdom.
For further information check our SC Institutional Gallery listings, call Mana Hewitt at 803/777-7480 or e-mail at (mana@sc.edu).
[ | February'09 | Feature Articles | Carolina Arts Unleashed | Gallery Listings | Home | ]
Carolina Arts is published monthly by Shoestring Publishing Company, a subsidiary of PSMG, Inc. Copyright© 2009 by PSMG, Inc., which published Charleston Arts from July 1987 - Dec. 1994 and South Carolina Arts from Jan. 1995 - Dec. 1996. It also publishes Carolina Arts Online, Copyright© 2009 by PSMG, Inc. All rights reserved by PSMG, Inc. or by the authors of articles. Reproduction or use without written permission is strictly prohibited. Carolina Arts is available throughout North & South Carolina.