Feature Articles

March Issue 2002
Asheville Gallery of Art in Asheville, NC, Features Works by Sahar Fakhoury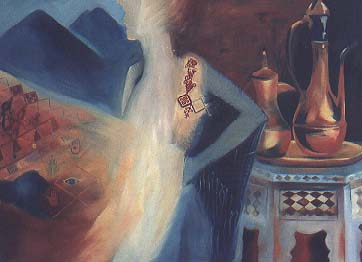 For the month of March, the Asheville Gallery of Art in Asheville, NC, will host an exhibit of works by Asheville painter Sahar Fakhoury titled Some Times Some Where. Beginning with her childhood years, Fakhoury has always been fond of drawing and painting, however, she did not have the opportunity to attend art school. She graduated from a computer institute. But her love for art pushed her to take lessons from a professional artist for two years, and from another artist for one more year. She exhibited her work in several art galleries in Kuwait, where she was living at the time.
After the Gulf war in 1990, she moved to Asheville with her husband and three daughters, and took some time to raise her family and adapt to her new home. She attended several workshops, has been part of a live drawing group, and is now a student at the UNC-Asheville, working toward her BFA degree.
Fakhoury works with watercolor and oil paints. The majority of her paintings revolve around the human figure.
For more information check our NC Institutional Gallery listings or call the gallery at 828/251-5796.

[ | March'02 | Feature Articles | Home | ]

Mailing Address: Carolina Arts, P.O. Drawer 427, Bonneau, SC 29431
Telephone, Answering Machine and FAX: 843/825-3408
E-Mail: carolinart@aol.com
Subscriptions are available for $18 a year.
Carolina Arts is published monthly by Shoestring Publishing Company, a subsidiary of PSMG, Inc.
Copyright© 2001 by PSMG, Inc., which published Charleston Arts from July 1987 - Dec. 1994 and South Carolina Arts from Jan. 1995 - Dec. 1996. It also publishes Carolina Arts Online, Copyright© 2001 by PSMG, Inc. All rights reserved by PSMG, Inc. or by the authors of articles. Reproduction or use without written permission is strictly prohibited. Carolina Arts is available throughout North & South Carolina.