Feature Articles

March Issue 2002
Patriot Hall in Sumter, SC, Offers Exhibition on Wearable Art and More - Much More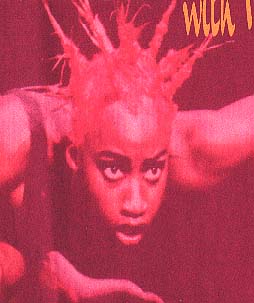 What's in your closet? Tear, rip, torch, smash, zip, pour, or mount it! And join us-clad in your very own fantasy-in Sumter, SC, Mar. 29, 2002. Sumter, a small mostly rural community of nearly forty thousand inhabitants, has recently become home to some of the most innovative and cutting edge art events taking place in South Carolina. Sumter, the exact geographical center of the state, is often "off center" in their approach to providing creative opportunities for artists from South Carolina and beyond. The current 'opportunity' is the Out of the Closet exhibit which celebrates wearable art and fashion and is coming to the prestigious Patriot Hall, Sumter's white columned symbol of Southern gentility and tradition. Proudly sponsored by the Sumter County Cultural Commission, this exhibit and related events continues a commitment to explore the boundaries of visual, literary and performing arts. The juried gallery exhibit features two-and three-dimensional works, local to international in origin, that reflect a fascinating range of artistic styles: exotic jewelry, high fashion garments, sketches and photographs of unusual designs.

The innovative opening night festivities, beginning with an avant-garde reception at 7pm, offer once-in-a lifetime experiences. Where else are you going to see fantasy clad attendees invited to participate in a quirky award ceremony? Imaginative Best categories include: Body Art (piercing and tattoos welcome), Fantasy Hair, and Wicked Accessories and, of course, Most Outrageous. From bizarre to elegant to comical, every bold participant will be rewarded with a rousing chorus of "wows, oohs and ahs."
Off beat performance art, featuring South Carolina aritsts, Martha Brim, Director of Columbia, SC's Power Company and Loren Schwerd, Professor of Art, College of Charleston, will command center stage from 8:30-10pm. A bewitching runway fashion show will fill the breaks between the various performance artists. Clothing designers, hair designers and artists from throughout the US and Europe have already submitted proposals describing their designs or on-stage performances. An example is noted South Carolina artist, Marcelo Novo, who will be painting models in his origional and highly distintive style. When pressed for details, the event coordinator mentioned metal and paper dresses, a costume that "breaths," and high-rise hair that glows in the dark, explaining, "Think of it this way. Out of the Closet collides with traditional notions of art and fashion." Discovery beckons!
Technical Director for the event, David Shoemaker, promises an industrial, high tech, "hard edge" feel and appearance to his creative set design.
Hats off to the exhibit and event organizers: Bernadette Vielbig, Professor of Art at the University of South Carolina, Columbia, Martha Greenway, and Peggy and Booth Chilcutt (the Sumter team that organized the award winning Accessibility).

The gallery exhibition at Patriot Hall continues through Apr. 17, 2002. Patriot Hall Gallery is open Mon. - Fri., between the hours of 9am-5pm.
Participants in the exhibition include: from SC - Carter Seibels (Charleston); Felicia Smith (Columbia); Marla Black (Rock Hill); Jane Allen Nodine (Spartanburg); R. Cole (Columbia); Nancy Badgley (Summerville); Doug DeGood (James Island); Susan Lenz (Columbia); Liisa Salosaari Jasinski (Newberry); Heidi Parikh (Columbia); and Jodi Klinger (Charleston). US Artists from outside SC include: Catherine May (VA); Alice Flight (VA); Grace Teng (NY); Kendra Roberts (NY); Valeri Rose (FL);Demaris Ann Howe (MD); Mary Ann Lucas (TX); Elizabeth Mackie (NJ); Aileen Boos (LA); Shannon Wallace (GA); Songyi Kim (VA); and Rob McAdams (unknown). International participants include: Katia Vardoulaki (Greece).

Come out of the closet. Be there on Mar. 29, for the exhibition opening and "fantasy" stage show.
The exhibition, opening reception and stage performances are free and open to the public.
For additional information contact: Bernadette Vielbig, at 803/777-6918, e-mail at (freeartgirl@hotmail.com); Booth Chilcutt, at 803/436-2616, e-mail at (sumteroperahouse@yahoo.com); and Martha Greenway, at 803/436-2260, e-mail at (patriot_hall@sumtercountysc.org).
[ | March'02 | Feature Articles | Home | ]

Mailing Address: Carolina Arts, P.O. Drawer 427, Bonneau, SC 29431
Telephone, Answering Machine and FAX: 843/825-3408
E-Mail: carolinart@aol.com
Subscriptions are available for $18 a year.
Carolina Arts is published monthly by Shoestring Publishing Company, a subsidiary of PSMG, Inc.
Copyright© 2001 by PSMG, Inc., which published Charleston Arts from July 1987 - Dec. 1994 and South Carolina Arts from Jan. 1995 - Dec. 1996. It also publishes Carolina Arts Online, Copyright© 2001 by PSMG, Inc. All rights reserved by PSMG, Inc. or by the authors of articles. Reproduction or use without written permission is strictly prohibited. Carolina Arts is available throughout North & South Carolina.