Feature Articles

March Issue 2002
Weizenblatt Gallery in Mars Hill, NC, Hosts Works by Mary Edith Alexander & Lin Barnhardt
The Mars Hill Art Department announces the exhibition, Places and Spaces, by painter, Mary Edith Alexander, and ceramic artist, Lin Barnhardt, in Weizenblatt Art Gallery. This show will be on display from Mar. 4 through Apr. 12, 2002.

Mary Edith Alexander creates paintings which depict spaces, architecture and often landscape elements. Her pieces incorporate humorous juxtapositions of figures in the contexts of the canvases. Often, they are in the midst of incongruous activities such as vacuuming a construction site or watching television outside. The resulting imagery has a slightly surreal quality and most of the situations come from the observation of people in everyday life and activities.
Alexander received a Bachelor's of Fine Arts degree from Guilford College and a Master's of Fine Arts degree from Cranbrook Academy of Art in Michigan. She is a 1998-99 recipient of a Regional Artist's Project Grant from the Mecklenburg Arts and Science Council in Charlotte, NC, for her series Landmarks, which was featured in a recent show at Southeastern Center for Contemporary Art in Winston-Salem, NC, entitled, Homegrown. Alexander has had a solo exhibition at Franz Bader Gallery in Washington, DC, among others and has participated in numerous group shows. Her work is in the collections of the McColl School of Business at Queens College, First Charter Bank and Womble, Carlyle, Sandridge and Rice as well as numerous private collections.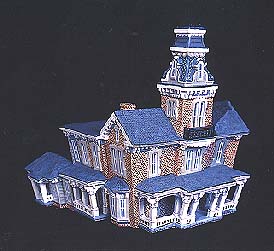 Lin Barnhardt
Lin Barnhardt has been creating clay reconstructions of actual buildings from the Carolinas for the past five years. Barnhardt's concept for his current works incorporates an interest in architecture, sculpture, and painting into one-of-a-kind replicas designed in three point perspective. He examines a building's existence in time and explores the issue of heritage versus progress.
Barnhadt received a Regional Arts Project Grant from the Mecklenburg Arts and Science Council in 1998 and became a member of Piedmont Craftsmen in Winston-Salem, NC, in 1999. He was one of four artists selected in 2001 by the NC Arts Council to design and create a Christmas tree ornament for the White House. He received national attention as a featured artist on HGTV's Christmas at the White House special hosted by Joy Philbin. Barnhardt is a graduate of Appalachian State University. He teaches art at Mt. Pleasant Middle School, Mt. Pleasant, NC.
For further information check our NC Institutional Gallery listings or call the gallery at 828/689-1455.
[ | March'02 | Feature Articles | Home | ]

Mailing Address: Carolina Arts, P.O. Drawer 427, Bonneau, SC 29431
Telephone, Answering Machine and FAX: 843/825-3408
E-Mail: carolinart@aol.com
Subscriptions are available for $18 a year.
Carolina Arts is published monthly by Shoestring Publishing Company, a subsidiary of PSMG, Inc.
Copyright© 2001 by PSMG, Inc., which published Charleston Arts from July 1987 - Dec. 1994 and South Carolina Arts from Jan. 1995 - Dec. 1996. It also publishes Carolina Arts Online, Copyright© 2001 by PSMG, Inc. All rights reserved by PSMG, Inc. or by the authors of articles. Reproduction or use without written permission is strictly prohibited. Carolina Arts is available throughout North & South Carolina.