Feature Articles


For more information about this article or gallery, please call the gallery phone number listed in the last line of the article, "For more info..."

March Issue 2003
Mint Museum of Art in Charlotte, NC, Features Works by Burlon Craig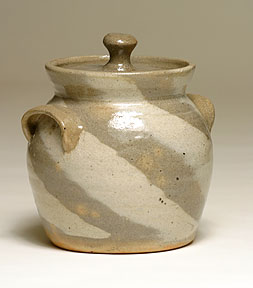 German immigrants and German-American descendants settled in North Carolina's Catawba Valley in the late l8th century as farmers who brought their potterymaking tradition with them. For over 200 years the farmer/potters of the Valley produced utilitarian storage vessels including churns, milk croks, preserve jars, molasses jugs, meat and grain storage jars and a variety of tableware. The advent of refrigeration and mass production nearly killed the centuries-old pottery tradition in the region.
Burlon B. Craig of Vale, NC, was one of the last of the traditional NC potters to work in alkaline glaze. He is credited for having kept alive the traditional methods of production, forms and glazes once prevalent in the Catawba Valley by mentoring other potters to adopt traditional methods along with their innovative techniques and material.
Today, NC's Catawba Valley is home to a thriving number of traditional and studio potters. Burlon Craig, who died last year at the age of 88, is considered one of America's great folk potters. His work is part of the Smithsonian Institute's collection and he was honored with the National Folk Heritage Award by the National Endowment for the Arts in 1984.
Charlotte, NC's Mint Museum of Art salutes one of North Carolina's potting legends in the exhibition Burlon Craig and His Legacy, on view through Oct. 19, 2003, in the Bridges Gallery of North Carolina Pottery. Featured will be Craig's utilitarian churns, milk croks, birdhouses and monkey jugs first learned under Jim Lynn at the age of 14. Craig continued making pottery after serving in the Navy during World War II, digging his own river clay from several locations, including a South River pit once used by Catawba Indians.
Craig worked in a furniture factory for 20 years to make ends meet, but he continued to fire his "groundhog" kiln to temperatures of 2400 degrees Fahrenheit in making his hard, durable stoneware pieces.
Three friends were instrumental in talking Craig into trying his hand at face jugs and snake jugs, popular with tourists since the 1920s. Face jugs helped make Burlon Craig famous. Widely used to store whiskey during Prohibition, face jugs were often made with ugly or scary features to keep small children from exploring its contents.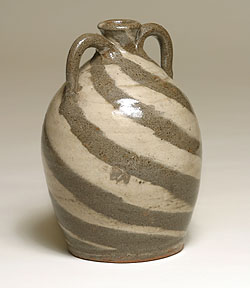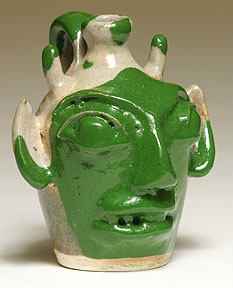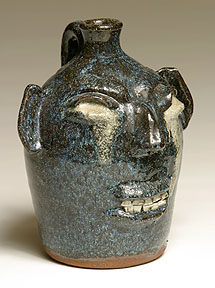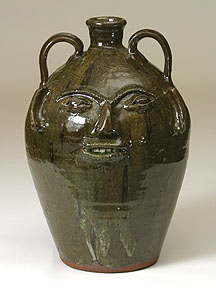 Craig was actually exceptionally innovative in making pottery. He was a master of swirl ware (the use of two different colored clays), developed in the 1930s, but long absorbed as a traditional method over time. Craig's ash glaze was the blend of pine ashes, crushed glass, clay and water used by the area's pioneers, producing a distinctive brown-green glaze. He also created a rich blue glaze, often fringed with milky white, using rutile which occurs naturally in Catawba Valley clay.
Interest in Craig's pottery grew with the arrival of the American Bicentennial Celebration. During the 1980s, collectors waiting in long lines at his kiln openings were given numbers and a limit as to how many pieces each could select to buy. Craig's legacy is amply evident in the work of the present generation of Catawba Valley potters. Examples on display in Burlon Craig and His Legacy include works by Charlie Lisk, Kim Ellington, son Don Craig and Steven Abee.
For more information check our NC Institutional Gallery listings, call the museum at 704/337-2000 or on the web at (www.mintmuseum.org).

[ | Mar'03 | Feature Articles | Gallery Listings | Home | ]

Carolina Arts is published monthly by Shoestring Publishing Company, a subsidiary of PSMG, Inc.
Copyright© 2003 by PSMG, Inc., which published Charleston Arts from July 1987 - Dec. 1994 and South Carolina Arts from Jan. 1995 - Dec. 1996. It also publishes Carolina Arts Online, Copyright© 2003 by PSMG, Inc. All rights reserved by PSMG, Inc. or by the authors of articles. Reproduction or use without written permission is strictly prohibited. Carolina Arts is available throughout North & South Carolina.