Feature Articles

April Issue 2000
Black Mountain Artist at the Asheville Gallery of Art in Asheville, NC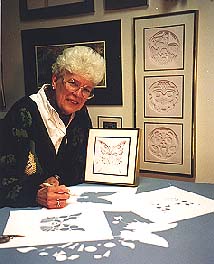 Asheville Gallery of Art in Asheville, NC, Artist-of-the-Month for Apr. will be Black Mountain artist Harriet Herrick on view Apr. 1 through Apr. 29.
Herrick's exhibit will feature cut paper sculptures and combinations of cut paper and watercolor painting. Her wide variety of subject matter includes area churches, stylized crosses, plants, animals, and landscapes. Three of her pieces have won awards this past year in Swannanoa Valley Fine Arts League exhibits.
Herrick uses an-acto knife to cut intricate designs in paper. The designs are drawn in reverse on the back side of the paper. The largest area is cut first. In each succeeding layer the design gets progressively smaller. Next the shapes are cut out of thin foam core board leaving a margin of about 1/4 inch. Each layer must be supported by foam. When stacked together the finished art has a strikingly complex three dimensional effect.
For more info check our NC Commercial Gallery listings or call 828/251-5796.
[ | April'00 | Feature Articles | Home | ]

Mailing Address: Carolina Arts, P.O. Drawer 427, Bonneau, SC 29431
Telephone, Answering Machine and FAX: 843/825-3408
E-Mail: carolinart@aol.com
Subscriptions are available for $18 a year.
Carolina Arts is published monthly by Shoestring Publishing Company, a subsidiary of PSMG, Inc.
Copyright© 2000 by PSMG, Inc., which published Charleston Arts from July 1987 - Dec. 1994 and South Carolina Arts from Jan. 1995 - Dec. 1996. It also publishes Carolina Arts Online, Copyright© 2000 by PSMG, Inc. All rights reserved by PSMG, Inc. or by the authors of articles. Reproduction or use without written permission is strictly prohibited. Carolina Arts is available throughout North & South Carolina.