Feature Articles

April Issue 2000
Converse College in Spartanburg, NC, Exhibits Work of Mayo Mac Boggs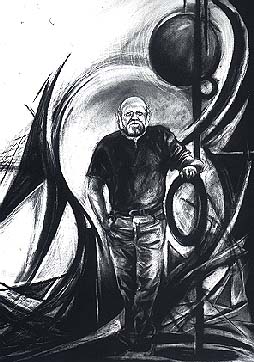 Drawing by Teresa Prater of Mayo Mac Boggs
Converse College in Spartanburg, SC, is presenting the work of Professor Mayo Mac Boggs in an outdoor sculpture exhibition, on view through May 31, to commemorate thirty years of teaching excellence at the college.

Boggs' exhibit will feature a series of twenty-four welded steel outdoor sculptures. The sculptures will be located around Mickel Library and in Carmichael Hall. The selected site for the exhibit is in close proximity to the location of the original building that housed the studio art program thirty years ago.
Mac Boggs is Professor of Art and Design and Chair of the Art Department at Converse College. During his tenure at Converse, Boggs has introduced a new curriculum of contemporary art including metal sculpture, welding, bronze casting, stone carving, life drawing, silk-screen printing, photography, interior design, and ceramics. He developed the Bachelor of Fine Arts (BFA) degree and expanded the internship program for art students, established first a New York City winter term travel program and later a program to Ghost Ranch in Albiquiu, New Mexico, and has recently developed the Graphic Design major in the BFA program. Through the years, the art department has grown from a handful of students and three faculty members to the second largest department on campus - approximately 100 majors and eight faculty members. Boggs was promoted to full professor in 1994.
Mayo Mac Boggs is the son of Marjorie Boggs-Kemper and the late Jessie Mayo Boggs of Ashland, Kentucky. He is married to Dr. Ansley Hassell Boggs, Associate Professor and Director of Special Education at Converse College and daughter of Dr. and Mrs. Fleetwood Hassell of Charleston, SC. His artwork may be viewed on the Internet at (http://www.myartweb.com).
For more info check our SC Institutional Gallery listings or call 864/596-9705.
[ | April'00 | Feature Articles | Home | ]

Mailing Address: Carolina Arts, P.O. Drawer 427, Bonneau, SC 29431
Telephone, Answering Machine and FAX: 843/825-3408
E-Mail: carolinart@aol.com
Subscriptions are available for $18 a year.
Carolina Arts is published monthly by Shoestring Publishing Company, a subsidiary of PSMG, Inc.
Copyright© 2000 by PSMG, Inc., which published Charleston Arts from July 1987 - Dec. 1994 and South Carolina Arts from Jan. 1995 - Dec. 1996. It also publishes Carolina Arts Online, Copyright© 2000 by PSMG, Inc. All rights reserved by PSMG, Inc. or by the authors of articles. Reproduction or use without written permission is strictly prohibited. Carolina Arts is available throughout North & South Carolina.