Feature Articles

April Issue 2000
Rick Beck: form and Valerie Beck: pattern at gallery WDO in Charlotte, NC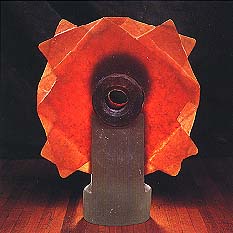 Rick Beck
gallery WDO, located in the South End district of Charlotte, NC, is proud to present an exhibition of works, from Apr. 7 through Apr. 29, by North Carolina husband and wife artists Rick and Valerie Beck. Though both artists work in the medium of glass, Rick and Valerie's work attests to the infinite possibilities of glasswork, his emphasizing complex issues of form, space and light while her vessels provide a much more delicate expression rich with energy and color.
gallery WDO shares the honor of showing Rick's work with the prestigious Heller Gallery in New York. With regard to his work Rick offers: "My work in glass is a synthesis of human and mechanical forms, with an emphasis on formal aspects. I enjoy the interplay of the visual (visceral) versus the verbal (descriptive/technical)."
For more info check our NC Commercial Gallery listings or call 704/333-9123.
[ | April'00 | Feature Articles | Home | ]

Mailing Address: Carolina Arts, P.O. Drawer 427, Bonneau, SC 29431
Telephone, Answering Machine and FAX: 843/825-3408
E-Mail: carolinart@aol.com
Subscriptions are available for $18 a year.
Carolina Arts is published monthly by Shoestring Publishing Company, a subsidiary of PSMG, Inc.
Copyright© 2000 by PSMG, Inc., which published Charleston Arts from July 1987 - Dec. 1994 and South Carolina Arts from Jan. 1995 - Dec. 1996. It also publishes Carolina Arts Online, Copyright© 2000 by PSMG, Inc. All rights reserved by PSMG, Inc. or by the authors of articles. Reproduction or use without written permission is strictly prohibited. Carolina Arts is available throughout North & South Carolina.