Feature Articles

April Issue 2000
Voorhees College in Denmark, SC, Presents Pastel Drawings by Stephen Crall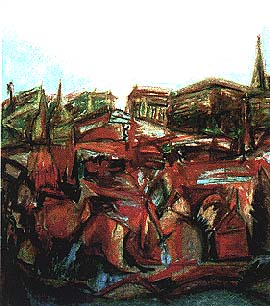 The Humanities Division of Voorhees College in Denmark, SC, is pleased to announce the exhibition Tourist Snap-Shot Drawings by Assistant Professor of Art, Stephen Crall, through Apr. 16. The exhibit of ten pastel drawings are from Prof. Crall's year of teaching in Prague in the Czech Republic. "They [the drawings] are from scenes around the city," says Crall. "Prague is in the mountains so there're all these valleys of urban life with mountain ridges of nature jutting up all around the place. It's a beautiful combination of the nature-made and the industrial-made." Brightly colored and expressively drawn, Crall's work is certain to be a jolt of visual excitement just in time for spring.
Citing the recent lecture and workshop by actor/director Charles Dutton and the performance by African drum and dance troupe Adande, Humanities Division Chairman, Dr. King David Godwin explains, "We're trying to bring to the students and the greater community as broad a range of the arts as possible. We're not a big college with limitless funds but I think it's an important part of our mission. I'm particularly excited about showcasing one of our own faculty members."
Crall, a native of Michigan, earned a Master of Fine Art degree at the University of South Carolina in 1995 and, outside of his fifteen months in Europe, has been living and teaching in SC ever since. Having exhibited in the US and in Europe frequently over the last twelve years, Tourist Snap-Shot Drawings is Crall's first exhibit at Voorhees College and his first exhibit in South Carolina since 1996.
Voorhees College is a private, coeducational, liberal arts institution accredited by the Commission on Colleges of the Southern Association of Colleges and Schools. Founded by Elizabeth Evelyn Wright, a student of Booker T. Washington, Voorhees is fully committed to its mission to meet the highest standards for educating the minds, hearts and spirits of young men and women.
For further infomation check our SC Insitituitional Gallery listings or call the College at 803/703-7069.
[ | April'00 | Feature Articles | Home | ]

Mailing Address: Carolina Arts, P.O. Drawer 427, Bonneau, SC 29431
Telephone, Answering Machine and FAX: 843/825-3408
E-Mail: carolinart@aol.com
Subscriptions are available for $18 a year.
Carolina Arts is published monthly by Shoestring Publishing Company, a subsidiary of PSMG, Inc.
Copyright© 2000 by PSMG, Inc., which published Charleston Arts from July 1987 - Dec. 1994 and South Carolina Arts from Jan. 1995 - Dec. 1996. It also publishes Carolina Arts Online, Copyright© 2000 by PSMG, Inc. All rights reserved by PSMG, Inc. or by the authors of articles. Reproduction or use without written permission is strictly prohibited. Carolina Arts is available throughout North & South Carolina.