Feature Articles


For more information about this article or gallery, please call the gallery phone number listed in the last line of the article, "For more info..."


April Issue 2004
Blue Pony Gallery in Charlotte, NC, Features Collaborative Exhbition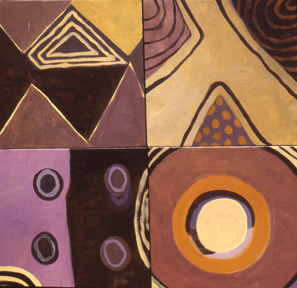 Janette Grassi
An art exhibition opens at Blue Pony Gallery in Charlotte, NC, on Apr. 2, 2004. Titled Stretch, the exhibition is a collaboration between three professional and award-winning women artists. Visual artist Janette Grassi of Charlotte and graphic designer and visual artist Doni Jordan of Columbia, SC, come together with poet and writer Cassie Premo Steele of Columbia, SC. The show continues through Apr. 30, 2004.
Stretch is a show that originated when friends and artists Grassi and Jordan were faced with the chasm of geographic distance. Together they created art objects that communicated through symbol, the possibility that separation creates. Premo Steele, who collaborated with Grassi and Jordan in 1998 entered into the project to provide words that would stretch the two even further.
The exhibition includes works on canvas and paper, collage, textiles, installations and poetry. These mixed media are combined so that what the audience receives is a kind of stretching itself: a way of seeing meaning in shape and color, of understanding the necessity of distance and separation, of looking both inward and outward at the same time to stretch ourselves bodily, emotionally, and spiritually-to be the selves that life has prepared us to become.
The exhibition will also travel to HOFP Gallery in Columbia, SC, in Oct. of 2004.
For more information check our NC Commercial Gallery listings, call the gallery at 704/334-9390, or on the web at (www.noda.org).

[ | Apr'04 | Feature Articles | Gallery Listings | Home | ]


Carolina Arts is published monthly by Shoestring Publishing Company, a subsidiary of PSMG, Inc. Copyright© 2004 by PSMG, Inc., which published Charleston Arts from July 1987 - Dec. 1994 and South Carolina Arts from Jan. 1995 - Dec. 1996. It also publishes Carolina Arts Online, Copyright© 2004 by PSMG, Inc. All rights reserved by PSMG, Inc. or by the authors of articles. Reproduction or use without written permission is strictly prohibited. Carolina Arts is available throughout North & South Carolina.