Feature Articles


For more information about this article or gallery, please call the gallery phone number listed in the last line of the article, "For more info..."


April Issue 2004
Center of the Earth Gallery in Charlotte, NC, Features Works by Louis St. Lewis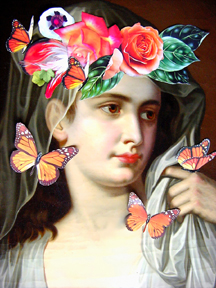 Center of the Earth Gallery is proud to present new works by Carolinas' notorious bad boy artist Louis St. Lewis. The exhibition will take place Apr. 30 through June 19, 2004.
Noted artist and North Carolina native St. Lewis is known for colorful bold pop art collages on glass that combine classical references with ironic commentary on society and religion. In addition to Charlotte's Center of the Earth gallery, the artist is represented in San Francisco, New Orleans, Paris, and Copenhagen.
"St. Lewis is easily one of the most talented artists to arise from that moss covered gothic chrysalis called the south," said Ann Heller- of ART PAPERS.
The talented St. Lewis was born May 23, 1968 on board the SS France 150 nautical miles off the coast of England and therefore swears allegiance to no flag. He was found in the boiler room of the luxury liner, cradled in a wicker basket, wearing a twisted chain of the finest silver bearing a locket, which simply said, "BRANDY". The Artist was adopted by an elderly couple on board the ship and reared among the rolling hills of Virginia.
A biographer would include his activities as the CEO of a Latin American pharmaceutical company, performance designer, and marketer extraordinaire who challenges our perceptions of the new millennium artist.
St. Lewis has been described as: arrogant, playful, obsessive, brilliant, corrupting, captivating, charismatic, dapper, charming, outrageous, shallow, vapid, challenging, spicy, uncanny, nonchalant, extravagant, decadent, flamboyant, clever, petty, heroic, sensual, shocking, awkward, imaginative, masterful, and haunting - among other monikers not suitable for divulging in print in a gallery setting. His notoriety in the Carolinas is legendary.
In his new work, a cornucopia of glamour, sex, religion, and antiquity populate each St. Lewis creation. Victorian dandies who stare out at us as if captured in a shallow scrapbook of time complement modern vixen maidens who are calculatingly pretty.
With recent exhibitions in New Orleans, San Francisco and Paris, we are proud to present Louis St. Lewis to the Charlotte cognoscente.
Some of the St. Lewis trademark glass collages are done in collaboration with photographer Sean Yselt, former bassist of WHITE ZOMBIE. Their manufactured techno fantasy goods will also be featured this fall in NYC's cradle of punk C.B.G.B's.
For further information check our NC Commercial Gallery listings, call the gallery at 704/375-5756, e-mal at (art@centeroftheearth.com) or at (www.centeroftheearth.com).


[ | Apr'04 | Feature Articles | Gallery Listings | Home | ]


Carolina Arts is published monthly by Shoestring Publishing Company, a subsidiary of PSMG, Inc. Copyright© 2004 by PSMG, Inc., which published Charleston Arts from July 1987 - Dec. 1994 and South Carolina Arts from Jan. 1995 - Dec. 1996. It also publishes Carolina Arts Online, Copyright© 2004 by PSMG, Inc. All rights reserved by PSMG, Inc. or by the authors of articles. Reproduction or use without written permission is strictly prohibited. Carolina Arts is available throughout North & South Carolina.