Feature Articles


For more information about this article or gallery, please call the gallery phone number listed in the last line of the article, "For more info..."

April Issue 2005
Charleston County Public Library in Downtown Charleston, SC, Features Works by Louis Joyner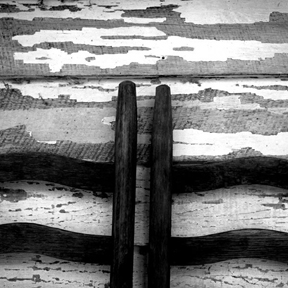 The Saul Alexander Foundation Gallery at the Charleston County Public Library in downtown Charleston, SC, will present an exhibition of photographs by Louis Joyner entitled, Material Changes. The exhibition will be on view from Apr. 1 - 30, 2005. The exhibit of 20 black and white photographs explores the effects of nature on the works of man, it focuses on the small-scale effects of time and the elements, using that as a metaphor for the gradual erosion of our civilization.
By American standards Charleston and the surrounding Lowcountry are old, with hundreds of structures over 200 years of age, and a few over 300 years. But nothing is permanent. Paint peels and flakes, wood rots, iron rusts, stucco and stone weather away. Slowly, over decades, the work of man is transformed by nature. The crisp lines of Colonial craftsmanship are eroding. The structures photographed range from plantation homes to slave cabins, from tombstones to churches, and from civic buildings to a stationary steam engine at the ruins of a 19th century rice mill.
The photographs show the details of this gradual decay, often focusing on a square foot or less of the surface of a building or a wall. "In a way, it's like looking at the leaves on the trees to better see the forest," says Joyner. "The effects of weather and time on building materials are often subtle; you really have to get in close to see what's changing."
For his carefully-composed images, Joyner uses a 4x5 inch view camera. "Although the camera, an Arca-Swiss, is new, most people think it's some sort of antique, especially when they see me with my head buried under the black focusing cloth,: he says. "But the view camera offers a degree of image control that you can't get with a 35mm or digital camera. Besides, I prefer the traditional darkroom approach to printing." Joyner prints on fiber-based silver gelatin paper and then tones the prints with selenium, both for archival permanence and for subtle color changes. "Combined with the warm-tone paper I use, the selenium produces a rich brown color, especially in the shadows."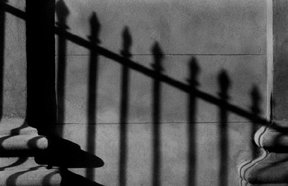 Joyner became interested in photography while studying architecture at the University of Arkansas. He worked as a staff photographer for the Commercial Appeal newspaper in his home town of Memphis, TN. Later Joyner joined Southern Living magazine, where he worked for 27 years as a photographer, writer, and senior editor. His photographs also appear in several Oxmoor House books, including Southern Places, At Home with Southern Living, and Decorating with South Living, which he edited.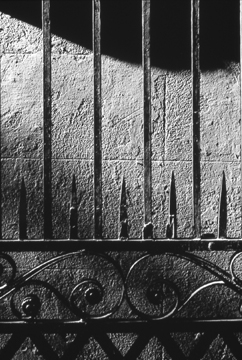 Joyner's photographs have been exhibited in galleries in Memphis, Little Rock, AR, Winston-Salem, NC, Birmingham, AL, Mt. Pleasant, SC, Charleston, and Seaside, FL. He has received a bronze medal in the Nikon International competition and last year won first place in photography at the 20th Annual Piccolo Spoleto Festival Juried Art Exhibition. Joyner also participated in the 2004 group show, Who Among Us, at the City Gallery at Waterfront Park in Charleston. A 12-page article, City of Stone, about Magnolia Cemetery, with photographs and text by Joyner , ran in the Jan./Feb. 2005 issue of Charleston Magazine. Several of those images will also be included in this exhibition.
Joyner and his wife Gaye moved to Mt. Pleasant in 2000. In addition to his art photography, he writes and photographs for a number of national and regional publications. Joyner also teaches at the Center for Photography in Charleston.

On Apr. 3, at 2:30pm, Joyner will present a lecture about his photography in Meeting Room B at the library.
For further information check our SC Institutional Gallery listings, call Cynthia Bledsoe at 843/805-6801 or e-mail at (Bledsoec@charleston.lib.sc.us).


[ | Apr'05 | Feature Articles | Gallery Listings | Home | ]


Carolina Arts is published monthly by Shoestring Publishing Company, a subsidiary of PSMG, Inc. Copyright© 2004 by PSMG, Inc., which published Charleston Arts from July 1987 - Dec. 1994 and South Carolina Arts from Jan. 1995 - Dec. 1996. It also publishes Carolina Arts Online, Copyright© 2004 by PSMG, Inc. All rights reserved by PSMG, Inc. or by the authors of articles. Reproduction or use without written permission is strictly prohibited. Carolina Arts is available throughout North & South Carolina.