Feature Articles


For more information about this article or gallery, please call the gallery phone number listed in the last line of the article, "For more info..."

April Issue 2005
Mint Museum of Art in Charlotte, NC, Offers Exhibition of Prints by Chuck Close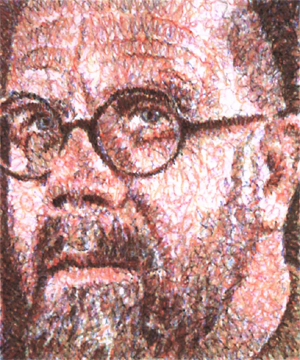 Chuck Close Self Portrait
The exhibition, Chuck Close Prints: Process and Collaboration, is a 30 year survey of the creative processes and technical collaboration between one of America's most important living artists and the master printers who together have challenged the boundaries of traditional printmaking. The exhibit being offered at the Mint Museum of Art in Charlotte, NC, will be on view from Apr. 16 through Aug. 7, 2005.
For more than 30 years, Chuck Close - renowned as one of America's foremost artists in any media - has explored the art of printmaking in his continuing investigation into the principles of perception. This exhibition provides a comprehensive survey of the full extent of Close's long involvement with the varied forms and processes of printmaking, and is the first comprehensive exploration of what can only be termed a prodigious accomplishment in the field.
Featuring works dating from 1972 to 2002, Chuck Close Prints: Process and Collaboration illustrates the artist's range of invention in etching, aquatint, lithography, handmade paper, direct gravure, silkscreen, traditional Japanese woodcut, and reduction linocut. Highlighting the creative processes and technical collaboration between the artist and the master printers, the exhibition demonstrates how Close has consistently but variously challenged the accepted boundaries of the printmaking tradition. Taken together, these prints constitute a remarkable self-portrait of the creative drive, vision and intellect of one ofAmerica's most important living artists.
In Close's work, the topology of the human face becomes a series of gridded abstractions that, when assembled in the eye of the viewer, create an imagistic whole. Celebrated as a quintessential painter and photographer, Close has also mastered the unique artistic language of printmaking, a process that requires a special degree of trust and cooperation between the artist and the technician. The featured images that comprise the exhibition - self-portraits and portraits of subjects familiar across the spectrum of his artistic production - encompass the major forms of printmaking.
From the artist's ambitious first mezzotint, Keith (1972), to his recent pulp-paper multiples, this exhibition chronicles the genius of Chuck Close in the medium in which he has done his most exciting work. While the production of a painting can occupy Close for many months, it is not unusual for one print to take more than two years to complete, from conception to final edition. The relationship between Close and the master printers is key to the success of his prints, as the artist insists on a decidedly interactive approach to their creation. Close has remarked, "Like any corporation, I have the benefit of the brainpower of everyone who is working for me My prints have been truly collaborative, even though control is something that I give up reluctantly."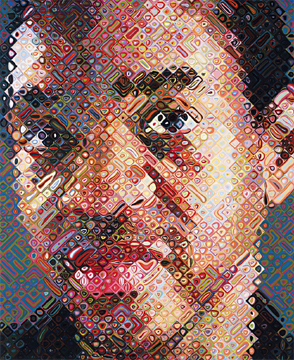 Lyle
Terrie Sultan, director of Blaffer Gallery, writes in her introduction to the exhibition catalogue, "This project is entitled Process and Collaboration because those two words are essential to any conversation with Close about his prints. The creative process is as important to him as the finished product, and these works strive to reveal the routes taken to get to them. Showing the progressive and state proofs here along with the editioned works demystifies the artist's decision-making process, allowing us to visualize how these complex images are made, how he was thinking when he made the mark."
Chuck Close Prints: Process and Collaboration was organized by Blaffer Gallery, the Art Museum of the University of Houston. The exhibition and publication have been generously underwritten by the Neuberger Berman Foundation. The exhibition was made possible, in part, by major grants from the Lannan Foundation and Jon and Mary Shirley, and by generous grants from The Eleanor and Frank Freed Foundation and Houston Endowment Inc. Financial support has also been provided by Jonathan and Marita Fairbanks, Dorene and Frank Herzog, Andrew and Gretchen McFarland, Carey Shuart and The Wortham Foundation, Inc., with additional funds from Karen and Eric Pulaski, Suzanne Slesin and Michael Steinberg, and Texas Commission on the Arts.
Following its presentation in Charlotte, the exhibition will travel to Addison Gallery of American Art, Andover, MA; Modern Art Museum of Fort Worth, TX; Fine Arts Museum of San Francisco, California Palace of the Legion of Honor, CA; Bellevue Art Museum, WA; and Orange County Museum of Art, Newport Beach, CA.
The Museum has planned several related programs in conjunction with this exhibition including:
On Apr. 15, 2005, 10am coffee, 10:30am program - Friends of the Mint Lecture: "Breaking the Rules - A Contemporary Approach to Printmaking". Mary Lou Sussman, owner of Blue Pony Gallery & Press, and June Lambla, independent curator discuss currents in printmaking. Free after museum admission
On Apr. 13, 2005, 2-3pm - Adult/Child Workshops - "Close up on Prints". Check out printed images by artist Chuck Close then make tabletop monoprints. Pre-registration is required for all by calling 704/337-2098. Ages 3 ­ 5, Accompanied by an Adult. Tuition for each class: $10 member, $15 non-member per child
On Apr. 17, 2005, 3pm - Lecture on exhibit, "Cluck Close Prints: Process and Collaboration". Terrie Sultan serves as the Director of the Blaffer Gallery, The Art Museum of the University of Houston and organized the comprehensive exhibition. Free after museum admission.
On May 5, 2005, 2-3pm - Senior Day Tour of exhibit, "Chuck Close Prints: Process and Collaboration". Free after museum admission however reservations are required 704/337-2043.
On May 10, 2005, 4:30-6pm - After School Classes - "Face to Face". Get up close and personal as you explore the prints of Chuck Close and make your own self portrait. For ages 6 ­ 8. Tuition for each class: $10 per session member, $15 per session non-member.
On May 11, 2005, 10-11am - Senior Class -Learn about the stories behind the special exhibitions in a new program geared for active seniors. Carla Hanzal, Curator of Contemporary Art, talks about Chuck Close, one of America's foremost artists, and explores the art of printmaking in the exhibit, "Chuck Close Prints: Process and Collaboration". Free after museum admission.
For further information check our NC Institutional Gallery listings, call the Museum at 704/337-2000 or at (www.mintmuseum.org).

[ | Apr'05 | Feature Articles | Gallery Listings | Home | ]


Carolina Arts is published monthly by Shoestring Publishing Company, a subsidiary of PSMG, Inc. Copyright© 2004 by PSMG, Inc., which published Charleston Arts from July 1987 - Dec. 1994 and South Carolina Arts from Jan. 1995 - Dec. 1996. It also publishes Carolina Arts Online, Copyright© 2004 by PSMG, Inc. All rights reserved by PSMG, Inc. or by the authors of articles. Reproduction or use without written permission is strictly prohibited. Carolina Arts is available throughout North & South Carolina.