Feature Articles


For more information about this article or gallery, please call the gallery phone number listed in the last line of the article, "For more info..."

April Issue 2005
North Carolina Museum of Art in Raleigh, NC, Features NC Photography Collection
In the 10 years that Allen G. Thomas Jr. started collecting photography, he has amassed a collection of works by some of the world's most important contemporary photographers.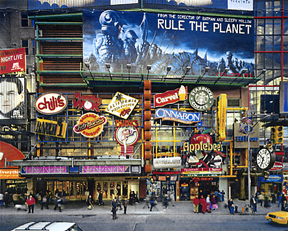 Andrew Moore
On Apr. 2, 2005, the North Carolina Museum of Art in Raleigh, NC, will present selections from Thomas's collection in an exhibition called, In Focus: Contemporary Photography from the Allen G. Thomas Jr. Collection. The exhibit will remain on view through July 17, 2005.
In Focus presents more than 50 photographs by many of the best known and inventive American and international photographers working today. The works in the exhibition - in their diversity, visual impact, and with few exceptions large and colorful format - comprise a remarkable survey of contemporary photography.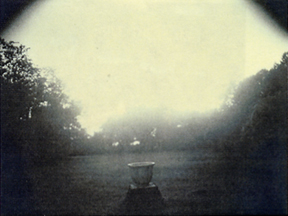 Sally Mann
Artists with works in the exhibition include: Kate Breakey, Andrew Bush, Maria Martinez Cañas, Rineke Dijkstra, George Duncan, Adam Fuss, Anthony Goicolea, Bill Henson, Todd Hido, David Hillard, Bill Jacobson, Simen Johan, Tim Lehmacher, Carrie Levy, Loretta Lux, Sally Mann, Ryan McGinley, Andrew Moore, Walter Martin and Paloma Muñoz, Vik Muniz, Jack Pierson, Orit Raff, Gary Schneider, Andres Serrano, Paul Shambroom, Alec Soth, Doug and Mike Starn, Hiroshi Sugimoto, Susan Unterberg, and Terri Weifenbach.
With In Focus the Museum presents for the first time a photography exhibition taken from a single, private collection. The exhibition is drawn from the collection of Allen G. Thomas, Jr. of Wilson, NC.

Photography is one of today's most vital and imaginative art forms. Long removed from the days when the medium's artistic integrity was questioned and photographs were considered more a science than an art, contemporary photographers constantly experiment with both innovative and traditional subject matter to further define the medium. In addition, many photo artists are eager to employ new technical advancements that seemingly bend the very definition of a photograph. Such imagery also creates a strong visual impact on viewers. Enhanced by their large scale, these works compete for wall space with paintings and are linked to the video arts.
Limited only by their imaginations, photo artists constantly blur the boundaries between the real and the artificial, the posed and the constructed. Unlike more overtly fictive photographs, in which technical trickery and/or blatantly staged elements distort reality, the majority of the works selected for this exhibition are an offshoot of a more traditional, captured approach to the medium. Translated to a large scale, aided by color enhancement, and often accompanied by a strong psychological component, their impact serves to make the ordinary seem extraordinary. In this exhibition viewers will encounter a number of photographic techniques, as well as styles ranging from realism and minimalism to expressionism. Equally diverse is the imagery, which has been organized in three subject categories: Place, Identity, and the Natural World.
With few exceptions, all of the works selected for the exhibition are large-scale, color photographs created during the past decade. Although more than 50 photographs by an international array of artists are presented, the selection represents only part of Thomas's growing collection. Like all great collectors, he shows a passion for the art and has an abiding desire to learn more about the artists and their works.
The photographs in the exhibition employ both traditional and innovative technologies. The works variously address concepts of gender, race, sexuality, and ethnicity; notions of space and time, of places real and imagined, of memory and fantasy; and ideas about science, realism, and transcendence.
Faced with a selection of photographs that deal with such complex ideas, co-curators Lauren Harry Ryan and Dennis P. Weller organized the exhibition into thematic categories, choosing to focus on identity, place and the natural world.
"We tried to respect the individual nature of each of the works while also placing them within a larger context," said Ryan. "Te themes Identity, Place and the Natural World provide a starting point to address important ideas and subjects that the artists grapple with And, while many of the works could easily fit within each of these themes, theyprovide a place to begin a conversation."
The following is a collector's statement offered by Allen G. Thomas Jr.
"Collecting art was never an intentional act. I asked my Aunt Diana years ago when she knew it was time to stop buying art. Her response was that people stop when they run out of wall space. From the beginning that never seemed to matter to me. What I like most about collecting art is the act of buying someone's passion and being able to take a piece of it home. Meeting an artist or having a studio tour invites you to see the art through their eyes. It's a personal, often revealing, experience. It may stem from the fact that I have absolutely no artistic abilities. I've tried it all: ceramics, leather, painting, screen printing, intaglio printing, and wood. I was terrible at all of them, but I was good at buying the better works from the other students who actually had some talent. In short, I was better at buying art than making it."
"I started collecting contemporary photography about ten years ago, when I stumbled into a gallery in New Orleans called A Gallery for Fine Photography on Royal Street. I was immediately struck by the 'reality' of photography. I was very interested, at first, in the captured moment. Now I find myself drawn to the more narrative works; staged and manipulated images fascinate me. Instead of recording history, with digital photography you can make it. The works of Anthony Goicolea, Simen Johan, and Loretta Lux are perfect examples of how artists make the unreal real."
"The melding process between artist and collector is one of the great benefits of collecting. One of my favorite experiences was commissioning a handprint by the South African-born artist Gary Schneider. Although all I supplied was the hand, the process was one of my great life experiences. When I see the print now, it takes me back there, and the image takes on a life of its own."
Several related programs will be presented in conjunction with this exhibition. Call the Museum for further details.
For further information check our NC Institutional Gallery listings, call the Museum at 919/839-6262 or at (www.ncartmuseum.org).


[ | Apr'05 | Feature Articles | Gallery Listings | Home | ]


Carolina Arts is published monthly by Shoestring Publishing Company, a subsidiary of PSMG, Inc. Copyright© 2004 by PSMG, Inc., which published Charleston Arts from July 1987 - Dec. 1994 and South Carolina Arts from Jan. 1995 - Dec. 1996. It also publishes Carolina Arts Online, Copyright© 2004 by PSMG, Inc. All rights reserved by PSMG, Inc. or by the authors of articles. Reproduction or use without written permission is strictly prohibited. Carolina Arts is available throughout North & South Carolina.