Feature Articles


For more information about this article or gallery, please call the gallery phone number listed in the last line of the article, "For more info..."

April Issue 2005
Spartanburg Artists' Guild in Spartanburg, SC, Features Works by Rose Tripoli Mueller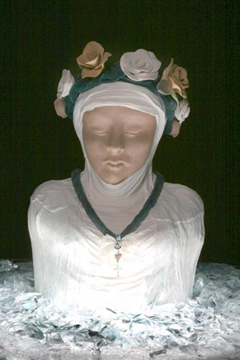 The Spartanburg Artists' Guild will present the exhibit, Spiritual Connections, featuring ceramic and mixed media works by Rose Tripoli Mueller, in the Guild Gallery, at the Spartanburg Arts Center in Spartanburg, SC. The exhibit will remain on view through Apr. 28, 2005.

Mueller, a New York native who now lives in Bostic, NC, has presented her works in a one-person show at New York's Columbia University as well as in galleries and art shows throughout the Carolinas. Her work is also currently on display at the Carolina Foothills Artisans Center in Chesnee, SC, the Cleveland County Arts Council in Shelby, NC, and the Spartanburg County Museum of Art Shop.
"My work is hand-built and sculptural," Mueller said of the pieces, the ideas for which often come to her in a dream or a premonition that she only fully understands later. "It is not locked into a method and allows the material to dictate where the work goes."
Mueller's most recent work, the artist said, conveys a sense of "connecting to a higher power. It speaks of hope, courage, guidance, love and forgiveness," reflecting her interest in and study of holistic healing. Clay is the medium she enjoys most, primarily, she said, because "the image is already in the clay, and when things are right, it is released."
"When I was seven years old I was told about my namesake, Saint Rose, who slept on broken glass for the atonement of other peoples sins. I remember thinking I can't do that, I'm just not able to," says Mueller. That same year she remembers telling her father that she wanted to be an artist and that his response was, "No, you don't. You would starve in an attic." But years later, after she had married and had two children, she attended art school at State University of New York and began to realize her dream. Her husband Will makes much of the wooden cabinetry and containers for her pieces and serves as her "greatest inspiration."
For more info check our SC Institutional Gallery listings, call Beverly Knight at 864/585-8912 or Gibson Smith at 864/486-8994.


[ | Apr'05 | Feature Articles | Gallery Listings | Home | ]


Carolina Arts is published monthly by Shoestring Publishing Company, a subsidiary of PSMG, Inc. Copyright© 2004 by PSMG, Inc., which published Charleston Arts from July 1987 - Dec. 1994 and South Carolina Arts from Jan. 1995 - Dec. 1996. It also publishes Carolina Arts Online, Copyright© 2004 by PSMG, Inc. All rights reserved by PSMG, Inc. or by the authors of articles. Reproduction or use without written permission is strictly prohibited. Carolina Arts is available throughout North & South Carolina.