Feature Articles


For more information about this article or gallery, please call the gallery phone number listed in the last line of the article, "For more info..."

April Issue 2005
Shain Gallery in Charlotte, NC, Offers Works by Kim Schuessler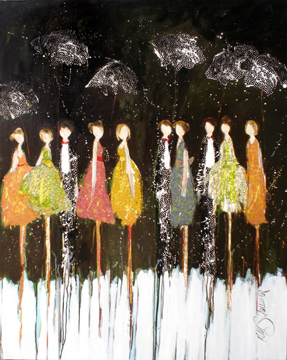 Personal Space, a new collection of works by Atlanta, GA, artist, Kim Schuessler, will be on display at Shain Gallery in Charlotte, NC, from Apr. 22 through May 30, 2005.
Schuessler's works of acrylic and mixed media portray the joyous side of everyday moments we all experience in simple, yet sophisticated, compositions with vivid splashes of color highlighted against a monochromatic background. Often described as "whimsical" or "light-hearted", Schuessler's pieces focus on themes easy and delightful to relate to such as a couple under an umbrella sharing a private moment, or children dancing through puddles in the rain.

Schuessler's emphasis on the importance of everyday life in her work is exemplified in the materials she chooses for her creations. Pieces of the daily newspaper are transformed into flapper-style dresses for the elongated women in her paintings; while figures of playful children are draped in raincoats of origami paper.

According to Schuessler, "It is the universal familiar subjects that have the power in a painting to provoke a viewer into a time of reflection." By encouraging the viewer to reflect on each painting in such a personal way, Schuessler allows the observer to take an active part, inviting them to project a piece of their own life experience or memory into each work.

Schuessler's lighthearted images come with a serious art background. Educated at the University of Georgia and Parson's School of Design in New York, Schuessler has honed her fun-loving craft. She also spent time studying with Dan Connally in Cortona, Italy and at the University of Bourgogne in Dijon, France. Schuessler has over twenty-five exhibitions to her credit including several sell-out shows in collaboration with retail giant Neiman Marcus. Schuessler's work is always in high demand from collectors of her work spanning the East Coast to Hawaii.
For further information check our NC Commercial Gallery listings, call the gallery at 704/334-7744 or at (www.shaingallery.com). (www.shaingallery.com).

[ | Apr'05 | Feature Articles | Gallery Listings | Home | ]


Carolina Arts is published monthly by Shoestring Publishing Company, a subsidiary of PSMG, Inc. Copyright© 2004 by PSMG, Inc., which published Charleston Arts from July 1987 - Dec. 1994 and South Carolina Arts from Jan. 1995 - Dec. 1996. It also publishes Carolina Arts Online, Copyright© 2004 by PSMG, Inc. All rights reserved by PSMG, Inc. or by the authors of articles. Reproduction or use without written permission is strictly prohibited. Carolina Arts is available throughout North & South Carolina.