Feature Articles


For more information about this article or gallery, please call the gallery phone number listed in the last line of the article, "For more info..."
April Issue 2009

Sumter County Gallery of Art in Sumter, SC, Offers New Exhibitions
Sumter County Gallery of Art in Sumter, SC, will present two new exhibits, including: The Big Switch: New Media, Film & Video and H. Brown Thornton: The Geography of Space, on view from Apr. 2 through May 22, 2009.
The Big Switch: New Media, Film & Video features the work of seven artists working in the realm of New Media including experimental film and video, as well as Web-based and digital art practices. H. Brown Thornton: The Geography of Space is a solo exhibition of recent work by this Aiken-based painter and mixed media artist.
The following is a description of the offerings in The Big Switch:
Bill Domonkos: Nocturne - Innocence, wonderment, and the allure of the moon. "Nocturne" is a captivating dreamscape inspired by the music of Tchaikovsky and the poetry of Shelley. Michael Hardy of The Boston Globe states: "Spooky. Hypnotic. Lush. Witty. Sublime." The extraordinary films of San Francisco-based artist Bill Domonkos call up a descriptive vocabulary that never seems to capture the fluidity, the aesthetic metamorphoses, of the director's vision." His short films have been broadcast and shown internationally in cinemas, film festivals, galleries and museums including the MoMA in NYC. They have won numerous awards including Best Experimental Film - New Orleans International Film Festival (2004), Best Film Short - Victory Media Network (2007) and Best Experimental/Avant Garde Short ­ Trenton Film Festival (2004).
Michael Robinson: The General Returns From One Place To Another - This film draws balance between the romantic and the horrid, shaping a concurrently skeptical and indulgent experience of the beautiful. Michael Sicinski of Cinema Scope magazine states: "The General Returns achieves something heady, ethereal, altogether mysterious and nearly impossible to define. The immediate reaction is a mixture of seduction and befuddlement. Subsequent dips into its perfumed pool naturally reveal some of its secrets: a group of loosely related elements are suspended in proximity forming a kind of conceptual cloud." The film takes its title from a one-act Frank O'Hara play in which a Douglas MacArthur-like character expounds his views on poetry and politics. Robinson's work has screened in both solo and group shows at a variety of festivals and galleries including the New York Film Festival, The Times BFI London Film Festival, ICA London, The Yerba Buena Center for the Arts, and the Hong Kong International Film Festival. He received "Best International Film" at the 2006 Images Festival in Toronto, "Best of Festival" at the 2006 Milwaukee Underground Film Festival, and was awarded "Most Promising Filmmaker" at the 2007 Ann Arbor Film Festival. Robinson's work has been discussed in publications such as Cinema Scope, Art Papers, The San Francisco Chronicle, The Village Voice and Time Out New York.
Ellen Lake: Call + Response ­ This series of shorts combine 16mm home movies from the 1930's and 1940's with cell phone and digital video of today. These pieces juxtapose the past and the present while investigating the ideas of collective memory, nostalgia, and preservation as well as time, place, technology and history. Lake's work has been featured both nationally and internationally in exhibitions at the Walker Art Center, Exit Art, Carnegie Mellon's Miller Gallery, Yerba Buena Center for the Arts, and at the ICA in London.
Sean Hovendick: Be A Man - Hovendick's work is a critical assessment of the omnipresence of media and its power to influence our society. In particular, it explores the alienation of the male identity with regard to behaviors learned from mediated reality. He is interested in the way in which mass media is used for entertainment, information and social connectedness, and the unconscious issues that arise with such dependence. His work has been exhibited both nationally and internationally at NYC Scope Art Fair, George Mason University, and Creative Alliance in Baltimore, The Los Angeles Center for Digital Art, and the Museum of Contemporary Art in Santiago Chile.

Wilfried Agricola: Truth ­ Paradise Found ­ Agricola is a multidisciplinary artist, director, New Media curator and founder of the [NewMediaArtProjectNetwork] one of the most influential experimental platforms for art and New Media operating from Cologne/ Germany. This video installation focuses on the human desire to find truth in life, even in our contemporary culture that is dominated by speed and technology.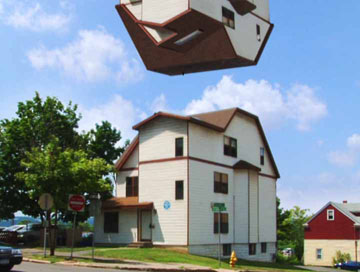 Luke Lamborn
Luke Lamborn: Square Millimeter of Opportunity - The S.M.O. series seeks to emulate the possibility of extraordinary but overlooked occurrences as if captured by a passing videographer. This series is informed by the writings of anthropologist Carlos Castaneda, who described rare moments when our normal perceptions of daily life would shift dramatically and without warning.
Keith Loutit: Bathtub - Loutit's videos explore images of coastal and port landscapes from an elevated, distant perspective. The tilt and shift of the camera's lens produces a partially blurred image resulting in the presentation of a world that appears miniature and toy-like at first glance; in fact, the landscapes are actual locations in Australia. The momentary loss of reference to the real landscape leads the viewer toward an imaginary space where the video alone constitutes the reference to reality. Loutit is the director of Small World Photography, a digital technology firm in Sydney, Australia. His work has been featured on ABC News, Telegraph.co.uk and in Wired.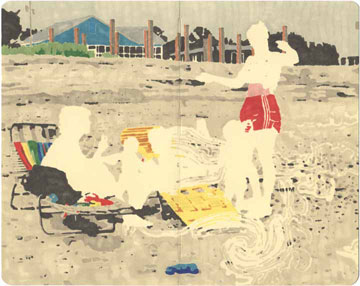 H Brown Thornton
H. Brown Thornton is a painter and mixed media artist who currently lives and works in Aiken, SC. His new body of work is an extension and evolution of his previous series, The Earth on the Back of the Giant Turtle based on a Native American creation myth. Through his labor-intensive process, Thornton melds the epic and the personal. Themes of solitude, tranquility and emotional isolation run throughout Thornton's unassuming scenes. His remote suburban interiors are often suggestive of unsettling narratives, presenting an eerie dislocation of idealized domesticity and a sense of discomfort, which reflect on man's tenuous relationship with nature and with himself. Thornton received his BFA from the University of South Carolina in Columbia, SC and is currently represented by Linda Warren Gallery in Chicago, IL and if ART Gallery in Columbia, SC.
For further information check our SC Institutional Gallery listings, call the gallery at 803-775-0543 or visit (www.sumtergallery.org).

[ | April'09 | Feature Articles | Carolina Arts Unleashed | Gallery Listings | Home | ]
Carolina Arts is published monthly by Shoestring Publishing Company, a subsidiary of PSMG, Inc. Copyright© 2009 by PSMG, Inc., which published Charleston Arts from July 1987 - Dec. 1994 and South Carolina Arts from Jan. 1995 - Dec. 1996. It also publishes Carolina Arts Online, Copyright© 2009 by PSMG, Inc. All rights reserved by PSMG, Inc. or by the authors of articles. Reproduction or use without written permission is strictly prohibited. Carolina Arts is available throughout North & South Carolina.