Feature Articles


For more information about this article or gallery, please call the gallery phone number listed in the last line of the article, "For more info..."
April Issue 2010

Artspace in Raleigh, NC, Features Works by James Henkel, JJ Jiang, Kathy Ammon, Wake County School Students and Artspace Artists Association Members
Artspace in Raleigh, NC, will present the following exhibits including: Stacks & Spills, featuring works by James Henkel, on view in Gallery Two from Apr. 2 through May 7, 2010; This Water, featuring works by JJ Jiang, on view in the Artspace Lobby from Apr. 2 through May 1, 2010; Revelations of the Heart, featuring works by Kathy Ammon, on view in the Upfront Gallery from Apr. 2 through May 1, 2010; High School Art Exhibition, featuring works by Wake County school students, on view in the Education Room from Apr. 30 through May 7, 2010; and New Works - A Juried Exhibition of Works by Members of the Artspace Artists Association, on view in Gallery 1 through May 1, 2010.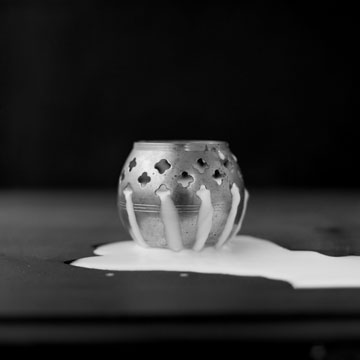 James Henkel
James Henkel's exhibition, Stacks & Spills, presents three distinct series by the Minnesota-based photographer. Through his work, Henkel's goal is to change how we perceive and understand everyday objects, such as vessels and books. In hiss Spills series, the artist utilizes salt, sugar, wine, water, and milk as a drawing material to represent the "spills." Sometimes Henkel's images include a vessel; at other times, simply the spilled contents suggesting the vessel. In his Water Bowls series, Henkel once again utilizes the vessel form. Water-filled bowls are filled with "nature," through captured reflections of sky, clouds, tree branches, and leaves. In his Stacks series, Henkel focuses much of his attention on the written word and books ­ vessels of knowledge, perhaps. Using a band saw to cut the books into parts, Henkel balances the isolated fragments of title, image, and color, one on top of another. The works suggest new readings of familiar objects.

Henkel has exhibited his photographs in over one hundred national and international venues, including St.. Petersburg, Russia; Teheran Museum of Contemporary Art, Iran; Anji, China; The San Francisco Museum of Modern Art (SFMOMA), CA; the Pace MacGill Gallery, NY; and the Minneapolis Institute of Arts, MN. His work is in many collections including, SFMOMA, The Whitney Museum of American Art, and the Walker Art Center. Henkel has been the recipient of numerous grants and fellowships from the National Endowment for the Arts, Bush Foundation, McKnight Foundation, and the Minnesota State Arts Board. The artist currently lives in Minneapolis, MN, where he teaches at the University of Minnesota. He works out of studios in both Minneapolis and Penland, NC.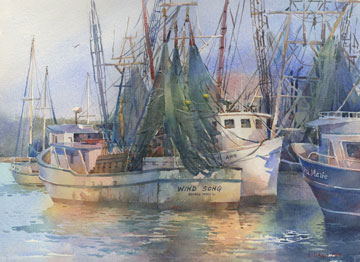 JJ Jiang
In May 2009, JJ Jiang presented an exhibition in Artspace's Upfront Gallery entitled Venice of the East. The exhibition consisted of a series of paintings visualizing the waterways of Jiang's birthplace in Suzhou, China. This year, Jiang presents a sequel to that exhibition. This Water focuses on Jiang's newly adopted home - Oriental, NC.
When he first visited the town on Labor Day, 2005, Jiang was deeply struck by its tranquil, quaint surroundings and its vibrant fishing community, all without tourist fanfare. Since that time, Jiang has made a home in Oriental. The images in this exhibition are merely a few samples of numerous sketches and paintings he has attempted over the past few years. But the journey won't stop here for Jiang, as he continuously explores different approaches to depict what he perceives as the magic of the place - this water.
Jiang, an award winning watercolorist, was trained as an architect and architectural historian with professional degrees from both the US and China. He practiced architecture as a designer in firms in Hong Kong and the US. He also taught architectural design and history at the Overseas Chinese University.
In 2000, Jiang established JJ Illustration, combining his artistic and design talents to collaborate with architects and developers, focusing on visualizing the architectural concept through traditional watercolor medium. His profession allows him to devote time to fine art. Watercolor painting has remained one of the great passions of his life. Jiang is a signature member of the Watercolor Society of North Carolina and is a member of the Artspace Artist Association in Raleigh. He currently resides both in Cary, NC and Oriental, the state he regards as full of natural wonders and inspiration.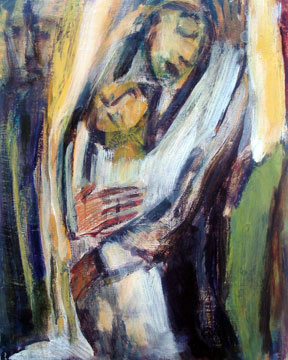 Kathy Ammon
Kathy Ammon's latest series of paintings is an exploration of the intersection of faith with purpose. Fueled by observation and experiences of living a more spiritual life, her vision for making the intangible visible has become her focal point. Working on a smaller scale than typical for Ammon, the artist is working in acrylics on birch panels. She focuses on redefining and restructuring personal space as visualized through the eyes of the Spirit - people gathered in processional lines of wait and journey; huddled masses and communal celebrations; a revival of comfort, trust, humility, and strength. The artist is translating experiences of the faithful, and recording and exemplifying moments of transformation and grace, with revelations of hope.

Ammon received her formal training earning a Bachelor of Arts in painting, with combined studies at the University of South Carolina and the University of Texas at Dallas. Since beginning her art career in 1988, her work has been well-received and part of numerous private and corporate collections including Urban Ministries, Raleigh; The Alliance for Children Everywhere - House of Moses, Zambia, Africa; The Navigators, Colorado Springs, Co; SAS Institute International; and Disney World International. Some recent group and solo exhibitions include the Longview Center in Raleigh NC; the Target Gallery, Alexandria, VA; Rosenthal Gallery, Fayetteville State University, NC; and Brevard Art Center and Museum, Melbourne, FL. In 2007, Ammon was a recipient of the NC Regional Artist Project Grant to create and publish a book of her series, Road to Damascus.
The High School Art Exhibition, was open to any 9th - 12th grade student enrolled in a Wake County public or private school that has participated in at least one Artspace8s activity or meeting since August 2009.
This exhibition is an "open hanging," meaning we will accept work until the space is full, and if necessary, artwork will be hung from the floor to ceiling! Students will be responsible for hanging their own artwork. Artspace will provide hammers and nails.
New Works is an annual juried exhibition for members of the Artspace Artists Association. The Artspace Artists Association is a professional artist membership organization. Artists are accepted into the membership through a jury process that occurs twice per year. The exhibit represents work created within the past twelve months. It is an opportunity for Artspace Artists to present their most current and innovative work. The exhibit is juried this year by Harriett Green, the Visual Arts Director of the South Carolina Arts Commission.
Green received her BA degree in Art History from the University of South Carolina in Columbia in 1980. From 1980-1988, she was the Registrar and in 1998 Assistant Curator at the Columbia Museum of Art. As former Assistant Curator of the Columbia Museum of Art, and in her current position as the Visual Arts Director since 1993 of the South Carolina Arts Commission, Green has curated numerous exhibitions. She is also the Curator of the South Carolina Arts Commission State Art Collection. Green was appointed to the National Register of Peer Professionals by the General Services Administration in Washington, DC, for its Art-in-Architecture Program. She is a former board member of the Alternative Museum in New York City and has served on the Charlotte Area Transit System's (CATS) Art-in-Transit program as a member of the Oversight Committee, the selection panel for the North Carolina Freedom Monument project, fellowship panels for the Kentucky Arts Council, and the Idaho Commission on the Arts. She is a member of the Board of Trustees of Penland School of Crafts, the Artist Selection Committee for CATS Art-in-Transit project, and the 2010 Windgate Fellowship panel.
Green will be selecting work for exhibition as well as award recipients.
Artspace, a thriving visual art center located in downtown Raleigh, brings the creative process to life through inspiring and engaging education and community outreach programming, a dynamic environment of over 30 professional artists studios, and nationally acclaimed exhibitions. Approximately 95 artists hold professional memberships in the Artspace Artists Association. Thirty-five of these artists have studios located at Artspace. Guided tours are available. Artspace is located in Historic City Market in Raleigh at the corner of Blount and Davie Streets.

Artspace is supported by the North Carolina Arts Council, the United Arts Council of Raleigh and Wake County, the Raleigh Arts Commission, individuals, corporations, and private foundations.
For further information check our NC Institutional Gallery listings, call the center at 919/821-2787 or visit (www.artspacenc.org).


[ | April 2010 | Feature Articles | Carolina Arts Unleashed | Gallery Listings | Home | ]
Carolina Arts is published monthly by Shoestring Publishing Company, a subsidiary of PSMG, Inc. Copyright© 2010 by PSMG, Inc., which published Charleston Arts from July 1987 - Dec. 1994 and South Carolina Arts from Jan. 1995 - Dec. 1996. It also publishes Carolina Arts Online, Copyright© 2010 by PSMG, Inc. All rights reserved by PSMG, Inc. or by the authors of articles. Reproduction or use without written permission is strictly prohibited. Carolina Arts is available throughout North & South Carolina.