Feature Articles


For more information about this article or gallery, please call the gallery phone number listed in the last line of the article, "For more info..."
April Issue 2010

A Few Words From Down Under
About Life, Art and Money
by Judith McGrath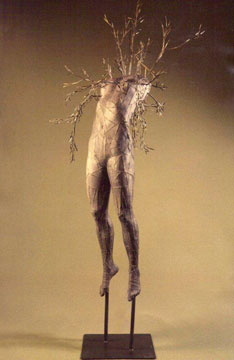 I recently attended an exhibition of ten, life-size figure sculptures. Some were cast in bronze while others were constructed by welding together a collection of organic shapes cut from metal to create lace-like forms. All were excellent in concept, construction and presentation. I have to admit, it was rather 'spooky' at first as the works were so realistic I thought some of the 'solid' exhibits might be mimes dipped in paint the colour of old iron.

However, strolling among the inert group of individuals, male and female, clothed and nude, standing on plinths, lying on the floor, leaning against the wall, and a few suspended from the ceiling, provided a rewarding experience. But when I learned about the project, I was even more impressed. It was not only the excellent construction and presentation of the works but how they came to life that had me regaining hope for the art world in my town.
The exhibition was the result of a group of ten art appreciators who, in a modern-day Medici-like manner, supported the artist financially and creatively in exchange for one work each, prior to it even being started. The group appreciated the artist's style, and commitment to his craft, so having seen his concept drawings, felt secure in giving him the freedom to create ten unique, life-size figures, each reflecting a different aspect of the human condition, in any manner he chose. There were no constraints put on the artist's creative decisions by the 'contract', he was free to follow his muse and work without any advice from his benefactors. Without the worry of supporting himself and his family, the artist was secure in home and studio so as to concentrate solely on his commitment.

As well as congratulating the 'backers' on their belief in the artist, I have to congratulate the artist for having the courage to commit to the plan. The sponsors trusted him so he had to trust his own creative and practical abilities so as to acquit his side of the bargain. Not that he is prone to do so; there would be no time for creative blackouts or tantrums. One has to admit, it's easier for the wealthy to find cash than the artist to find his muse.

As luck (or perhaps good sense or pure talent) would have it, the backers approved the artist's designs then stepped aside to let him do his thing while, I suppose, the benefactors had a wonderful time deciding who would get which sculpture.
My hope is that there are other Medici inspired art patrons out there, not just in my town but in yours and around the globe, as nurturing artists allows culture to grow. Remember, of all the creatures that were put on this earth, Humans are the only ones that can make art!

Do something humane today, buy a small work of art!
Judith McGrath lives in Kalamunda, Western Australia, 25 minutes east of Perth. She received a BA in Fine Art and History from the University of Western Australia. McGrath lectured in Art History and Visual Literacy at various colleges around the Perth area, and was an art reviewer for The Sunday Times and The Western Review both published in the Perth area. McGrath is currently a freelance writer and reviewer for various art magazines in Australia. She also co-ordinates the web site Art Seen in Western Australia found at (http://www.artseeninwa.com).



[ | April 2010 | Feature Articles | Carolina Arts Unleashed | Gallery Listings | Home | ]
Carolina Arts is published monthly by Shoestring Publishing Company, a subsidiary of PSMG, Inc. Copyright© 2010 by PSMG, Inc., which published Charleston Arts from July 1987 - Dec. 1994 and South Carolina Arts from Jan. 1995 - Dec. 1996. It also publishes Carolina Arts Online, Copyright© 2010 by PSMG, Inc. All rights reserved by PSMG, Inc. or by the authors of articles. Reproduction or use without written permission is strictly prohibited. Carolina Arts is available throughout North & South Carolina.