Feature Articles


For more information about this article or gallery, please call the gallery phone number listed in the last line of the article, "For more info..."
April Issue 2010

ML Gallery in Charleston, SC, Features Works by Kathleen Earthrowl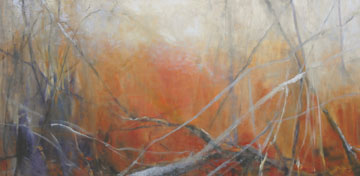 ML Gallery in Charleston, SC, will present the exhibit, Brimfield, featuring works by Kathleen Earthrowl, on view from Apr. 2 - 25, 2010.
Earthrowl offered the following statement about this exhibition: "I continue to go back to my ponds in the woods in Brimfield, Massachusetts, where I was born, to bodies of water, to water lines that touch the earth, to twigs and branches born of leaves. It is a sensual affair with nature, always new, always inspiring. East End is a wild, untouched wooded area on Lake Houston left in its natural state. The senses wake up in nature. The air, water, vegetation, movement, light and colors inspire me here. There is always uncertainty and surprise as well as serenity and peace. In my studio I become water, memories, atmosphere, branches, trees, twigs, light, movement, stillness as I move into my large canvases."
Earthrowl offered the following narrative on her career: "I have moved through stages in my adult life, all connected and leading to what I call my core-career: artist/painter. Little did I know years ago, when I was entrenched in my private-practice as psychotherapist, that this deeper and more essential self would evolve to establish a true purpose for my life. I always state that 'My paintings lead and I follow'. That is exactly the experience of the somewhat miraculous surprise that changed my life."
"I began teaching music in the public schools in New York City in the 60's. After 6 years of teaching at the elementary school level, I left New York City with my two young children and took a position as Assistant Professor of Modern Dance at Northern Illinois University. I had the opportunity in this position to do a good deal of my own choreographic work (which I now liken to my painting). In 1975, I returned to Massachusetts, took a position as Assistant Professor of Music Education at Fitchburg State College and began working in an innovative doctoral program for professional working artists at the University of Massachusetts in Amherst. It was an interdisciplinary program entitled Arts and Humanities and in 1979 I received my doctorate. By then I had moved to Houston, TX, where I was teaching modern dance at the University of Houston, singing professionally, and developing a dance company. The Dancemakers, an improvisatory group involving structured improvisations that I choreographed was the outcome of work with medical students from Baylor College of Medicine, working on the connection of Movement and Healing. At the University of Houston, I became Assistant Director of the Aesthetic Education Program through which the arts were brought into the public school curriculum."
"These experiences lead me into the healing aspects of the arts. I taught at the Jung Center in Houston and took a position as Movement Therapist at St. Joseph's Hospital. In 1982, I started my own private practice as a Licensed Marriage and Family Therapist. For 15 years I had a busy practice but craved work in the arts. I began painting in 1994. The rest is history!"
"In the first two years I studied voraciously, moving to New York City to study at the Art Students' League and with renowned artists. I traveled the country to study with fine teachers. I began showing my work in local and national shows. In 1996, I received the Grumbacher Gold Medal Award from the Pastel Society of the Southwest at the Trammell Crow Center in Dallas, TX. Between 1994 and 1996, I received numerous awards at shows in the Houston area. I had my first one-woman show in 1995 where I exhibited over forty works. I painted daily, gave up the majority of my private-practice, took a studio in the warehouse district in Houston, and by 1997 was represented by the Harris Gallery, a fine-art gallery established for over 36 years in Houston. In 1998, I received a residency at the Vermont Studio Center in Johnson, VT. In 2000 - 2001, I received an award for Notable Achievement and Excellence for my new three-dimensional works at the Visual Arts Alliance Open Juried Exhibition in Houston, juried by Marisol Nieves, Chief Curator at the Bronx Museum in New York City. In 2001, I was invited to be one of five artists to exhibit in an inaugural show opening the Contemporary Art Museum at the Columbus Museum in Columbus, GA: A world of Light and Fire: Reality Transformed. From that I received a commission to paint seven panels for the foyer of the Concert Hall of the RiverCenter in Columbus, GA. I am represented by galleries in New York City (Allen Sheppard), Houston (Harris Gallery), Seattle (Howard-Mandeville), Charleston, SC (Mary Martin Fine Art Gallery) and Laguna Beach, CA (Sherwood Gallery). In 2006, my work became part of the Permanent Collection of the Art Museum of South Texas."
For further information check our SC Commercial Gallery listings, call the gallery at 843/723-0303 or visit (www.MLGallery.com).


[ | April 2010 | Feature Articles | Carolina Arts Unleashed | Gallery Listings | Home | ]
Carolina Arts is published monthly by Shoestring Publishing Company, a subsidiary of PSMG, Inc. Copyright© 2010 by PSMG, Inc., which published Charleston Arts from July 1987 - Dec. 1994 and South Carolina Arts from Jan. 1995 - Dec. 1996. It also publishes Carolina Arts Online, Copyright© 2010 by PSMG, Inc. All rights reserved by PSMG, Inc. or by the authors of articles. Reproduction or use without written permission is strictly prohibited. Carolina Arts is available throughout North & South Carolina.