Feature Articles


For more information about this article or gallery, please call the gallery phone number listed in the last line of the article, "For more info..."
April Issue 2010

Picture This Gallery on Hilton Head Island, SC, Offers Works by Mark S Tierney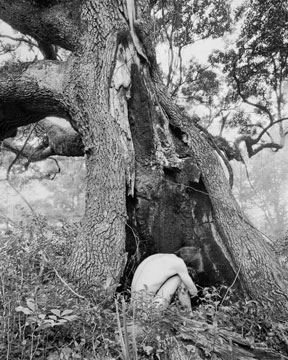 Picture This Gallery on Hilton Head Island, SC, will present the exhibit, Trespass, 1987-1991, a series of large format black and white photographs by M.S. Tierney. These photographs will be on display Apr. 1 through May 15, 2010.
Trespass is a series of large format photographs made by Tierney with a 4x5 camera from 1987 through 1991 exclusively using the male figure in the landscape, illuminated by natural light in some of the natural and urban landscapes of the Lowcountry of South Carolina, the Coastal Empire of NE Georgia and California. Some of the images made in California were made possible with a grant from the SC Arts Commission in conjunction with the Cultural Council of Hilton Head he received in 1990.
Trespass 1987-1991 was first shown in Charleston, SC, by the Photographers Guild of SC in January 1995. Those prints were silver gelatin based, whereas the new show consists of the original black and white negatives scanned and printed with an Hp inkjet printer on Hahnemuhle fine art paper. Tierney has made a conscious decision to not reproduce 'digitally' the silver gelatin prints exactly, but feels the tools and techniques of the digital darkroom have evolved to offer an even greater range of expressive possibilities than what he had to work with 20 years ago.
Tierney became interested in large format photography after attending Savannah College of Art and Design in 1985 and taking a class in Historical Techniques that introduced the great amount of detail large format film could capture by having the students design and build pinhole cameras. He soon after bought a large format camera and pursued it seriously. Nowadays, he has returned to large format photography using a 4x5 camera and a Betterlight scanning back in the field in order to capture dramatic color images of the landscape of the Lowcountry, digitally, from start to finish.
For further info check our SC Commercial Gallery listings, call the gallery at 843/842-5299 or visit (www.picturethishiltonhead.com).


[ | April 2010 | Feature Articles | Carolina Arts Unleashed | Gallery Listings | Home | ]
Carolina Arts is published monthly by Shoestring Publishing Company, a subsidiary of PSMG, Inc. Copyright© 2010 by PSMG, Inc., which published Charleston Arts from July 1987 - Dec. 1994 and South Carolina Arts from Jan. 1995 - Dec. 1996. It also publishes Carolina Arts Online, Copyright© 2010 by PSMG, Inc. All rights reserved by PSMG, Inc. or by the authors of articles. Reproduction or use without written permission is strictly prohibited. Carolina Arts is available throughout North & South Carolina.