Feature Articles


For more information about this article or gallery, please call the gallery phone number listed in the last line of the article, "For more info..."
April Issue 2010

Sumter County Cultural Commission in Sumter, SC, Features Works by Jamie Caplinger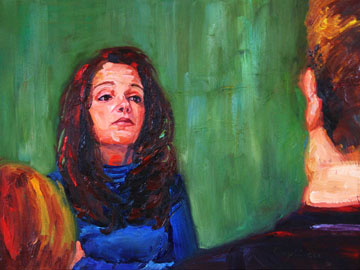 The Sumter County Cultural Commission in Sumter, SC, is presenting the exhibit, Facets, featuring painting by Jamie Caplinger, on view at the Patriot Hall Galleries in Sumter through Apr. 22, 2010.
Caplinger's paintings in Facets reflect an intimate view of the artist's surroundings that is at once familiar and inaccessible. This new body of work investigates the nature of personal narratives through the lens of various archetypal roles associated with her friends and acquaintances, all of which are military spouses.
Using photography as a jumping off point, Caplinger constructs and deconstructs her images by painting numerous layers that are repeatedly revised and reworked. She creates visual tension and depth in her competent use of highly diverse painting methods ranging from raw alla prima to more thinly applied glazing techniques.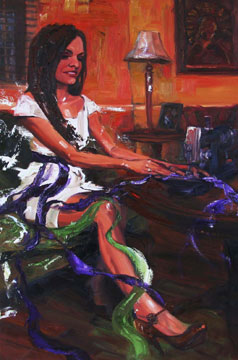 Several works depict a seemingly closer relationship to the subject in shallow space-which is not as specifically identifiable. The subjects seem familiar yet at times inscrutable despite the apparent proximity. The angle of a models chin, averted glances, along with textures of hair, overgrown landscapes, and fabrics communicate a sense of longing in which a deceptive feeling of greater intimacy is achieved. The images reference the cinema in composition and a feeling that a fleeting moment has been captured, with the main action of the narrative existing outside of the image presented. By utilizing traditional media (oil paint on canvas) there is a direct, tactile manipulation of the imagery. This presence of the hand visually relates to the subjectivity of perception and memory.
For further information check our SC Institutional Gallery listings or call Booth Chilcutt, Director, Patriot Hall Performing Arts Center, at 803/436-2260.


[ | April 2010 | Feature Articles | Carolina Arts Unleashed | Gallery Listings | Home | ]
Carolina Arts is published monthly by Shoestring Publishing Company, a subsidiary of PSMG, Inc. Copyright© 2010 by PSMG, Inc., which published Charleston Arts from July 1987 - Dec. 1994 and South Carolina Arts from Jan. 1995 - Dec. 1996. It also publishes Carolina Arts Online, Copyright© 2010 by PSMG, Inc. All rights reserved by PSMG, Inc. or by the authors of articles. Reproduction or use without written permission is strictly prohibited. Carolina Arts is available throughout North & South Carolina.