Feature Articles


For more information about this article or gallery, please call the gallery phone number listed in the last line of the article, "For more info..."
April Issue 2010

Sunset River Marketplace in Calabash, NC, Offers Exhibition of Pastel Works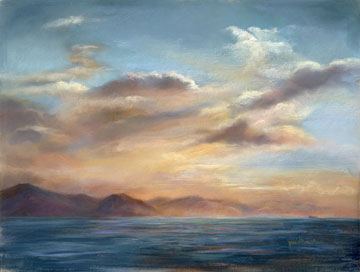 Pastel artist Jane Staszak conducts a weekly class at Sunset River Marketplace art gallery in Calabash, NC. The dynamic instruction and exchange of ideas has resulted in a closely knit group who have dubbed themselves the "Pastel Sisters" and their group show, which runs at the gallery through Apr. 24, 2010, is titled, Pastel Sisters Show All*.
The participating artists are Nancy Guiry, Brenda Goff, Liz Roberts Mary Grace Cain, Sue Ruopp, Barbara Riggi Evarts, Sandy Petit and Linda Young. According to Staszak, "Each one has their own way of seeing the world and expressing themselves."

"We went on a week long retreat last fall...where we worked from a model, painted plein air landscapes, made jewelry, learned a bit of tai chi and ate a lot of delicious food made by ourselves."
Staszak adds, "Everyone in the group has a similar goal and that is self motivation and self expression. We have class challenges occasionally, with the most recent one being a self-portrait of sorts. It has helped us examine who we are from the beginning to now.... Any medium or style will be used. It is still a work in progress.... just like us!"
Staszak, originally from Philadelphia, PA, had her own gallery/studio on Main Street in North Myrtle Beach, SC, for several years before moving her studio home and exhibiting at Sunset River Marketplace. A member of the Southeast Pastel Society, Sea Coast Pastel Society and the Waccamaw Arts and Crafts Guild, she has received many honors and awards during her career including the 2009 Best in Show award from Waterway Art Association and the 2005 Best in Show at the National show in Southport, NC. She has also received several awards at the Georgetown, SC, Watercolor Society show.
The "Pastel Sisters" class has varied backgrounds and painting styles. Linda S. Young is an award-winning artist who divides her time between SC and Cape Cod, MA. Her ability to capture the nuance of a scene has helps her win many awards.
Sandy Petit, who counts her pink and purple hair as one of her achievements, studied in Florida at the Ringling School of Design and got her art degree at UNC-W. Mary Grace Cain (call her M.G.) was a commercial artist and with her husband owned Cain & Cain Advertising in Fayetteville, NC, before retiring to Cherry Grove, SC.
Sue Ruopp was a nurse until radiation for a brain tumor (the second of two) resulted in blindness of the left eye. She then owned a new age shop where she says, "I blossomed, creating a networking garden of woman and men who gathered to honor the Creator, earth and each other. The world was even more sparkly than Pollyanna me had ever envisioned!"
Barbara Riggi Evarts says she's pretty new to the game, mainly because she never had time to learn until after retirement. So she loves the camaraderie of artists and trying out all sorts of new media. Staszak's class is ideal for her.
NC artist Nancy Guiry has studied with Terry Sellers, Mary Whyte, Carl Dalio and other acclaimed artists. An award-winning artist in her own right, she said, "Jane Staszak came into my life and opened up yet another path for my art to take ­ the beautiful world of pastels. This was the perfect medium for me to work from life in the form of a live model or one of our beautiful marshes at sunset."
Liz Roberts says, "Colors seem to flow quickly and easily onto the canvas. For me, it's all about emotion and spontaneous expression a kind of spiritual experience. I believe there is an artist hiding in every person I meet."
Richmond, VA, native Brenda Goff worked for the I.R.S. in another life and has been in Staszak's group for the past three years. She specializes in landscapes and recently had a one-woman show in Richmond.
For further info check our NC Commercial Gallery listings, call 910/575-5999 or visit (www.sunsetrivermarketplace.com).



[ | April 2010 | Feature Articles | Carolina Arts Unleashed | Gallery Listings | Home | ]
Carolina Arts is published monthly by Shoestring Publishing Company, a subsidiary of PSMG, Inc. Copyright© 2010 by PSMG, Inc., which published Charleston Arts from July 1987 - Dec. 1994 and South Carolina Arts from Jan. 1995 - Dec. 1996. It also publishes Carolina Arts Online, Copyright© 2010 by PSMG, Inc. All rights reserved by PSMG, Inc. or by the authors of articles. Reproduction or use without written permission is strictly prohibited. Carolina Arts is available throughout North & South Carolina.