Feature Articles


For more information about this article or gallery, please call the gallery phone number listed in the last line of the article, "For more info..."
April Issue 2010

Vista Studios in Columbia, SC, Offers Works by Members for Artista Vista
Vista Studios' 13 artists invite the public to view an exhibition of their work, which will be on display Apr. 15 through May 4, 2010, in connection with this year's Artista Vista celebration. On Apr. 22, from 5-9pm, galleries around the Vista area in Columbia, SC, will offer new exhibitions for this annual celebration of the arts. Come see our new exhibition at Vista Studios/Gallery 80808 located at 808 Lady Street in the Vista. The artists will have their studios open for you to get a look at their newest work and processes. The studios boast some of Columbia's finest artists all under one roof.

Non-objective painter, Ethel S. Brody, continues exploring her "stripe" series and will have new canvases on display.

Stephen Chesley continues to offer the results of his dedication to painting and his inspiration from such artists as George Inness, Edward Hopper, Ralph Albert Blakelock, Albert Pinkham Ryder, and the Zen of Painting.

Jeff Donovan will engage your vision as he displays a new series of paintings in progress. The working title of this series is "Untitled, Unfinished, NFS" alternatively - "Humble Beginnings". Each will show a glimpse of his ideas and process.

Pat Gilmartin, ceramic sculptor, continues to follow her interest in figurative work with a new series representing the man in the moon. The ceramic pieces are sculpted in low relief and mounted on a painted canvas background which can be hung on the wall. The moon-faces are caricatured and cartoonish, incorporating the humor which Gilmartin often uses in her sculpture.
Deanna Leamon is just back from a three month artist's residency at the McColl Center for Visual Art in Charlotte, NC.
Susan Lenz, fiber artist, will show four of the newest pieces in her 'Decision Portrait Series", which focuses on personal choices without value judgment. The stitched words and titles are meant to reflect the choices made by those depicted.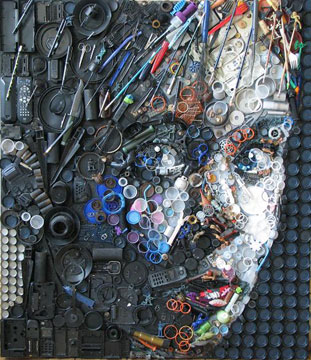 Kirkland Smith
Kirkland Smith will show one of her celebrated assemblages of post consumer waste. Using household items that are discarded daily, Kirkland has created a haunting, yet hopeful, portrait of a child. Through her artwork, she hopes to give the message of the importance of reducing, reusing, and recycling.

Sharon Collings Licata, sculptor, will exhibit Sailing the Clouds and Sky Breezes, in a continuation of her "Breezes" series of sail and air inspired sculptures. The two of them are in a new stone for her, a blue alabaster from Spain.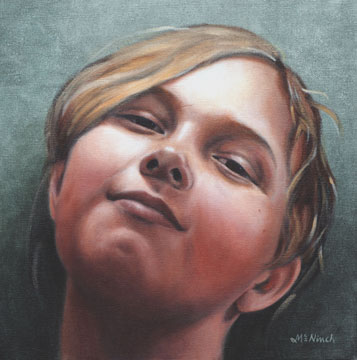 Michel McNinch
Michel McNinch is exploring working in monochrome and has ten new canvases to share.
Laura Spong has been working on paper and will exhibit these new works.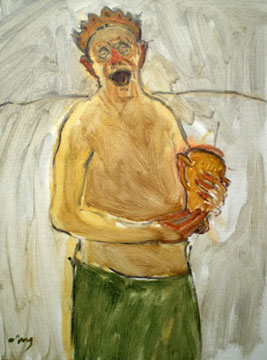 David Yaghjian
Artists David Yaghjian, Heidi Darr-Hope, and Robert Kennedy will also present new work and open their studios.

For further information check our SC Commercial Gallery listings, call the gallery at 803/252-6143 to visit (www.gallery80808vistastudios.com/index.shtml).


[ | April 2010 | Feature Articles | Carolina Arts Unleashed | Gallery Listings | Home | ]
Carolina Arts is published monthly by Shoestring Publishing Company, a subsidiary of PSMG, Inc. Copyright© 2010 by PSMG, Inc., which published Charleston Arts from July 1987 - Dec. 1994 and South Carolina Arts from Jan. 1995 - Dec. 1996. It also publishes Carolina Arts Online, Copyright© 2010 by PSMG, Inc. All rights reserved by PSMG, Inc. or by the authors of articles. Reproduction or use without written permission is strictly prohibited. Carolina Arts is available throughout North & South Carolina.