Feature Articles

May Issue 2000
Mint Museum of Art in Charlotte, NC, Offers 135 Years of Wedding Fashion
Ich take thee to my wedded wyf, to haven and to holden, for fayrerer, for fouler, for bettur for wors, for richer for poryer, in seknesse and in helthe, for thys tyme for forward, til deathe us depart...
An Anglo-Saxon missal passage from the reign of Richard II (1377-1399)
It's a nice day for a white wedding.
Billy Idol, 1982
Perhaps no garment better symbolizes one of life's most special moments than does a white wedding gown.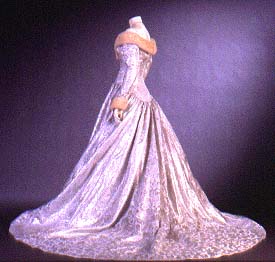 Weddings have long been a source of celebration, with the attire of the bride and groom being a major focal point of the ceremony. To Have and To Hold: 135 Years of Wedding Fashions, on display at the Mint Museum of Art from May 6 through August 13, features approximately 50 bridal gowns and grooms' wear from 1850 through the 1980s, all selected from the museum's extensive costume collection.
In the modern Western world, the wedding dress is often white and for many brides this special article of clothing, whether it be an extravagant gown or a simple dress, is selected with great consideration. Diligent planning, established traditions, style and numerous other factors are considered when deciding upon one's wedding attire.
The desire to appear in splendid garments on one's wedding day is shared by cultures around the world. From such desires, distinctive fashions and customs associated with brides - and grooms - have developed.
The idea of the bride dressed in white is a relatively recent convention. The white wedding with all its traditional associations is a vogue born in the Victorian Era; yet it continues with great popularity today. Styles of dress may come and go, but the wearing of a white wedding dress remains fashionable. And so the tradition continues into the twenty-first century.
In many world cultures, the bride's appearance is distinguished with stylistic elements and symbolic references that set her apart as being truly special and desirable as she enters into the state of matrimony. In ancient Rome, the bride wore a white tunic, a yellow veil and yellow sandals in honor of Vesta, the goddess of home and provider of life. Her dress would be a new tunic, never before worn so as to symbolize her virginity. By the Middle Ages and into the Renaissance, a bride's wedding attire provided a unique opportunity to display family wealth as well as the wares and skills of the textile guilds and merchants. It was during this era that the textile manufacturer's realm became rich with sumptuous brocades, silks and other luxury materials.
In past centuries, a bride's attire was based upon selecting a dress that would mark the occasion as being special, yet would serve its owner after the ceremony as well. This approach continued up to and throughout the 18th century. It also was era when the groom often vied with the bride as to whose attire was most magnificent.
A penchant for white dresses (not just for weddings) spread throughout Europe and abroad as the 19th century approached. The preference for a bride to have a great white wedding, complete with all the traditions that are today considered customary, came to full development by the mid-l9th century. It was a period in which individuals could actually marry for love, or "marriage by fascination" as one Victorian writer would dub these new love matches. Among the most highly acclaimed marriages by fascination was that of Queen Victoria and Prince Albert of England on February 10, 1840. With Queen Victoria's selection of a white wedding gown, white became the popular choice by brides. Thus the tradition of white bridal gowns became a fully established vogue and continued thereafter with prominence.
The second half of the 19th century also witnessed the beginnings of professional couturiers in France that made Paris "the" fashion capital of the world. Throughout Europe and the United States, Paris originals inspired designers, dressmakers, pattern designers and retail merchants to provide similar fashions to the masses. In the 1890s, new technologies, industrial growth and urban expansion heralded an age of progress. Retail markets offered ready-made garments and produced the first mail-order catalogues. Brides-to-be across the country could order a fashionable wedding gown or the materials needed to make such, thanks to the Sears and Roebucks catalogue, among others.
The beginning of the 20th century was an age of extravagance and many in society enjoyed great wealth. Fashions aptly reflected the era in the design and complexity of clothes, and especially so in wedding gowns. Miss Daisy Hanes of Winston, North Carolina (now Winston-Salem) for her 1905 wedding to Robert Lasiter of Henderson, NC wore a beautifully detailed gown of ivory China silk over ivory silk taffeta on display in the exhibition.
After World War I, the 1920s experienced dramatic changes in society and its fashions. For the fashionable brides of the 1920s, wedding gowns paralleled the popular styles that appeared in evening wear. Many gowns were simple, tubular designs, while a goodly number reflected the glamour and elaborate beaded ornamentation of this decade. Around 1923, long slender tube-like silhouettes with draped skirts that ended just above the ankles were prominently seen on demure brides. One such example in "To Have and to Hold" was created by Elders of New York City.
The Great Depression of 1930s rocked the very foundations of world wealth. Many found solace in Hollywood films that offered escapism and dreams of better days. Bridal gowns, as with much of women's fashions, became glamorous in response to this Hollywood influence. The concept of a white wedding became firmly established in the 1930s and the bridal gown thus was viewed more as a cherished possession to be preserved. An elegant ivory satin wedding gown (c.1930-35) displays a graceful flowing line with its bias cut construction and generous chapel train. Its slim, fitted sleeves reconfirm the lean silhouette while the cowl neckline reiterates the overall fluid drape of the gown. Traditional weddings came to be categorized as formal, semiformal or informal events, and dictated aspects of dress for the bride and the groom. It is generally accepted that the bride's gown determines the formality or informality of the wedding.
World War II broke out in 1939. For many couples, wedding arrangements were dependent upon military orders. On both continents, many brides were married in day dresses while the groom wore a military uniform. In the United States, some fashion and bridal manufacturers suffered as the government deemed certain materials critical for the war effort.
Economic conditions improved during the postwar years and were characterized by prosperity and urban/suburban growth. Throughout the 1950s, formal wedding fashions paralleled evening wear designs with elaborate and costly ornamentation being frequently used. A circa 1950-55 bridal gown by Vené in the exhibition is worked in silk taffeta with inset panels of lace embroidered with seed beads and iridescent sequins. In like fashion, mid-length to long trains were used for dramatic effect. The groom's attire -morning coat, striped trousers, etc. - that was established before the war continued as acceptable male apparel for daytime weddings. A full formal suit was worn for evening ceremonies, while dark business suits were worn for informal weddings.
The 1960s witnessed a more casual approach to life and a rebellious attitude against 'the establishment with some individualists selecting non-conventional wedding attire and ceremonies. A 1965 wedding dress displays traditional bridal lace used to create a rather untraditional mini-dress silhouette. The dress is demurely feminine with its high collar and long fitted sleeves, yet the angled hemline rises above the lower points that tickle the front and back of the knees.
In the l97Os, women's fashions witnessed mini-, midi-, and maxi-lengths for dresses while pants suits became fashionable for day and evening wear. Along with new designs, a revival of past styles influenced much of what people wore. Soft, romantic styles were evident in many wedding dresses of this decade.
With the 1980s, wedding gowns embraced a return to elegance and glamour as society experienced a growing affluence. Nostalgia for the past continued to pervade the style of this decade as well. Fashion trends and fads continued to be refined, but in like manner, there was a backlash to the street-wise and rebellious fashion streaks. Arnold Scaasi's design for a 1980 winter wedding gown in the exhibition is created with metallic silver brocade coupled with white mink. A fashion style dubbed "The New Romantics" found favor in London and was soon spread abroad. American designers enjoyed international prominence with their work recognized as being innovative, highly creative and on par with European designers.
As the 20th century moved towards a new millennium, fashion was truly about personal preferences. Such was and continues to be the trend in wedding fashions as brides-to-be select the perfect gown that not only suits the occasion, but reflects her personality and essence.
"What is yet to come is an unknown," stated exhibition Curator Charles L. Mo. "But in all likelihood, the tradition of weddings with the bride dressed in white will continue, and with it, centuries of human traditions and customs. Weddings are special celebrations and so too will be the attire one wears for these occasions."
Charles Mo will present a slide lecture, To Have and To Hold. A History of the White Wedding, on Sunday, May 14 at 3pm in the Van Every Forum.
For further information check our NC Institutional Gallery listings, call the Museum at 704/337-2000 or check them on the web at (http://www.mintmuseum.org).

[ | May'00 | Feature Articles | Home | ]

Mailing Address: Carolina Arts, P.O. Drawer 427, Bonneau, SC 29431
Telephone, Answering Machine and FAX: 843/825-3408
E-Mail: carolinart@aol.com
Subscriptions are available for $18 a year.
Carolina Arts is published monthly by Shoestring Publishing Company, a subsidiary of PSMG, Inc.
Copyright© 2000 by PSMG, Inc., which published Charleston Arts from July 1987 - Dec. 1994 and South Carolina Arts from Jan. 1995 - Dec. 1996. It also publishes Carolina Arts Online, Copyright© 2000 by PSMG, Inc. All rights reserved by PSMG, Inc. or by the authors of articles. Reproduction or use without written permission is strictly prohibited. Carolina Arts is available throughout North & South Carolina.