Feature Articles

May Issue 2000
Sculpture in the South - Annual Fine Sculpture Exhibit And Sale in Summerville, SC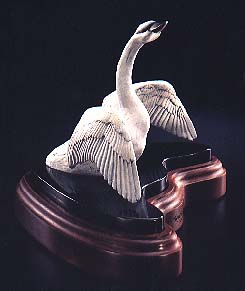 Sculpture in the South, the annual fine sculpture show and sale, will be held in historic Summerville, SC, Sat. and Sun., May 20 & 21.
The works of a dozen nationally known sculptors will be presented for exhibit and sale. From hunt scenes to miniatures, cowboys to confederate generals, you'll see works by artists renowned in the field. South Carolina sculptors include Ken Smith of Myrtle Beach, who has just had a major piece of sculpture purchased for permanent placement in Brookgreen Gardens, and Maria Kirby-Smith, whose life-size sculpture of former Columbia, SC Mayor Kirkman Finlay was unveiled in Finlay Park on April 25. Sculpture will also be presented by artists Tucker Bailey (NC), Lou Greiner (VA), Carl McClesky (GA). Kim Shaklee (CO), Richard Thompson (TX), Diana Reuter Twining (VA), Don Ray (TX), Nell Bannister Scruggs (CA), Chris Gabriel (SC) and Dale Weiler (NC). Also participating is Alyse Lucas Corcoran of Atlanta, whose creation, "Spirit," has been selected as the signature piece for the National Museum of Women's History in Washington, DC. Sculptors will present demonstrations during the weekend, and arts activities will be provided for young children. A wide variety of refreshments will be available.
The Summerville Artist Guild will present a free Art Show in Summerville's Town Square (officially called "Hutchinson Square") during the Sculpture in the South weekend. Twenty Lowcountry artists will present their works in the Square.
Suggested ticket donation for adults is $5.00. Accompanied youth ages 15 and under may enter free. It is the intention of Sculpture in the South to make sure that families and neighbors can afford to view and enjoy this wonderful collection of sculpture. (The event is not just for those who are able to purchase sculpture.) Tickets may be purchased through the Sculpture in the South office by calling 843/851-7800 or at Azalea Park on May 20 & 21.
Patron packages are available in advance, and include a Patrons' Reception and Silent Auction on Friday evening, May 19, at the five-diamond rated Woodlands Resort & Inn. "Early-Bird" entry is given to Patrons on Saturday morning, May 20, beginning at 9am.
For further information check our SC Institutional Gallery listings or call Nancyjean Nettles, Executive Director, at 843/851-7800.
[ | May'00 | Feature Articles | Home | ]

Mailing Address: Carolina Arts, P.O. Drawer 427, Bonneau, SC 29431
Telephone, Answering Machine and FAX: 843/825-3408
E-Mail: carolinart@aol.com
Subscriptions are available for $18 a year.
Carolina Arts is published monthly by Shoestring Publishing Company, a subsidiary of PSMG, Inc.
Copyright© 2000 by PSMG, Inc., which published Charleston Arts from July 1987 - Dec. 1994 and South Carolina Arts from Jan. 1995 - Dec. 1996. It also publishes Carolina Arts Online, Copyright© 2000 by PSMG, Inc. All rights reserved by PSMG, Inc. or by the authors of articles. Reproduction or use without written permission is strictly prohibited. Carolina Arts is available throughout North & South Carolina.