Feature Articles


For more information about this article or gallery, please call the gallery phone number listed in the last line of the article, "For more info..."

May Issue 2003
16 Patton in Asheville, NC, Features Group Exhibition with Nature as Theme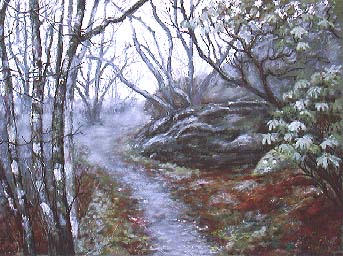 Mark A. Henry
The 16 Patton art gallery in Asheville, NC, will present the exhibition, Original Nature, featuring the works of ten regional artists curated by Deborah Squier, from May 16 through June 28, 2003.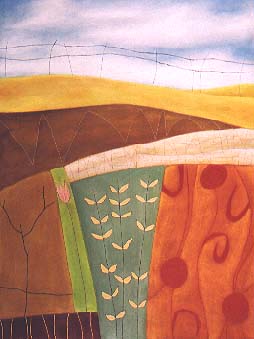 Dawn Rentz
The exhibition will include a diverse group of works by Pamela Hart, Mark A. Henry, Bruce MacDonald, John MacKah, Antoinette Prince, George Ramig, Dawn K. Rentz, John A. Smith, Ralston Fox Smith and Deborah Squire.iere show will include oil paintings, drawings, pastels, watercolors, mixed media and photographs.
Deborah Squier, the curator of this exhibition states: "The premise of this show, I hope, is to evoke the 'seer' more than the artists' point of view. The emphasis is on the 'silent witness' to the mystery as well as our relationship to the earthbody. The body of nature is our body and our body is of nature. That is, we are its minerals and carbons, water and oxygen in a particular form...our brief life cycles are very important to us. However, we tend to see the body of earth (labeled...the landscape) as something outside of ourselves...something out there that we are painting. Yet it is not only out there, it is in here, in us. The landscape or earthbody is no more cliché than the human body is cliché. The ecocentric human is sensitive to the intricate entrainment between all organisms and earthbody. Can we as artists (and) as seers witness in our work, the extraordinary earthbody without separtation? Can we search out this entrainment, interdependence and mutualism? This exhibition, Original Nature, which we would like to host annually is an opportunity to paint, draw and sculpt rich poems, in celebration of our beloved earthbody, without which we simply do not exist."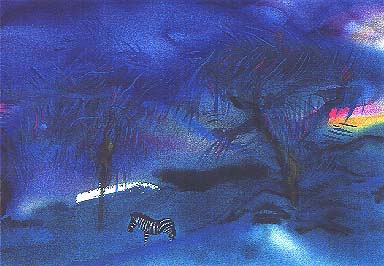 Antoinette Prince
For further information check our NC Commercial Gallery listings, call the gallery at 828/236-2889 or on the web at (www.16patton.com).



[ | May'03 | Feature Articles | Gallery Listings | Home | ]

Carolina Arts is published monthly by Shoestring Publishing Company, a subsidiary of PSMG, Inc.
Copyright© 2003 by PSMG, Inc., which published Charleston Arts from July 1987 - Dec. 1994 and South Carolina Arts from Jan. 1995 - Dec. 1996. It also publishes Carolina Arts Online, Copyright© 2003 by PSMG, Inc. All rights reserved by PSMG, Inc. or by the authors of articles. Reproduction or use without written permission is strictly prohibited. Carolina Arts is available throughout North & South Carolina.