Feature Articles


For more information about this article or gallery, please call the gallery phone number listed in the last line of the article, "For more info..."
May Issue 2006
Ella Walton Richardson Fine Art Gallery in Charleston, SC, Features Works by Joan Miró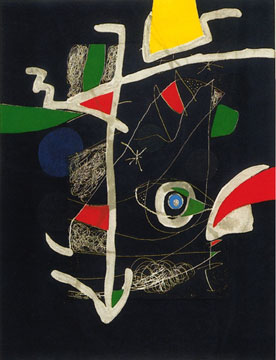 In its second international caliber exhibit of artwork by Modern European Masters, Ella Walton Richardson Fine Art Gallery in Charleston, SC, is offering an exquisite display of original works by Joan Miró, on view through June 17, 2006. This superb exhibit IMAGINE: Graphic and Unique Works by the Spanish Master Joan Miró features one of the finest presentations of modern European art available for acquisition on the east coast, and beautifully reflects the gallery's continued level of museum-quality offerings.

In a vibrant artistic life spanning nine decades, Miró (1893-1983) made an indelible mark on the history and images of twentieth century European art. As the art critic Pierre Gueguen perceptively notes, "Miró is audacious in a completely innocent way, with no premeditated intention of provoking anyone. His pure and simple abandon to the pleasure of imagination is enough to scandalize some and to dazzle others." IMAGINE will reflect not only Miró's unique iconographic and artistic expression within the vocabulary of modern art, but also the touching virtue and simplicity with which he approached his imagery. Centered on a tremendous grouping of graphic works culled from an esteemed southern California collection, IMAGINE presents a multitude of celebrated examples for Miró's ascendance as one of the most revered abstract artists of the twentieth century. Paradoxically though, Miró's own artistic philosophy negated even the existence of visual abstraction.

Miró's passion and creative innovation in the graphic arts is beautifully showcased throughout the exhibit. In 1947 Miró began his exploration with the challenging mediums of multicolor etchings and lithographs. Up until his death in 1983, Miró pushed the limits of his own creative genius through artistic concerns unique to the graphic arts: the presence of linear space, the display and layering of color, and the depth of composition. Although the techniques of printmaking and its various mediums are rooted in nearly one thousand years of experimentation and production, Miró approached each etching, lithograph, and variations thereof with revolutionary concepts of imagery. In short, just as in the beloved expression found in his oil paintings, Miró allowed his imagination to run free.



Miró's modern approach to the graphic arts is magnificently on display in the color lithograph Le Lezard aux Plumes Díor (1971). Here, the immediacy of primary tonalities accentuates Miró's fluid visualization of a ballet-like performance of sheer strength and lyrical poetry. A second groundbreaking piece to be featured in IMAGINE is the etching and aquatint Fusées (1959). Miró finds an exquisite clarity of vision and biomorphic imagery in Fusées, technically working with properties of etching and aquatint allowing for greater fluidity of expression and tonal depth. Both of these graphic masterpieces epitomize Miró's mastery of technique and his trademark surrealistic visions, which move beyond theories or discourse and into the realm of the imagination.
For further information check our SC Commercial Gallery listings, call the gallery at 843/722-3660 or at (www.ellarichardson.com).
[ | May'06 | Feature Articles | Gallery Listings | Home | ]
Carolina Arts is published monthly by Shoestring Publishing Company, a subsidiary of PSMG, Inc.
Copyright© 2006 by PSMG, Inc., which published Charleston Arts from July 1987 - Dec. 1994 and South Carolina Arts from Jan. 1995 - Dec. 1996. It also publishes Carolina Arts Online, Copyright© 2006 by PSMG, Inc. All rights reserved by PSMG, Inc. or by the authors of articles. Reproduction or use without written permission is strictly prohibited. Carolina Arts is available throughout North & South Carolina.