Feature Articles


For more information about this article or gallery, please call the gallery phone number listed in the last line of the article, "For more info..."
May Issue 2006
Gibbes Museum of Art in Charleston, SC, Offers Works by James McNeill Whistler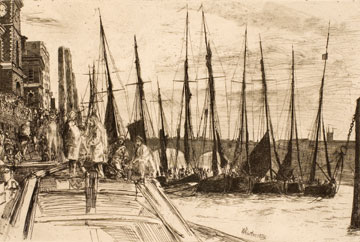 A new exhibition, James McNeill Whistler Etchings from the Vreede Collection, will be on view at the Gibbes Museum of Art in Charleston, SC, from May 26 through Aug. 27, 2006. This extraordinary collection of 17 etchings is available for public view thanks to Dr. and Mrs. Anton Vreede's generous donation of the works of art to the Gibbes. This exhibition will be on view in a newly revamped gallery (Works on Paper Gallery) at the Museum that is now designated as a showcase for selections from the Gibbes' collection of over 4,000 works on paper.

Born in Lowell, MA, James McNeill Whistler (1843 - 1903) grew up partly in St. Petersburg, Russia, where he attended drawing classes and visited the imperial collections. He received his formal education at the United States Military Academy at West Point before moving to Europe permanently in 1855. Initially settling in Paris, he entered the Acadmie Gleyre where he became a devotee of the cult of the Japanese print and other Asian art forms. Henri Fantin-Latour became a close friend and through him Whistler was introduced to Gustave Courbet. Like many of the French avant-garde artists of the day Whistler was influenced by Courbet's realism and by the seventeenth-century Dutch and Spanish schools.
At first Whistler gave priority to etching, a technique he had learned before leaving the United States. He created a series of prints known as the French Set, dated 1858, that demonstrates his indebtedness to the Dutch masters. However, his first major painting At the Piano (1858-59, Cincinnati, Taft) was rejected by the 1859 Salon and Whistler promptly moved to London.
Developing a reputation as a flamboyant personality, his painting career was launched with a favorable reception at the 1860 exhibition of the Royal Academy. At the same time he began work on a series of etchings known as the Thames Set that combines his interest in realism with the Japanese aesthetic.

Whistler achieved international notoriety with the rejection of Symphony No. 1, The White Girl (1862, Washington, DC, National) from both the Royal Academy and the Salon. It became a major attraction at the 1863 Salon des Refuss. However in 1877 his career suffered a serious setback when critic John Ruskin denounced him for his work entitled Nocturne in Black and Gold: The Falling Rocket (1875, The Detroit Institute of Arts). Whistler sued him for libel and won, but received little monetary reward and was left bankrupt. At the same time he lost the patronage of his major client Frederick Leyland who disapproved of Whistler's design for the dining room of his London home. The Peacock Room, or Harmony in Blue and Gold (1876-77, Freer Gallery of Art), exerted a strong influence on interior design concepts of the Art Nouveau style.
Returning to etching in order to rebuild his financial assets, Whistler traveled to Venice where he executed a set of etchings from 1879 ­ 80. By 1890 he was back in London having reestablished his reputation as an artist of international stature. He was elected president of the International Society of Sculptors, Painters and Gravers, but the death of his wife and his own ill health made him withdraw from an active social life.
In 1903, the year of his death, a memorial exhibition was held in Boston with a subsequent retrospective held by the International Society in London, and the Ecole des Beaux-Arts in Paris.
Throughout his career Whistler worked as an engraver. The Vreede collection includes etchings that represent the full range of his artistic achievement and style in the print medium with an emphasis on images from the Thames Set and his many views of the Netherlands.
Whistler was one of the first American artists to react to the Western dissemination of the Japanese Ukiyo-e print. Through his work many American artists, including those working during the Charleston Renaissance period, learned Eastern aesthetics.
A native of Holland, Dr. Anton Vreede graduated medical school in 1957 after serving 2 years in the Royal Dutch Navy. He immigrated to the United States and moved to Seattle for 3 years before settling in New York. After a 28-year career as a surgeon in Binghamton, NY, Dr. Vreede and his wife Caroline moved to Kiawah Island, SC, in 2004. He began his collection of etchings and lithographs by James Abbot McNeil Whistler in 1982 as a part of his larger collection of works of art by American artists working in the Netherlands. Dr. Vreede generously donated his collection of 26 etchings and lithographs by Whistler to the Gibbes in 2004.
For further info check our SC Institutional Gallery listings, call the Museum at 843/722-2706 or at (www.gibbesmuseum.org).

[ | May'06 | Feature Articles | Gallery Listings | Home | ]
Carolina Arts is published monthly by Shoestring Publishing Company, a subsidiary of PSMG, Inc.
Copyright© 2006 by PSMG, Inc., which published Charleston Arts from July 1987 - Dec. 1994 and South Carolina Arts from Jan. 1995 - Dec. 1996. It also publishes Carolina Arts Online, Copyright© 2006 by PSMG, Inc. All rights reserved by PSMG, Inc. or by the authors of articles. Reproduction or use without written permission is strictly prohibited. Carolina Arts is available throughout North & South Carolina.