Feature Articles


For more information about this article or gallery, please call the gallery phone number listed in the last line of the article, "For more info..."
May Issue 2006
Merrill-Jennings Galleries in Davidson, NC, Features Group Show of Folk Art
Merrill-Jennings Galleries in Davidson, NC, will present the exhibition, Raw Vision, featuring wild, edgy, and funky outsider, self-taught, and folk art by seven unique painters. The exhibit, including works by Deborah Cavenaugh, Jarrett Earnest, Addie James, Tim & Lisa Kluttz, Gail M. Little, and Matt Sesow, will be on view from May 6 through June 3, 2006.
Deborah Cavenaugh from Wilmington, NC, is best known for her colorful, free-wheeling watercolors of family life and North Carolina scenes (including her famous lighthouse series). Eighteen-year old Jarrett Earnest from Mooresville, NC, whose interpretive acrylic portraits of vamps: classic actresses, rock stars, and poets will be offered before he leaves for art school.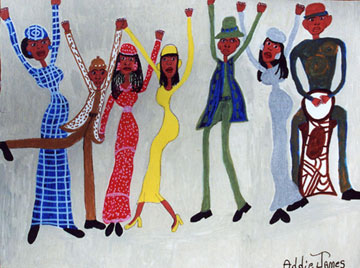 Addie James
Nationally renowned folk artist, Addie James from Statesville, NC, will be complemented by Tim and Lisa Kluttz, a husband/wife team from Salisbury, NC, whose animal, floral, visionary, and political paintings on old doors, barn wood, and other found objects are unforgettable.
Gail M. Little from Lincolnton, NC, will show her unique stick people assemblages, painted boxes, wooden flowers, and acrylic paintings large and small.
Matt Sesow, from Washington, DC, is considered a Brutarian, whose angular, jarring colors applied to the human face and figure can be both powerful and disturbing. Also a filmmaker, Sesow has had solo shows at the Corcoran Museum and has been included in major galleries and exhibitions from coast to coast and in Europe.
For further information check our NC Commercial Gallery listings or call the gallery at 704/895-1213.
[ | May'06 | Feature Articles | Gallery Listings | Home | ]
Carolina Arts is published monthly by Shoestring Publishing Company, a subsidiary of PSMG, Inc.
Copyright© 2006 by PSMG, Inc., which published Charleston Arts from July 1987 - Dec. 1994 and South Carolina Arts from Jan. 1995 - Dec. 1996. It also publishes Carolina Arts Online, Copyright© 2006 by PSMG, Inc. All rights reserved by PSMG, Inc. or by the authors of articles. Reproduction or use without written permission is strictly prohibited. Carolina Arts is available throughout North & South Carolina.