Feature Articles


For more information about this article or gallery, please call the gallery phone number listed in the last line of the article, "For more info..."
May Issue 2006
modern eye gallery in Charlotte, NC, Offers Exhibit by Gallery Artists
modern eye gallery in Charlotte, NC, will present the exhibition, Introductions 2006, to welcome four new artists to the gallery: Peter Daniel, Ray Mantella, John McIver, and Daniel E. Smith. The exhibition, comprised of original works on canvas and paper, opens May 5 and continues through June 22, 2006.
The goal of this exhibit is to highlight the different interpretations of the non-objective world by these new gallery members. Each artist in the show has chosen or created a unique vernacular in which to express the abstract, both visually and stylistically. Color, form, and light combine in styles ranging from the geometric to the expressionistic. Painting is the medium of choice of the artists. The desire to create emotion within the viewer through non-representational expression is the unifying element among the artists.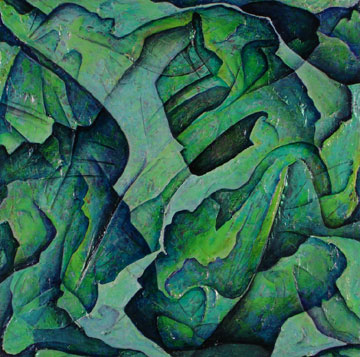 Peter Daniel
Peter Daniel, originally from Savannah, GA, and a recent Davidson graduate, debuts his work, which reflects a studied and highly articulated form of expressionism. His paintings are intricately painted and transport us to a world of deep reflection and contemplation.
The work of Ray Mantella, who joins us from Toronto, Canada, is a unique exploration of shapes and colors combined with a myriad of painting techniques. His work encompasses a range of themes from stripes to ovoid and spiral forms.
John McIver, who hails from Jacksonville, FL, and currently resides in Hickory, NC, is renowned for his previous work in watercolor, for which he has been awarded many honors. In this current body of work, he turns his expression to collage and crafts energy-filled canvases of color, light, and texture. His work is reminiscent of delicate Japanese-inspired textiles.
In the work of Daniel E. Smith, a resident of Savannah, GA, and MFA graduate of its well-known College of Art, we find a passion for color, surface, space, and form. From an early age, Smith was obsessed with creating spaces of all kinds; thus, his paintings are stages for memory and hope, anticipation and fear, as well as experience and uncertainty.
modern eye gallery is delighted to have these four artists join the gallery and invites you to come and see this show with the hope that it stirs the imagination and invokes a greater appreciation for the diversity of abstract expression in art.
For further information check our NC Commercial Gallery listings or call the gallery at 704/333-3190.

[ | May'06 | Feature Articles | Gallery Listings | Home | ]
Carolina Arts is published monthly by Shoestring Publishing Company, a subsidiary of PSMG, Inc.
Copyright© 2006 by PSMG, Inc., which published Charleston Arts from July 1987 - Dec. 1994 and South Carolina Arts from Jan. 1995 - Dec. 1996. It also publishes Carolina Arts Online, Copyright© 2006 by PSMG, Inc. All rights reserved by PSMG, Inc. or by the authors of articles. Reproduction or use without written permission is strictly prohibited. Carolina Arts is available throughout North & South Carolina.