Feature Articles


For more information about this article or gallery, please call the gallery phone number listed in the last line of the article, "For more info..."
May Issue 2010

Adam Cave Fine Art in Raleigh, NC, Features Works by Ruth Franklin and Byron Gin
Adam Cave Fine Art in Raleigh, NC, is presenting a special Spring exhibit featuring works by figurative painter Ruth Franklin, an Atlanta, GA-based British import and Byron Gin, a California artist transported to Chicago where he has lived since 2000, on view through May 31, 2010.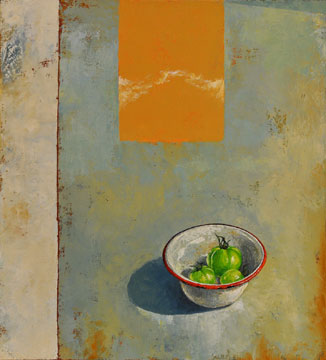 Byron Gin
Abstract canvases embellished with very real single birds or objects are the signature compositions of Byron Gin's paintings. These living and still-life subjects are confined to the colorful space they occupy. It might be a white-throated-sparrow, but then Gin might have chosen a realistic bowl of green tomatoes to set-off his colorful geometrically arranged canvases. He is both abstractionist and realist. The subject is always a surprise in its habitat.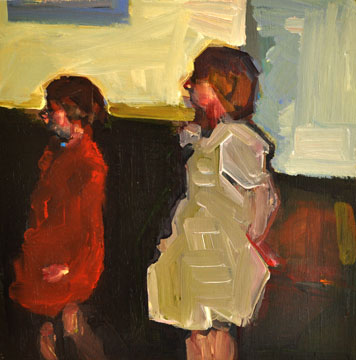 Ruth Franklin
Ruth Franklin, on the other side of this spectrum, zooms in, from some distance, on her human subjects, not confining them at all. Their heads frequently go beyond the picture frame, or, it might be legs, feet or even torso that is lost. Franklin's vision is like the view through a square binocular, reporting only what appears within its scope. Her colors are brilliant, her subjects have movement, their figures loose, and her composition unexpected. Some backgrounds are recognizable as places while others are simply swaths of color.

Both artists encourage the viewer to interpret the situations that are only partially represented in their works. There is great opportunity for story development on the part of the onlooker. A bird paused in flight or on a branch, for instance, maybe a boxer or three young dancers. But their palettes are often very different; he tends toward pastels, she to clear, raw paint. What fun!

For further information check our NC Commercial Gallery listings, call the gallery at 919/272-5958 or visit (www.adamcavefineart.com).



[ | May 2010 | Feature Articles | Carolina Arts Unleashed | Gallery Listings | Home | ]
Carolina Arts is published monthly by Shoestring Publishing Company, a subsidiary of PSMG, Inc. Copyright© 2010 by PSMG, Inc., which published Charleston Arts from July 1987 - Dec. 1994 and South Carolina Arts from Jan. 1995 - Dec. 1996. It also publishes Carolina Arts Online, Copyright© 2010 by PSMG, Inc. All rights reserved by PSMG, Inc. or by the authors of articles. Reproduction or use without written permission is strictly prohibited. Carolina Arts is available throughout North & South Carolina.