Feature Articles


For more information about this article or gallery, please call the gallery phone number listed in the last line of the article, "For more info..."
May Issue 2010

Artspace in Raleigh, NC, Offers New Exhibitions
Artspace in Raleigh, NC, will present several new exhibits including: Artspace Summer Arts Program Instructor Exhibition, on view in Gallery 2, from May 15 through June 5, 2010; Markings, featuring the work of Hedwig Brouckaert, Shaun Cassidy, and Israel Davis, on view in Gallery One from May 7 through June 26, 2010; Tulips, featuring works by Jenny Eggleston, on view in the Artspace Lobby, from May 7 - 29, 2010; Margaret Moore Senter Retrospective, curated by Blair Ligon, on view in the Upfront Gallery, from May 7 - 29, 2010;
Trying to decide on your Summer Arts Program classes, but not exactly sure what a cast sculpture or encaustic painting looks like? Come to the Artspace Summer Arts Program Instructor Exhibition and see works of art created by our professional instructors.

Twenty percent of the sale price of work purchased from the Instructor Exhibition will support the Scholarship Fund, providing underserved youths with the opportunity to attend the Artspace Summer Arts Program.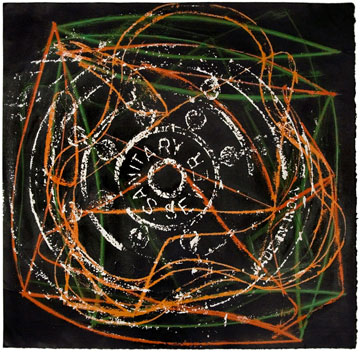 Shaun Cassidy
Markings features three artists utilizing markmaking in three distinct ways. Thematically, the artists are all creating their work as a response to their environment. Hedwig Brouckaert works directly from images found in advertising and magazines; Shaun Cassidy utilizes the architecture of a particular city (in this case, Raleigh) to create his works; and Israel Davis has created an installation utilizing clay and mixed media to re-create reoccurring dream imagery.
Brouckaert's artworks are based on mass-produced and mass-distributed mail-order catalogs and other forms of advertisements. She deconstructs their image, message, context, and goal. Through an extensive layering process, the figures lose their individual characteristics and become part of a mass ­ a zigzagging chaos of marks on paper. While the final images refer to the culture that produced them, the narrative, now completely transformed, must be reinterpreted by the viewer.
Cassidy presents 30" x 30" drawings created on location in Raleigh. The artist created wax rubbings on paper, focused on manhole covers around the downtown area. Like Brouckaert, Cassidy often overlays and combines several images, creating ghost-like, spatial architectural blueprints. This approach to drawing extends from Cassidy's interest in making drawings in a very physical and sculptural way - carving away the wax from the paper to reveal the hidden images residing behind the applied color.
Davis' installation, Instructional/Play, is composed of imagery and objects generated through repetition and markmaking to mine the freedom of a childhood dream of flight. Like much of Davis' work, this installation utilizes clay as the primary medium. He is attracted to this medium because it can be shaped, formed, printed, or drawn upon, taking on any likeness that the artist desires. Davis' work often includes unique investigations of clay surfaces through slips, glazes, screen-printed or projected images.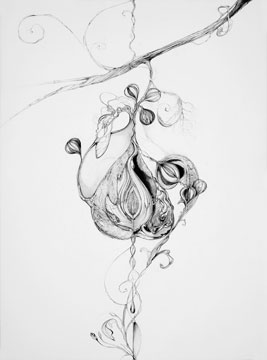 Jenny Eggleston
Jenny Eggleston's recent drawings explore orifices ­ an opening, aperture, hole or mouth ­ and the origin of words. Classically trained as a nature illustrator, Eggleston uses images from nature such as rocks, clouds, eggs, and figs, to creative surrealistic figurative mindscapes that are emotive, sensual, disturbing, and beautiful. Currently focusing on graphite drawings, the artist often interweaves art with her own poetry.
Eggleston received a BA from the College of William and Mary, Williamsburg, VA, and completed some graduate work at the Virginia Commonwealth University, Richmond, VA. She has also studied abroad in Cortona, Italy. Recent exhibitions include Gallery Nomads, Green Hill Center for NC Art, Greensboro, NC; an installation at artSPARK in downtown, Raleigh; and Figuratively Speaking, at the Exchange Gallery at Visual Art Exchange, Raleigh.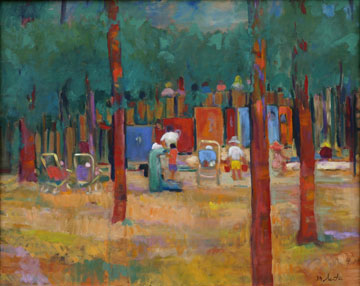 Margaret Moore Senter
Margaret Moore Senter (1922 - 2009) was part of the original group of artists in the 1970's and 1980's who banded together in critique groups with such luminaries as Ben Williams, Joe Cox, and Bob Rankin. These artists ­ emerging, mid-career, professional artists, and instructors ­ were some of the first artists to occupy Artspace in 1986. According to Ann Tharrington, a former Executive Director of Artspace, "...how very difficult it was in the early years and what a commitment the artists had to the Artspace project and its success. There was, as we know, absolutely nothing going on in downtown Raleigh. Artspace provided the concept, energy and artistic commitment that drew attention to City Market and created the impetus for future galleries and programs to emerge." Senter was part of this original energy and dedication, as an original member of the Artspace Artists Association. She continued to paint at Artspace for 22 years.
This retrospective exhibition will show the journey of one of Artspace's self-taught artists, from amateur to polished professional, from domestic hearths to corporate boardrooms. Senter was a prime example of how bringing together a critical mass of artists in the Artspace studios created a crucible for moving local artists from the provincial to the contemporary. Senter's work evolved over the years from the restraints of representational work to the pure joy of color and abstract expressionism ­ from draftsmanship to musical composition.
Senter was born in 1922 and raised in Milton, NC. After moving to Raleigh, she began studying art under the expertise of Joe Cox at North Carolina State University in 1957. During her career she received numerous awards and accreditations from various venues including the NC Watercolor Society, Raleigh Fine Arts, Rocky Mount Art Center, Durham Art Guild, Federation of Women's Clubs of NC, Lee Hansley Gallery, and the Visual Art Exchange. Senter's inspirations for her artwork come from her travels across the state of North Carolina, family life, and various techniques she has learned over the years. Her mediums of paint include oil, acrylic, watercolor, and pastel.
For further information check our NC Institutional Gallery listings, call the center at 919/821-2787 or visit (www.artspacenc.org).


[ | May 2010 | Feature Articles | Carolina Arts Unleashed | Gallery Listings | Home | ]
Carolina Arts is published monthly by Shoestring Publishing Company, a subsidiary of PSMG, Inc. Copyright© 2010 by PSMG, Inc., which published Charleston Arts from July 1987 - Dec. 1994 and South Carolina Arts from Jan. 1995 - Dec. 1996. It also publishes Carolina Arts Online, Copyright© 2010 by PSMG, Inc. All rights reserved by PSMG, Inc. or by the authors of articles. Reproduction or use without written permission is strictly prohibited. Carolina Arts is available throughout North & South Carolina.