Feature Articles


For more information about this article or gallery, please call the gallery phone number listed in the last line of the article, "For more info..."
May Issue 2010

Franklin G. Burroughs-Simeon B. Chapin Museum in Myrtle Beach, SC, Features Its Collection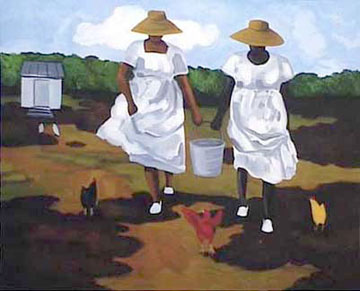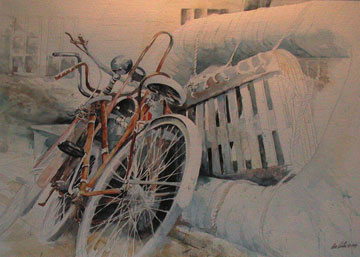 Jonathan Green ------------------------------------------ Eva Carter
Regular visitors to the Franklin G. Burroughs-Simeon B. Chapin Museum in Myrtle Beach, SC, know the facility for its revolving exhibits of artists in a variety of styles and media. But many do not know that the Museum is also an emerging collector of fine art, with works from many artists widely recognized throughout the state and region. The Art Museum's extensive collection is being in the exhibit, A Sense of Time; A Sense of Place, on display through Sept. 26, 2010.

The Art Museum currently possesses four distinct collections: the Bishop Maps and Prints Collection, a 1999 gift in memory of George Bishop, a local entrepreneur; the Museum's newest acquisition, the Barbara Burgess and John Dinkelspiel Collection of Southern Art; the Museum's Permanent Collection, acquired through purchases or through gifts from donors or from artists who have exhibited at the Art Museum; and the Waccamaw Arts & Crafts Guild Collection, representing over a decade of acquisitions from the Guild's annual juried exhibitions.
More than 40 pieces created by 32 artists from three of these collections will comprise the exhibit, A Sense of Time; A Sense of Place. Works exhibited cover three decades and a range of media from paintings in oil, acrylic and watercolor to prints and drawings, lithographs, sculpture, ceramics and collage. The exhibit recognizes an artist's unique ability to convey the essence of a time or place even though the viewer may not have experienced either. Locations and eras, whether familiar or strange, when depicted through an artist's eyes become common ground for common good. What makes a particular place or time special is the response one senses, often without knowing why.
The Franklin G. Burroughs-Simeon B. Chapin Art Museum is a wholly nonprofit institution located across from Springmaid Pier at 3100 South Ocean Boulevard in Myrtle Beach. Admission is free, but donations are welcomed. Components of Museum programs are funded in part by support from the City of Myrtle Beach, the Horry County Council and the South Carolina Arts Commission, which receives support from the National Endowment for the Arts.
For further information check our SC Institutional Gallery listings, call the Museum at 843/238-2510 or visit (www.MyrtleBeachArtMuseum.org).


[ | May 2010 | Feature Articles | Carolina Arts Unleashed | Gallery Listings | Home | ]
Carolina Arts is published monthly by Shoestring Publishing Company, a subsidiary of PSMG, Inc. Copyright© 2010 by PSMG, Inc., which published Charleston Arts from July 1987 - Dec. 1994 and South Carolina Arts from Jan. 1995 - Dec. 1996. It also publishes Carolina Arts Online, Copyright© 2010 by PSMG, Inc. All rights reserved by PSMG, Inc. or by the authors of articles. Reproduction or use without written permission is strictly prohibited. Carolina Arts is available throughout North & South Carolina.