Feature Articles

June Issue 2002
Bridget Dobson to Show at Burroughs-Chapin Art Museum in Myrtle Beach, SC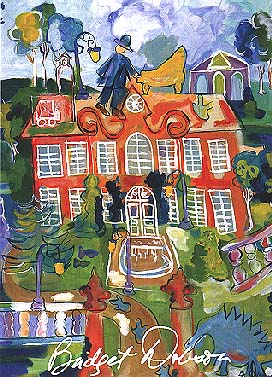 When Bridget Dobson's show comes to Myrtle Beach this month, it won't be one of her Emmy Award winning daytime dramas TV audiences enjoyed for almost three decades. Dobson, who with her husband Jerry Dobson, created and wrote Santa Barbara, now has a new role in life. She has left the world of "soaps" and California to settle in Atlanta and devote herself to painting Matisse-like canvases alive with color and fantasy. Visitors to the Franklin G. Burroughs-Simeon B. Chapin Art Museum in Myrtle Beach, SC, will be able to view her exhibition Visual Expressions of Drama, Joy & Passion through Aug. 4, 2002.

Though her medium has changed, a good story still seems to lie at the heart of Dobson's work. Having co-written and co-produced 6,000 hours of daytime television for shows such as General Hospital, As the World Turns, and The Guiding Light, she knows how to find the sweet and the tart in human interactions. "The journey to find a lifetime partner can be the most exciting and the most harrowing. I have written it hundreds of times, I have lived it, and now I have painted it. To survive the journey--whether writing it, living it, or painting it-I have found that a soupçon of humor helps," says Dobson in describing her whimsical expressionistic acrylic works which have been extensively displayed over the past few years in galleries and museums throughout the country.

Dobson's life story is as compelling as those of her characters on television and canvas. Her pedigree includes grandfather, Victor Berger, the first socialist congressman in the United States, who was elected from Wisconsin in 1910. Dobson's mother, also a socialist and a lawyer, started in show business by writing for radio with her husband. She hated art, saying it was for "dilettantes," and discouraged Dobson's youthful passion for museums and the Impressionists. As a child Dobson moved to Los Angeles with her parents who eventually created General Hospital. She earned her undergraduate degree from Stanford University, and then became one of the first women to enter the Harvard School of Business. Her master's degree came from Stanford, where she met her husband. It was as a young newlywed with a baby on the way that she begged her parents for her first "soaps" writing job. Her husband eventually teamed up with her after learning the craft by reading over her shoulder. Following years of success culminating in their retirement as the head writers for As the World Turns, they joined with NBC to create Santa Barbara based on eccentric and extraordinary characters who surrounded them in their own exclusive Santa Barbara, CA, residence. The soap opera became enormously successful with more than 30 Emmy Awards from 1985 until 1992 and a worldwide audience.

Amidst all this success, Dobson's life began to move in a new direction when her husband signed her up for a UCLA art class. She resisted attending, but eventually succumbed to his urgings and ultimately pronounced her first class as "the greatest day" of her life. The rest, as they say, is history. Dobson's exhibition at the Franklin G. Burroughs-Simeon B. Chapin Art Museum is one of eight exhibitions in a tour of her works organized by Virginia's Higginbotham Museum. The tour follows on the heels of a 2001 New York City opening at the Walter Wickiser Gallery.

For more information check our SC Institutional Gallery listings or call the gallery at 843/238-2510.


[ | June02 | Feature Articles | Home | ]

Mailing Address: Carolina Arts, P.O. Drawer 427, Bonneau, SC 29431
Telephone, Answering Machine and FAX: 843/825-3408
E-Mail: carolinart@aol.com
Subscriptions are available for $18 a year.
Carolina Arts is published monthly by Shoestring Publishing Company, a subsidiary of PSMG, Inc.
Copyright© 2002 by PSMG, Inc., which published Charleston Arts from July 1987 - Dec. 1994 and South Carolina Arts from Jan. 1995 - Dec. 1996. It also publishes Carolina Arts Online, Copyright© 2002 by PSMG, Inc. All rights reserved by PSMG, Inc. or by the authors of articles. Reproduction or use without written permission is strictly prohibited. Carolina Arts is available throughout North & South Carolina.