Feature Articles

June Issue 2002
Here's a Carolina Arts Update! 7/22/05
erl originals gallery in Winston-Salem, NC, is now closed. The following is no reflection on the artist(s) mentioned in this article. They still deserve the historical fact that this exhibition happened.
Here is an excerpt from an article in the Winston-Salem Journal's Dec. 10, 2004, edition: "In late September, (2004) erl's owners, Peter and Lee Swenson, and the company they operate, Bogart Management Group, were foreclosed on by their bank. They were barred from their gallery at 480 West End Blvd. for being months in arrears on rent and utilities. Peter Swenson is facing numerous tax-fraud charges, as well as a growing number of civil lawsuits filed by creditors seeking to collect payments they say are long overdue".
e.r.l. originals in Winston-Salem, NC, Features Works by Garrett Speirs, Thorn Kittredge, and Colleen Stadler
Garrett Speirs' traditional Italian landscapes from Tuscany and Thorn Kittredge's pit-fired clay and found objects will be featured in the main gallery of e.r.l. originals through June 18, 2002. At the same time. Colleen Stadler's Garden Paintings on Canvas will be on display in Gallery G.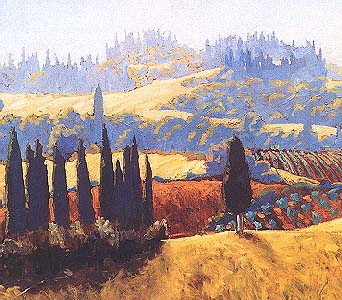 Garrett Speirs
Garrett Speirs, who paints in oils, egg tempera and gouache, uses bold brushstrokes and colors on his canvases, which feature traditional landscapes of rural Italian vistas and architecture. Generally impressionist in style, his brushwork is described as "composed yet never over-composed, balanced, yet willing to attest to chaos. Often he leaves some of the 'under-painting' peeking out, rather than covering it completely, so you can see the work as a progress."
Speirs is no stranger to Winston-Salem. In the 1990s, he taught painting and life drawing at the Sawtooth Center for Visual Arts where he was art department coordinator before moving to his current home in California. He studied at Fort Lewis College in Colorado, the University of Utah, the University of Georgia, and the prestigious Cranbrook Academy of Art in Michigan, earning both BA and MA degrees in fine arts.
Speirs' works have been shown at numerous galleries, among them the Thesis Exhibition, Cranbrook Museum of Art, Bloomfield Hills, Michigan; Poesuggi Italiani, Theater Arts Gallery in High Point, NC; Plein Tuscany, Morris Gallery in Columbia, SC; and the Visual Arts Gallery at the University of Georgia in Athens.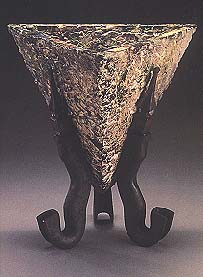 Thorn Kittredge
Thorn Kittredge's great affinity with nature and organic construction and texture, coupled with his interest in ancient cultures, adds dimension to his work with a sense of encrusted agelessness. To produce his unusual hand-built, metal and ceramic vessels, he takes his clay creations through the process of pit firing, adding color and depth to each piece. He then marries the finished form of clay with found objects of metal, wood, and rock to incorporate all in a synergistic evocation of timeless transcendence.
Kittredge's work is featured in numerous corporate collections, among them HGTV, SAS Institute, Wachovia Bank Corporation, Central Carolina Bank Corporation, New York Times Publishing Company, and Weston Hotels. His creations are also part of individual collections across the country. He has received numerous awards, most recently in the Coconut Grove Art Festival in Florida, Columbus Arts Festival in Ohio, Art in the Park in Birmingham, Michigan, and Three Rivers Arts Festival in Pittsburgh, PA.
A native of Roseland, NJ, Kittredge attended the New School for Social Research in New York City and worked as a chef and construction contractor before entering the art field. He has traveled extensively to study the art and artifacts of ancient cultures. His original works of art can be found in collections of individuals and businesses alike across the United States.
Much of the inspiration for Colleen Stadler's art comes from nature. She infuses her landscapes with light and a sense of place while using a clear, fresh approach to her paintings on canvas. Always interested in art, she began painting seriously 12 years ago, studying art history and studio art at Rockingham Community College and the University of North Carolina at Greensboro. She has served on the board for the Rockingham County Fine Arts Festival and as president of the Rockingham Studio Group, in addition to being a member of the Greensboro Artist League, the Associated Artists of Winston-Salem, and the Danville Artist League.
Stadler has received awards from the Foot of the Hills exhibition in Martinsville, VA; Danville Artist League Juried Show; Associated Artist Juried Show in Winston-Salem; Burlington Art League Show; High Point Summer Invitational Show; and Rockingham County Fine Arts Festival. Her paintings are part of more than 50 corporate collections, including Wachovia and Bank of America, as well as private homes throughout the north and southeast.
For more information check our NC Commercial Gallery listings, call the gallery at 336/760-4373 or on the web at (www.erloriginals.com).
[ | June02 | Feature Articles | Home | ]

Mailing Address: Carolina Arts, P.O. Drawer 427, Bonneau, SC 29431
Telephone, Answering Machine and FAX: 843/825-3408
E-Mail: carolinart@aol.com
Subscriptions are available for $18 a year.
Carolina Arts is published monthly by Shoestring Publishing Company, a subsidiary of PSMG, Inc.
Copyright© 2002 by PSMG, Inc., which published Charleston Arts from July 1987 - Dec. 1994 and South Carolina Arts from Jan. 1995 - Dec. 1996. It also publishes Carolina Arts Online, Copyright© 2002 by PSMG, Inc. All rights reserved by PSMG, Inc. or by the authors of articles. Reproduction or use without written permission is strictly prohibited. Carolina Arts is available throughout North & South Carolina.